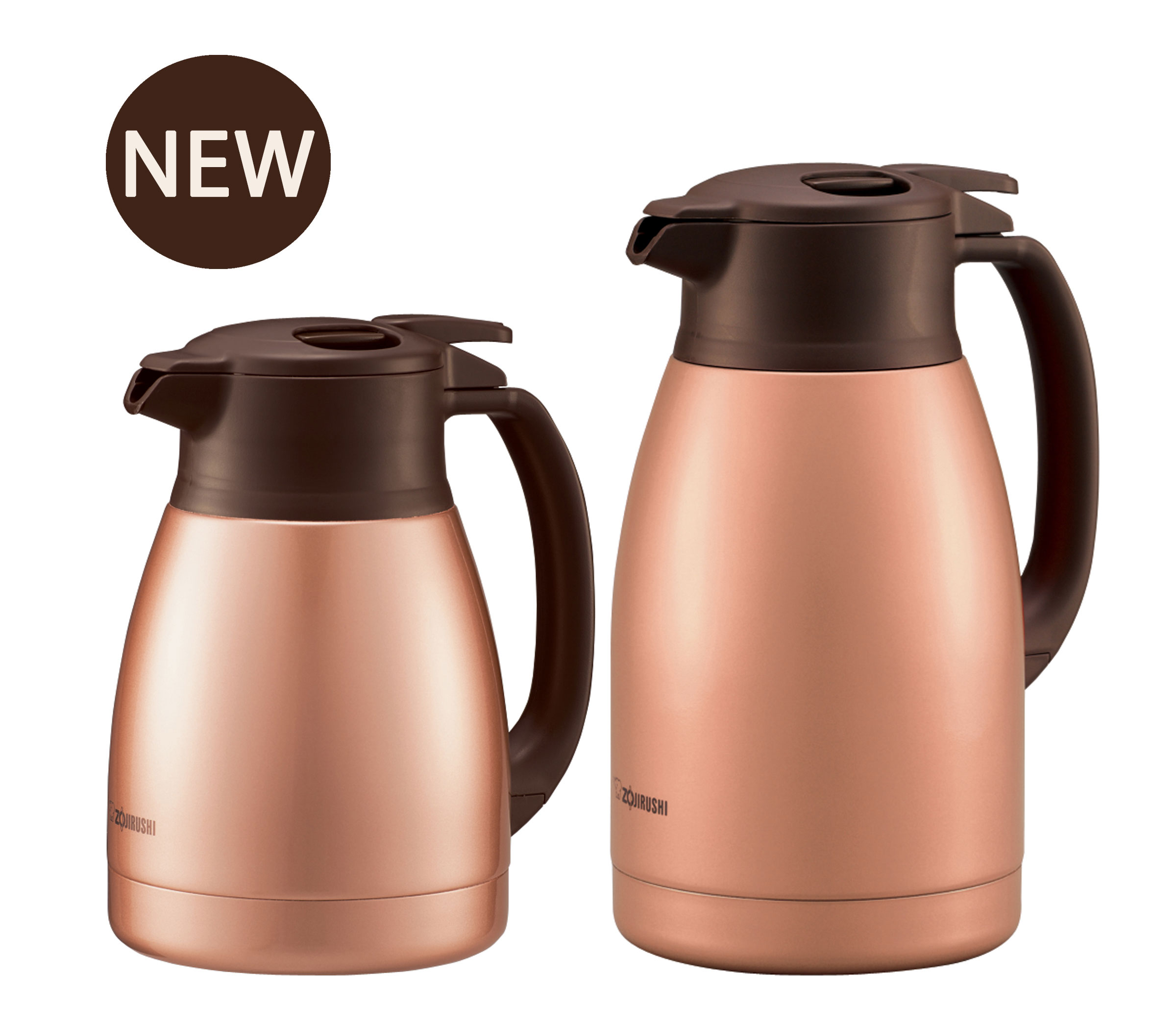 We heard you!
We know you love the cute, colorful and very functional Zojirushi Stainless Steel Vacuum Carafe (SH-HA10), so we're excited to tell you that we're introducing the updated Stainless Steel Vacuum Carafe (SH-HB10/15) this month!
The new carafe is available in 1.0 liter (34 ounces) and 1.5 liter (51 ounces) sizes. It comes in two colors—Stainless and Copper—and has all of the great standout features that Zojirushi prides itself on: superior heat and cold retention, 2 ½ inch wide mouth compatible with many direct brewing attachments, unbreakable stainless steel construction inside and out, easy-to-remove pinch-release lid and one-touch pour for easy serving. Of course, the new Stainless Steel Vacuum Carafe is easy to clean, too!

So why do these features matter when you're choosing a carafe?
Well, Wiscobob gave us this review on August 20, 2015 about how durable and easy it is to use:
"I was tired of breaking glass carafes so decided to give this a try. Combined with the RSVP Manual Drip Coffee Filter Cone it works perfectly. Easy to clean and robust. Keeps coffee warm (if not hot) for a good 12 hours or more. Heck, even after 24 hours it is still warm. And yes, I'll pop a cup into the microwave to warm it up the next morning and it still seems fresh."
Cory DeNuccio said, "This is so nice and attractive for coffee on the patio! Or upstairs! Awesome quality! Holds about four cups! Keeps coffee piping hot!!" on May 12, 2015.
And another Amazon Customer said "I've always been happy to make coffee with a simple Melitta cone drip system. But the glass carafe is easy to break. So I end up precariously perching a #4 cone atop random vessels. This carafe fulfills the promise "Accommodates most direct brewing attachments". A nifty pinch-to-unlatch system makes it easy to remove the top. This reveals a wide & flat opening that easily supports a filter cone. The squat shape, rounded handle, & thumb latch make one-hand pouring a snap. What's not to love?" on February 21, 2014.
You can use it for serving guests, keeping your own tea or coffee hot throughout the day at the office, for RV travel, or for keeping cool, fresh water near your bedside at night. It's a great, versatile product, and we hope you enjoy the new one, inspired by everyday life, and available now!