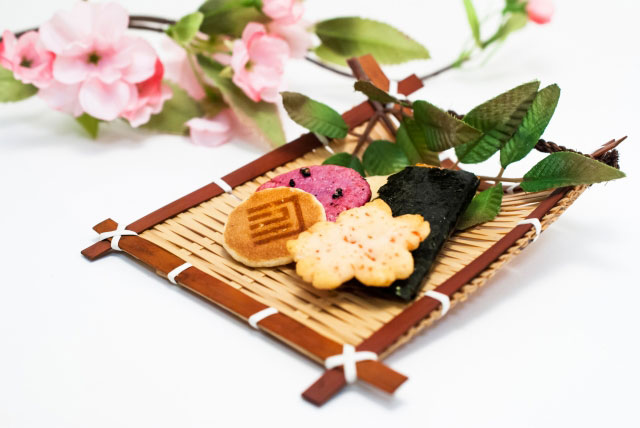 We've loved all of the rice dishes we've tried this year, whether from Asia, South America, the United States or Europe! But we can't end the year without discussing the myriad desserts and snacks that are made from rice.
Just like those dishes that use rice in its grain or noodle form, many cultures have used this ancient grain in sweet desserts and savory snacks.
The ever-popular rice cracker is a sophisticated snack when made Japanese-style. There are two types of rice crackers most commonly made: senbei and okaki (seen in top photo). Senbei crackers, which originated in China, are made with Japanese short grain rice called uruchi mai and okaki are made with sweet, glutinous rice.  These rice crackers come in various shapes, including square, rectangular, round and as balls, and they can be made by baking, charcoal grilling or deep frying them. We love making this relatively easy okaki-style rice cracker at home, called kakimochi. Try them out and tell us what you think!
Indian food also has a rich tradition of creating savory rice crackers, one of which is chakli. Chakli is made using rice flour mixed with gram flour, lots of spices such as turmeric, ajwain, cumin, chili and clarified butter, or ghee. The batter is poured through a chakli maker into hot oil, and fried until crispy. Whenever you're in the mood for a spicy rice snack, try making chakli.
Desserts made from rice are just as popular as snacks, starting with rice pudding! Rice pudding is made across the globe, from Southeast Asian kheer to South American arroz con leche. Arroz con Leche Colombiano is sweet and redolent of cinnamon. Long-grain rice is cooked in a mixture of milk, condensed milk, water, sugar, vanilla, cinnamon and butter. The final product is cooled until thick and creamy… just perfect for a holiday occasion.
Another well-known rice dessert is mango sticky rice, found in many Thai restaurants across the United States and in beach cities across Thailand. Soaked sticky rice is cooked and then simmered in coconut milk, sugar and salt, and topped with peeled Thai mangoes. It's a refreshing way to end a Thai meal!
Rice desserts can be simple or more colorful and intricate, like the traditional Chinese Ba Bao Fan and the Korean gyeongdan. Ba Bao Fan or "Eight Treasure Rice Pudding" is a traditional dessert served for Chinese New Year in China. This dessert is made by layering eight "treasures" or special ingredients such as sugar-glazed fruit or and sweetened beans onto a base of glutinous rice and sugar. It gets its name from the belief that the number eight is a lucky number for Chinese people because of the similarity of the sound of "ba" (eight) and "fa" which means wealth and prosperity.
Gyeongdan is a rice cake made using glutinous rice powder and hot water. The paste is formed into round balls which are coated with multicolored sweet bean powders.
No matter what you're in the mood for… rice desserts, rice snacks, rice, rice noodles, rice paper, rice dumplings… this amazing food can satisfy all your cravings! We hope you make a lovely dish for your New Year celebrations and that you share them with us!