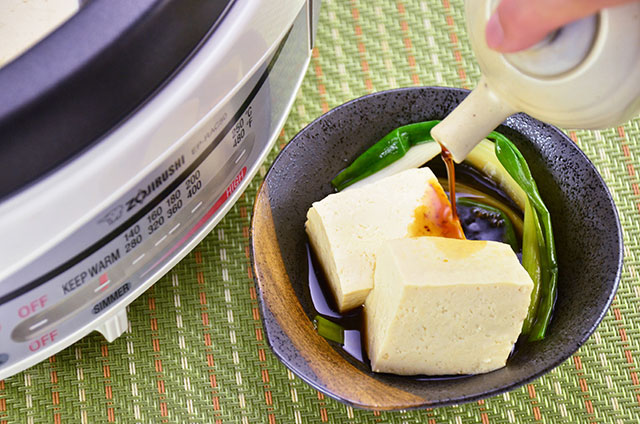 We're food lovers at heart here at Zojirushi. Our love of Japanese food comes from our love of Japan, a country that has a rich food culture and many beautiful places to visit. We're excited to start our new series this month, "A Food Lover's Tour of Japan," where each month we'll feature a different region of Japan and introduce its famous foods, history, culture and unique spots to visit. We've curated regional recipes you can cook with our products and hope you try them out at home!
We begin by featuring the ancient city of Kyoto and its iconic dish, yudofu.
Kyoto was founded in the 6th century because of its favorable geography. Central to the prefecture is the Tanba Mountain Range, with the low-lying basins full of fertile land. The city is located in the Kansai Region of Japan, located on the island of Honshu. As Kyoto grew, it became the seat of Japanese imperial power, around the 8th century. Kyoto flourished as a center of politics, culture, art, religion, economy and haute cuisine until the 18th century, when the capital of Japan was transferred to Edo, or present-day Tokyo. Kyoto was heavily influenced by the Japanese aristocracy, Buddhist clergy and military leaders of various shogunates.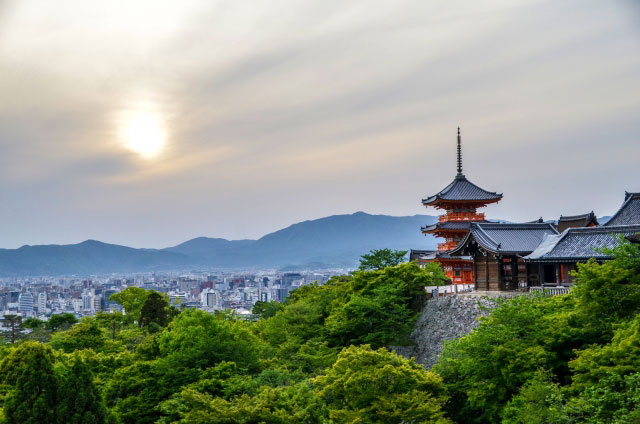 Their influences can be still seen in the modern city of over a million and a half people. The main business district is still near Kyoto Gosho, or the old Imperial Palace. The Gion District, home to apprentice geisha called "maiko" and the unique lattice architecture Kyoto is famous for, bustles as a tourist and shopping center. In the eastern Higashiyama District, tea ceremonies, noh performances, artistic activities like ikebana and traditional Japanese garden culture thrive. The Fushimi District is famous for its sake brew houses, because of the high-quality mountain spring water sourced from the Momoyama Hills. Shrines abound in Kyoto, from the famous Fushimi-inari-taisha Shrine to the hidden temples where cherry blossoms flourish. You might even see a samurai movie being filmed! And along with the shrines are three of the most famous matsuri, or festivals, in Japan–the Aoi Matsuri in early summer, the Gion Matsuri in mid-summer and the Jidai Matsuri in autumn. Kyoto glows with light and sound, music and food during these festivals!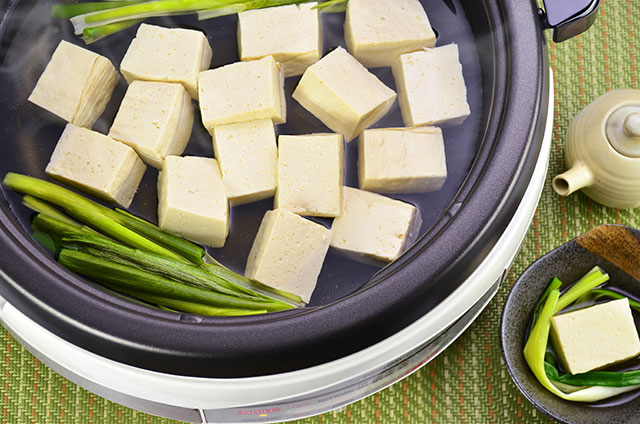 In the heart of the Japanese winter, the residents of Kyoto enjoy yudofu, a meal made by boiling fresh tofu and green onions in a kombu broth, table-side in classic nabe or hot pot style. Yudofu was originally eaten by Buddhist priests who were not allowed to eat meat or fish, and tofu was a precious source of protein for them. The warmth of the broth, the sweetness of the tofu and the savoriness of the green onions are perfect for keeping the cold at bay.
Warm yudofu is eaten with a variety of sauces. Dashi, or broth, infused soy sauce and ponzu sauce are popular accompaniments, and it is often sprinkled with scallions, mitsuba, a fresh Japanese herb or shichimi togarashi, a powdered seasoning made with seven chili peppers. Fresh tofu is best for making yudofu, but store-bought regular tofu can also be used, as long as its texture is between silken and firm.
The humble yudofu is seasonal, made with local ingredients and fresh water, exemplifying the warmth and culture of this famous city. We love making yudofu in our Gourmet d'Expert® Electric Skillet (EP-RAC50), and hope you will, too.
Share your Kyoto stories with us, and let us know how your yudofu turns out!