Happy National Coffee Day, coming up on September 29th. But did you know there's also an International Coffee Day that happens on October 1st? That one, launched in Italy by the International Coffee Organization just 7 years ago, not only celebrates and promotes coffee, it's meant to raise awareness for the plight of the coffee growers worldwide. OK, I like that cause—it's noble and not just commercial. It seems like both "holidays" are recognized depending on which country you're from, which just goes to show, for coffee lovers like me, every day is Coffee Day.
This month I took the new French Press coffee maker from Zojirushi for a spin. It's a really sleek looking, well-made coffee maker of brightly polished stainless steel that incorporates Zojirushi's famous vacuum insulated technology.
To be as objective as possible, I used the same coffee I usually drink, a medium blend that I had coarse ground for the French press brewing style. I used my water boiler set at 208°F (I'm telling you, it's super convenient to have one of these around), and stirred the grounds like the instructions say.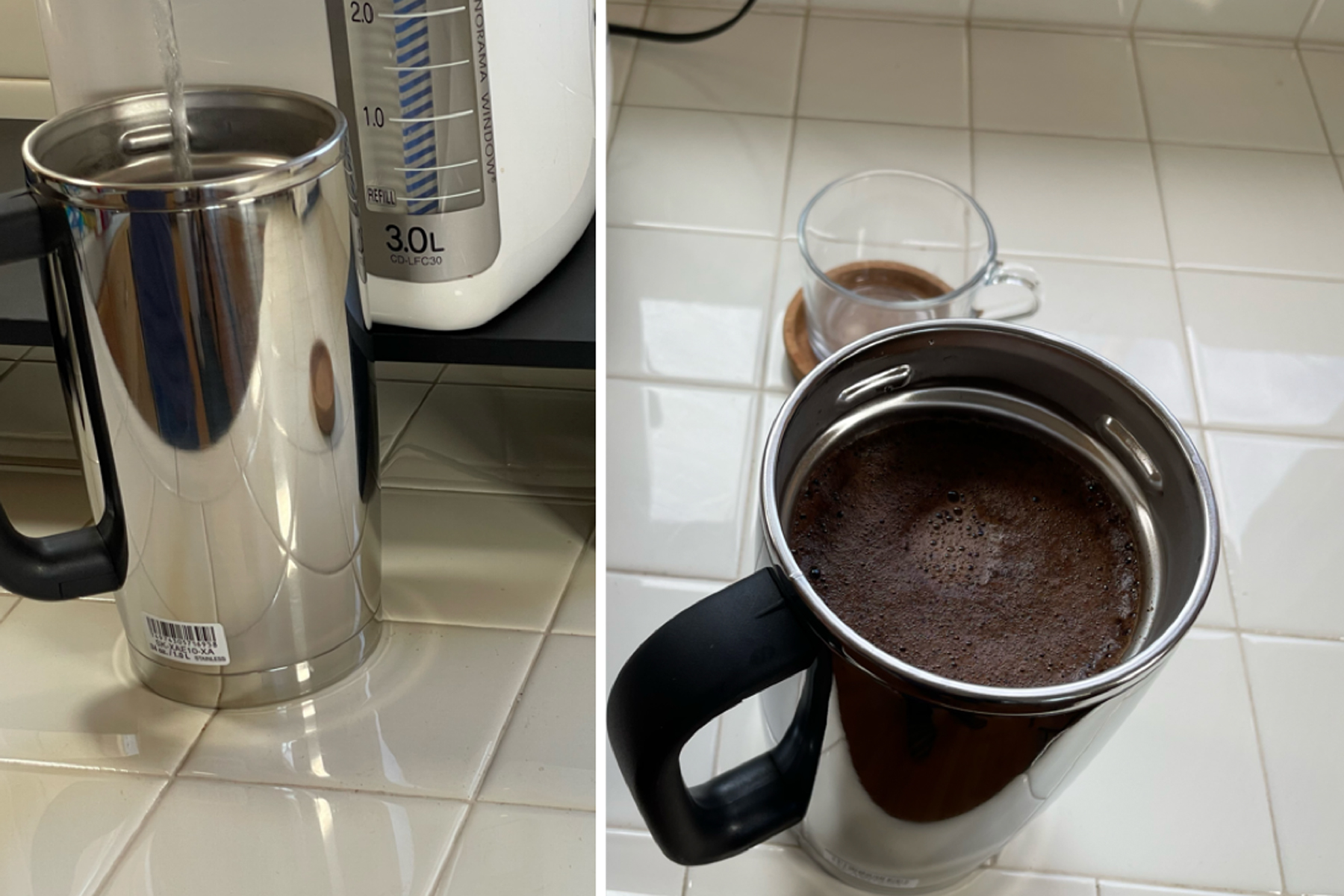 Speaking of instructions, I think Zojirushi could have been a little less detailed with theirs. Can you believe the other side is also full of instructions? It was necessary though, to learn how to take it apart to clean it. If there's anything I love about Zojirushi products, it's the way they're designed to disassemble so you can clean it. I'm serious—I love that you can keep it thoroughly sanitized.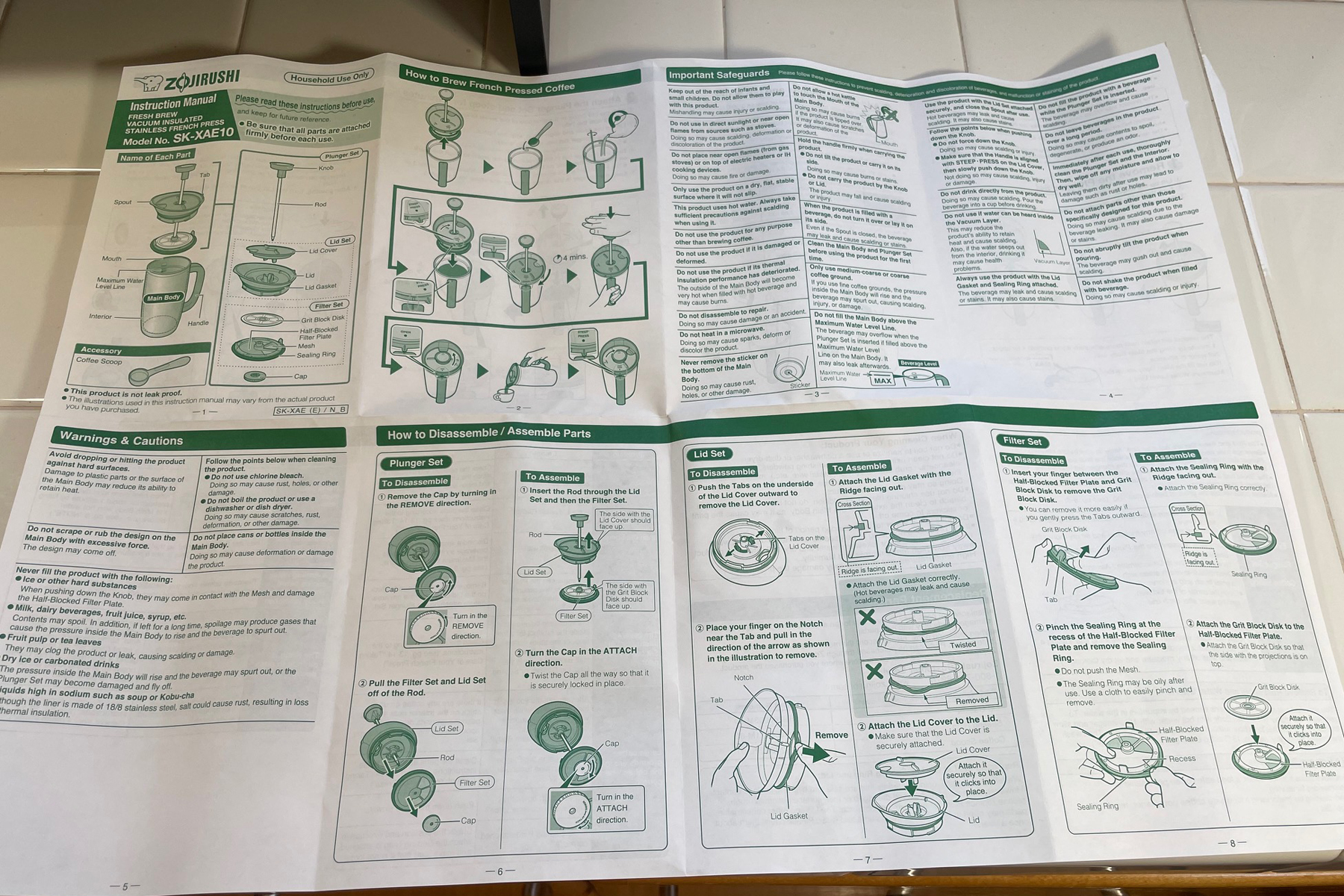 After brewing for a few minutes, it was time to plunge down slowly (the instructions say to take 10 to 12 seconds), and pour. Normally, I'm not a fan of the French press way of brewing. I prefer the pourover, but I get why the majority coffee fans in the U.S. like this brewing method at home. It's faster, easier and actually greener (no throw away filters). My biggest gripe has always been that I'm not a fan of the sediment the French press leaves behind. Compared to the paper cone filter that the pourover uses, there's just no way a fine mesh screen can filter out all the fine sediment from the coffee grounds.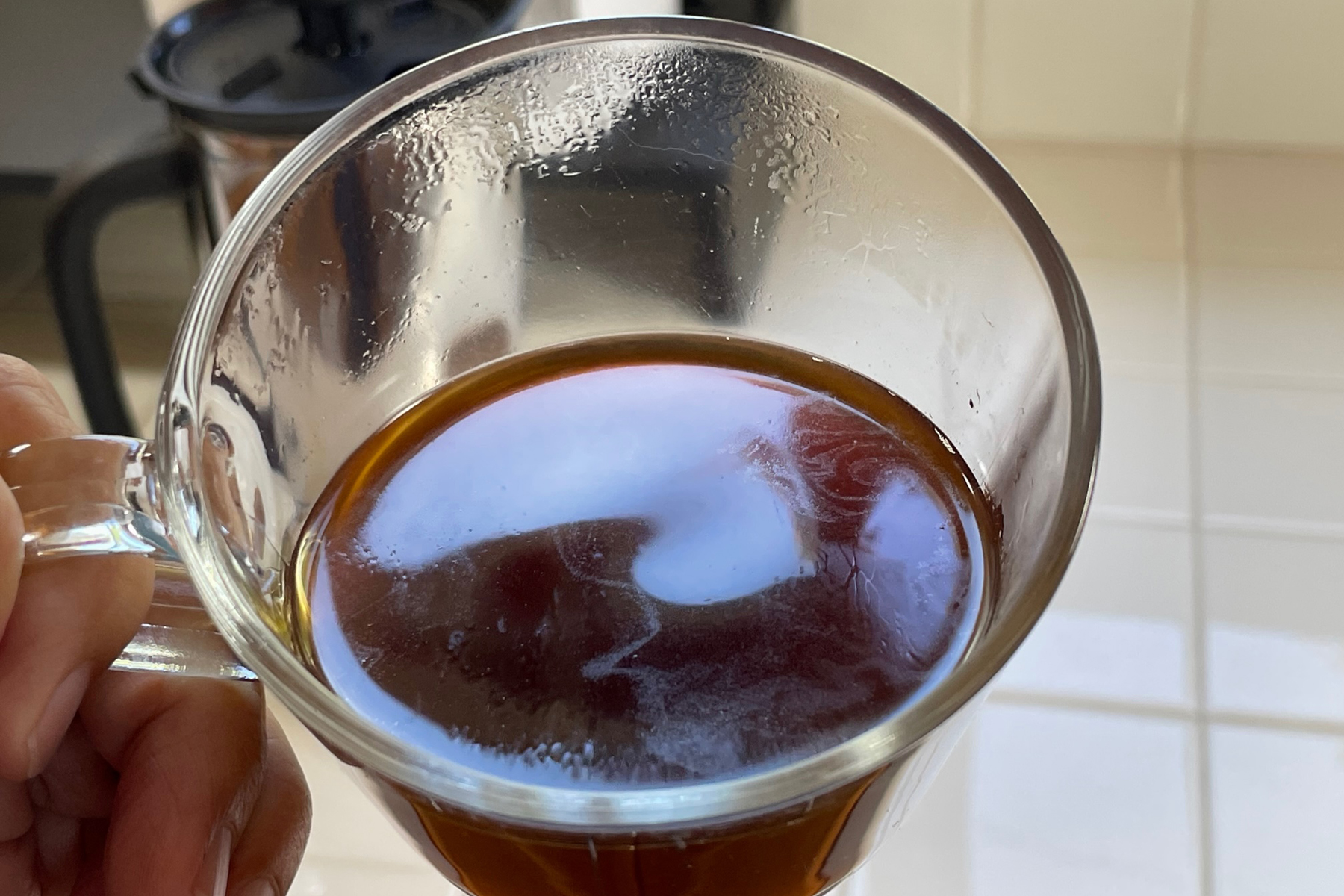 But to be fair, it's just cloudy coffee. It's not like there were grounds at the bottom of the cup. And the longer you let the coffee sit, the clearer it gets because it settles. (This is an important point—more on this later)
Also to be fair, for guys like me who use cream in my coffee, what difference does it make that it's cloudy? Ha!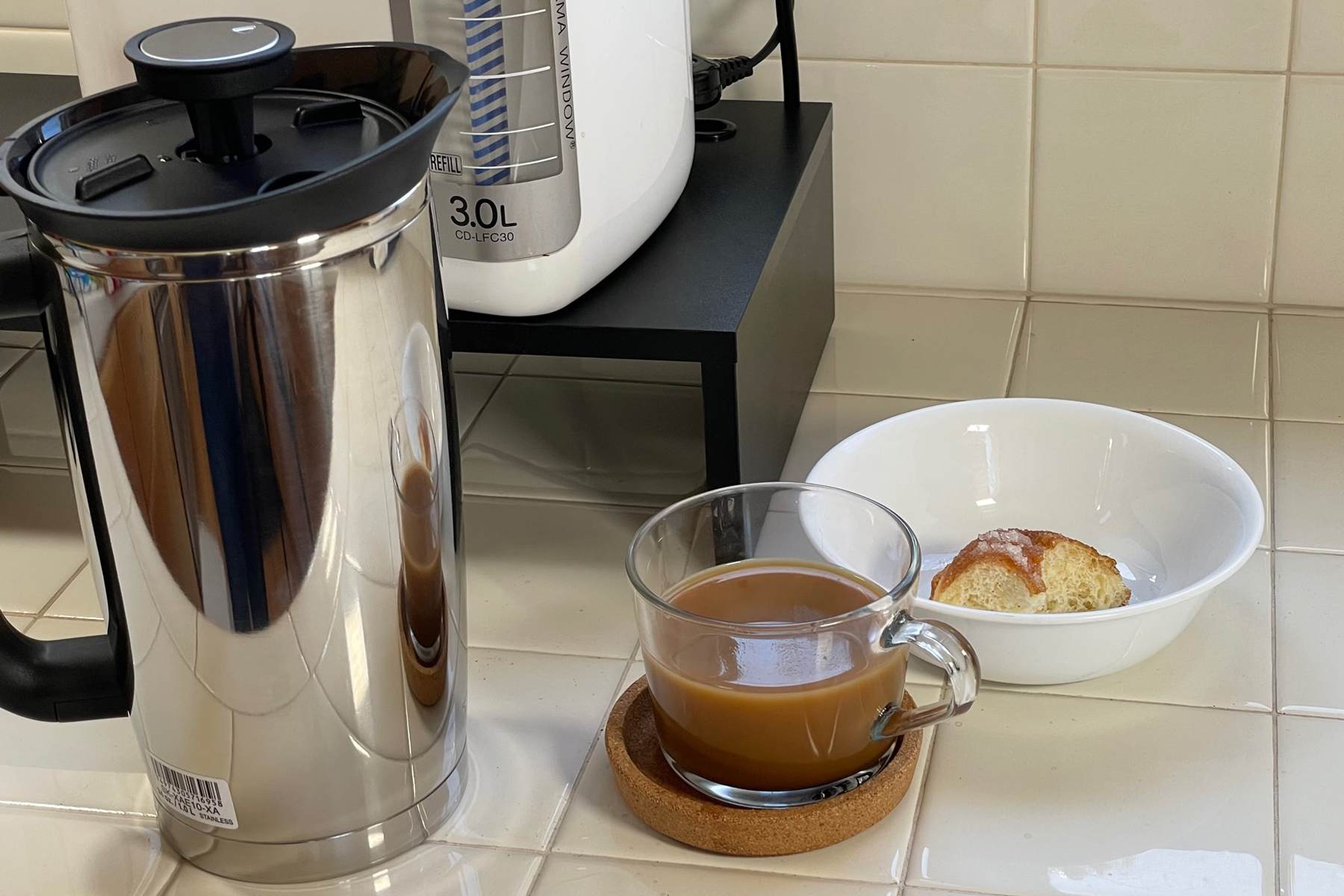 So here is my take on Zojirushi's new French press:
PREP—Super easy. The instructions call for 6 scoops for a full carafe of coffee (900mL); I brewed the full amount because I wanted to taste test the coffee at optimum. I only wish there were markings on the inside for water levels when making less than 6 servings; it would take out some of the guess work.
BREW—At first the plunger may feel like it's stuck, but it isn't. Just lift it to loosen and try again. I think the tightness is actually proof that the filtration assembly is precisely designed to catch all the grounds from leaking into the coffee, unlike some cheaper models.
TASTE—For my taste, it was a bit strong so I brewed a second time using half the amount of grounds. This was just right for me, and I was pleasantly surprised at how much I liked it. Compared to my pourover coffee, this French press made it taste "brighter"; if that makes sense.
KEEP—As expected from a Zojirushi insulated product, it didn't disappoint me after 2 hours of letting it sit. Of course the coffee doesn't have that just brewed taste anymore, but it was still hot enough to satisfy. The lid doesn't allow it to retain heat like a drink mug, but this was great for when you feel like having another cup later.
CLEAN—Lots of parts to wash, but I'll take this anyday over not being able to get to the nooks and crevices and letting debris build up.
Overall, will it make me switch from my pourover? I don't think so, but if you're a French press person anyway, I think this one's for you. The filtration is excellent and the insulation makes this an ideal coffee companion for breakfast with friends, when people always want a second cup.
To celebrate National Coffee Day, I tried a Coffee Milk Bread using my Zojirushi Breadmaker and a recipe from Apron.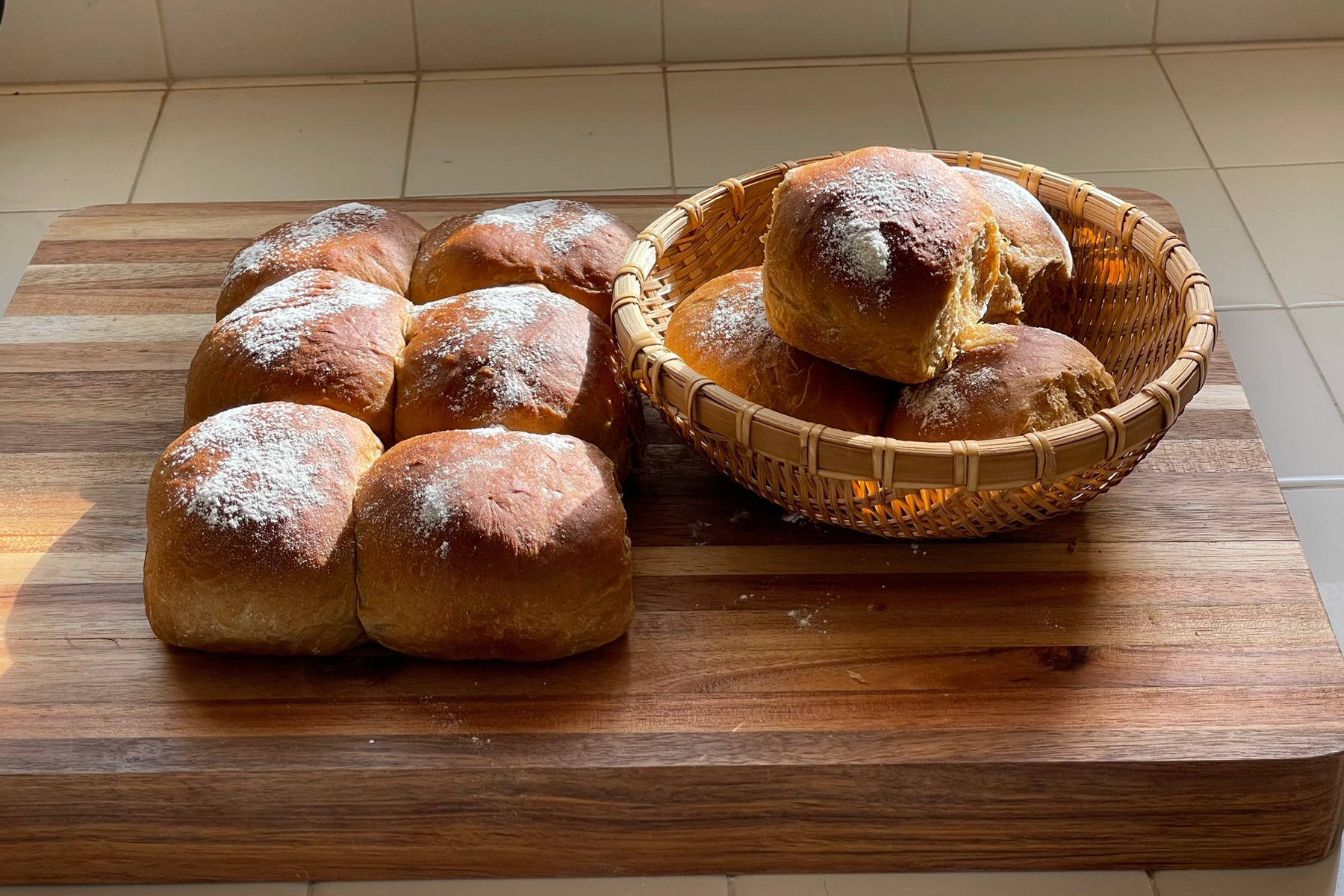 This dough can be made easily in your breadmaker using with the "Home Made" setting, and simply adding brown sugar and instant coffee.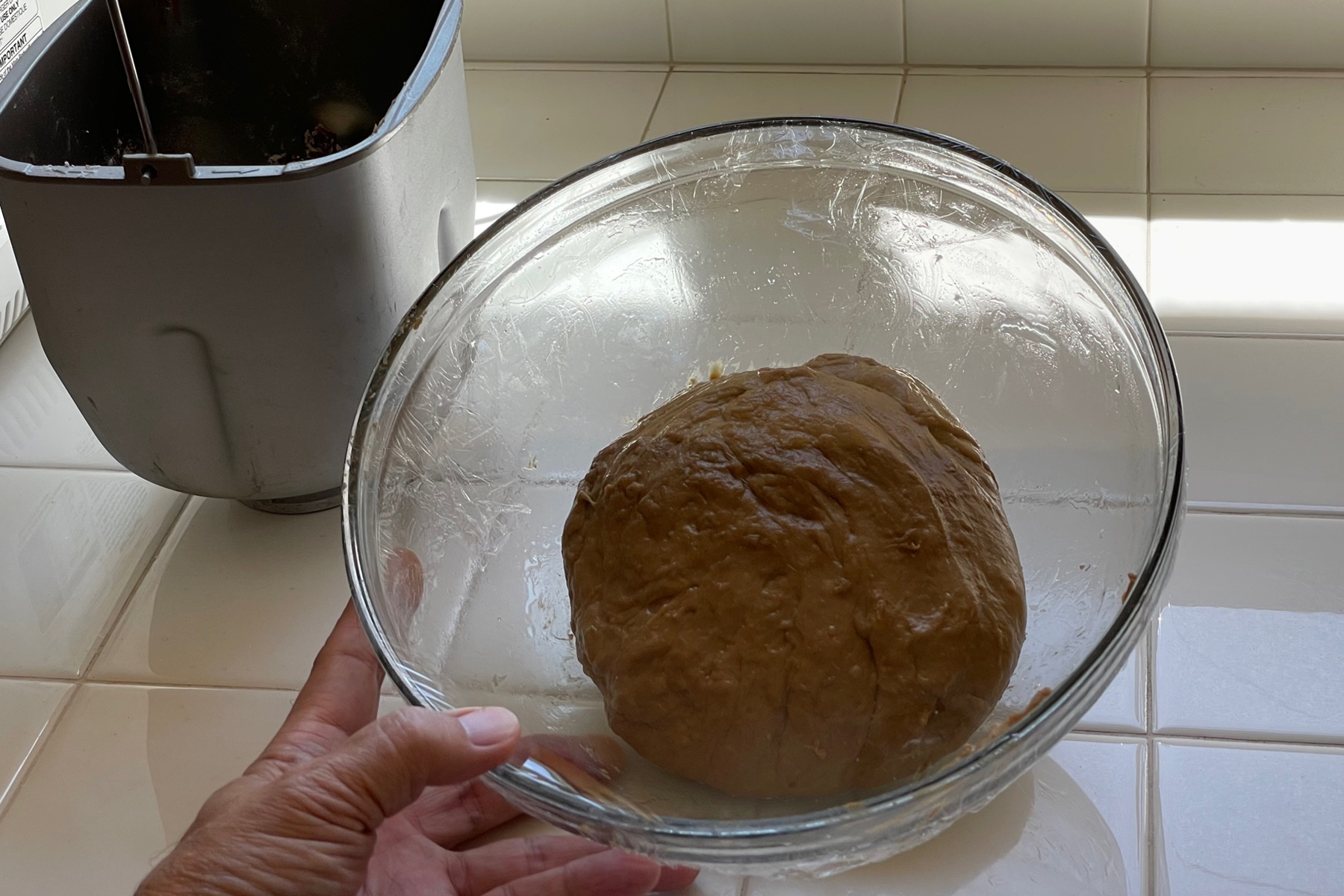 Divide the dough up into little balls and bake in your oven.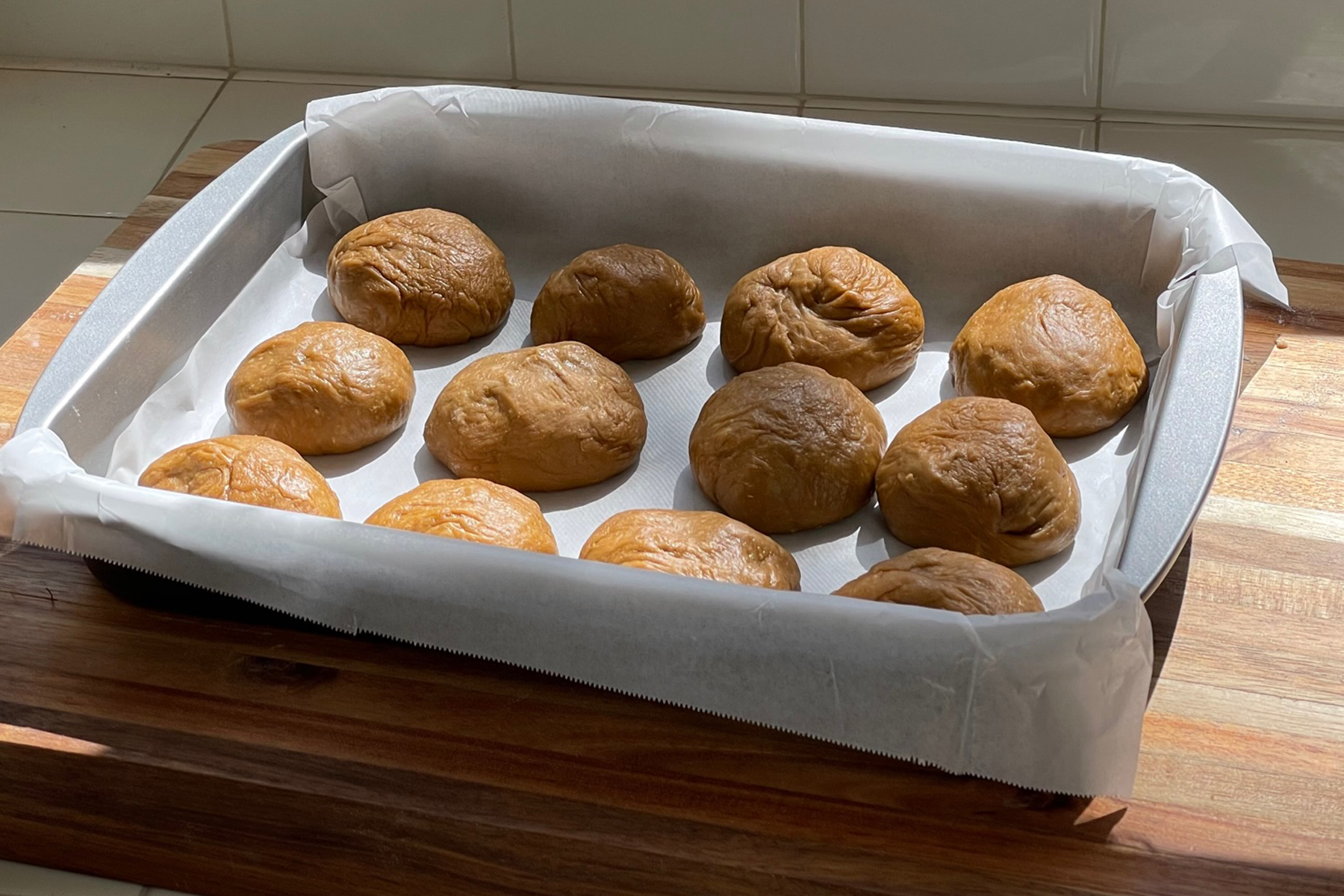 Came out pretty good! It was moist, with a little hint of coffee. It didn't have the smell of coffee like I was expecting, but it definitely had the underlying taste. It reminded me of the tea bread that I tried a while ago, which I thought was more aromatic.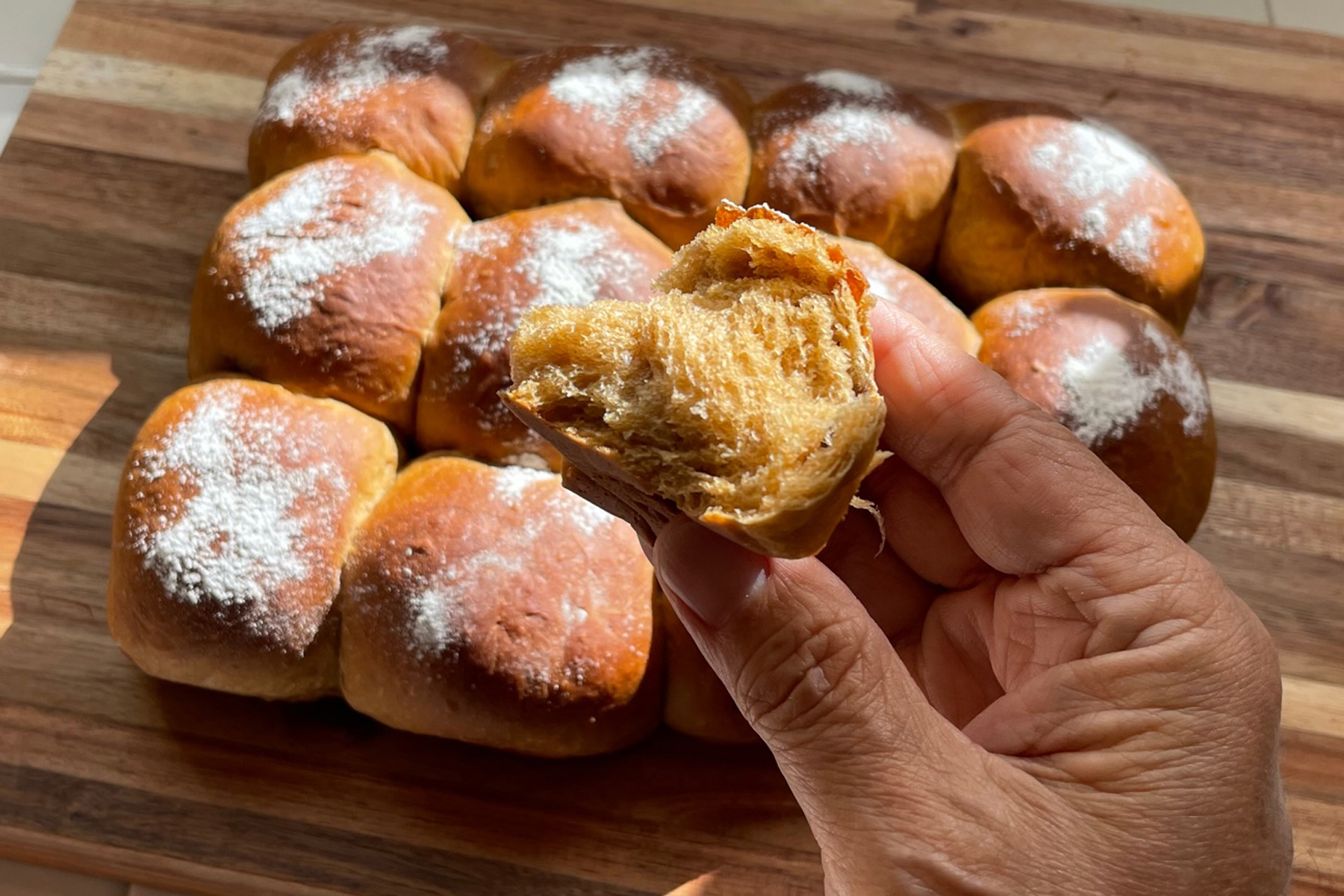 For more ideas on how to use instant coffee, try these. It's the perfect summer drink!
Products used in this post: Fresh Brew Vacuum Insulated Stainless French Press SK-XAE10, Home Bakery Maestro® Breadmaker BB-SSC10
Coffee Milk Bread from April
Instant Upgrades For Instant Coffee
Please note that these recipes were not tested by Zojirushi America.
All images by Bert Tanimoto ©2022