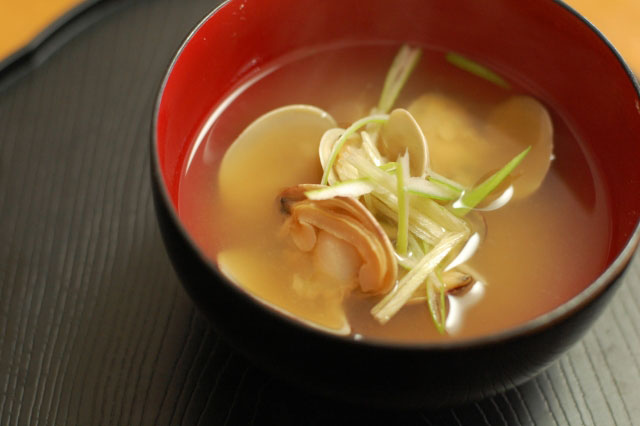 Miso soup is a vital, versatile part of Japanese cuisine. It can be served for breakfast, mixed with a bit of tofu and wakame seaweed. It can be part of a complete ichiju-sansai meal, served as the soup course. It can be served as part of a fancy meal, with crab legs and clams, or it can be served just by itself.
No matter how it is served, it is part of the soul of Japanese food.
Tofu Misoshiru is one of the most common forms of miso soup found in Japan and abroad. It is made by heating dashi stock with ingredients such as tofu and green onions, until the soup comes to a simmer. While the soup is simmering, a small amount of miso paste is dissolved in a separate bowl using a small amount of the warmed dashi. Once the dashi, tofu and green onions are cooked, the heat is turned off and the miso mixture is added into the soup, imparting protein, probiotics, umami and a lovely flavor. Dried, cut wakame seaweed is added at the end, just before serving, to round out the soup.
Making miso soup is deceptively simple, however, creating a truly delicious soup requires sensitive attention to the quality of ingredients and how the soup is prepared. As Rochelle Bilow, a writer for Bon Apetit, states, "With a soup that requires so few ingredients, the quality of each one really matters." Using subpar miso paste and instant dashi detracts from the richness of a well-made miso soup. Similarly, using firm tofu in the soup detracts from the texture and mouthfeel of the soup. When adding vegetables, such as daikon or carrots or mushrooms to the soup, it's important to slice them thinly and in small pieces and let them cook to tenderness in the soup's liquid. Similarly, it's important to balance the "heavy" ingredients, such as potatoes and tofu, with the "light" ingredients, such as scallions and seaweed, in the soup. Too much of one or the other affects the pleasure of eating the soup.
How the miso is added to the soup mixture is one of the most important aspects of making delicious miso soup. Miso is made from fermented soybeans, and through the fermentation process, becomes full of beneficial bacteria and active cultures. Adding miso paste to the soup mixture while it is on the flame may kill these good bacteria and cultures and diminishes umami. Miso should be dissolved in a bit of broth first to remove any lumps and then added to the soup once the other ingredients have cooked. Then just before the soup returns to a simmer, turn off the heat.
Following these rules is the best way to make miso soup. But as with many Japanese foods, miso soup is versatile and adaptable. You can use different types of miso paste, from white, yellow, to red. A variety of vegetables can be added to the soup, including chard, carrots, radishes, mushrooms, sea vegetables, onions and potatoes. A variety of seafood can be added to the soup, including fish and crustaceans. Even noodles, such as udon, can be also be added to the soup.
Whatever way it's made, miso soup is a staple in Japanese cuisine. Tell us how you make it!