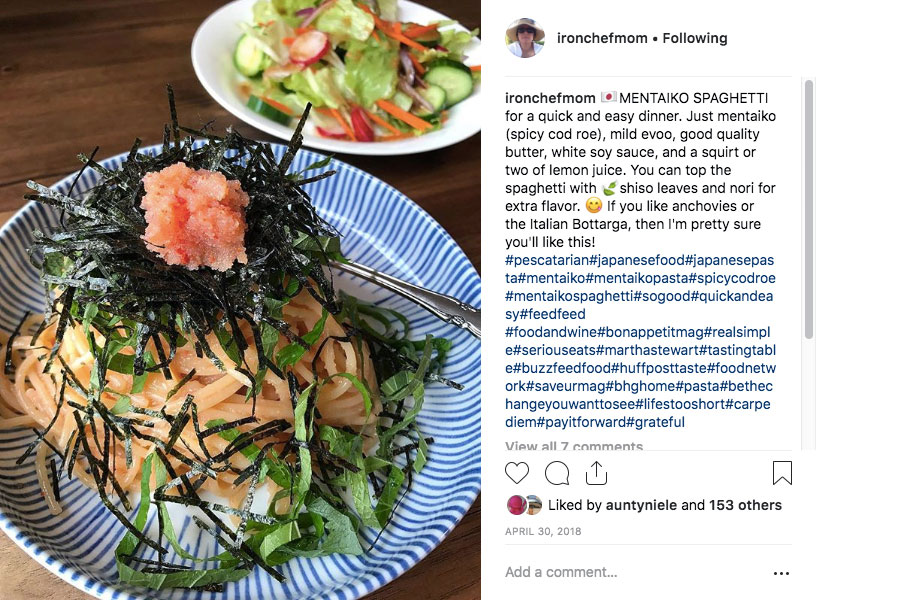 This month I'm going to introduce y'all to my favorite Instagrammer. @ironchefmom cooks and plates the meals herself, takes her own shots and posts them just for fun. Her teenage kids made her open the IG account and stuck her with the name, back when the Japanese Iron Chef cooking show was so popular. I can honestly say all the food she's posted, tastes as delicious as they look—mainly because @ironchefmom is my wife and I get to eat like this at home!
Our family eats all kinds of food at home; and our weekend activity is usually finding new places to eat around Los Angeles, so our menu is pretty varied. Of course, my favorite is Japanese, so there's always a lot of rice involved. She is Korean-American, so there's a lot of kimchee involved too. And our kids are pretty Americanized, like my daughter who's very partial to pasta (like the tarako spaghetti above ).
Yes, we own a Zojirushi Rice Cooker (NP-HCC10); not their top of the line, but a very advanced one with a lot of menu settings. Since we often eat plain white rice with our dishes, it's important to buy quality grain and have it cooked perfectly. Good quality rice does have a flavor—contrary to what most people might think. And what most people may not realize is how rice is so verstile, it complements almost any kind of food, beyond just Japanese. I'll eat it with anything—steak, eggs for breakfast, chili, marinara meat sauce, Swedish meat balls, hot dogs. It really does substitute for pasta or bread, more than the other way around.
We had Mexican Chicken Chile Verde once, which we ate with white rice. @ironchefmom prepared it in our new pressure cooker—man, was that meat tender!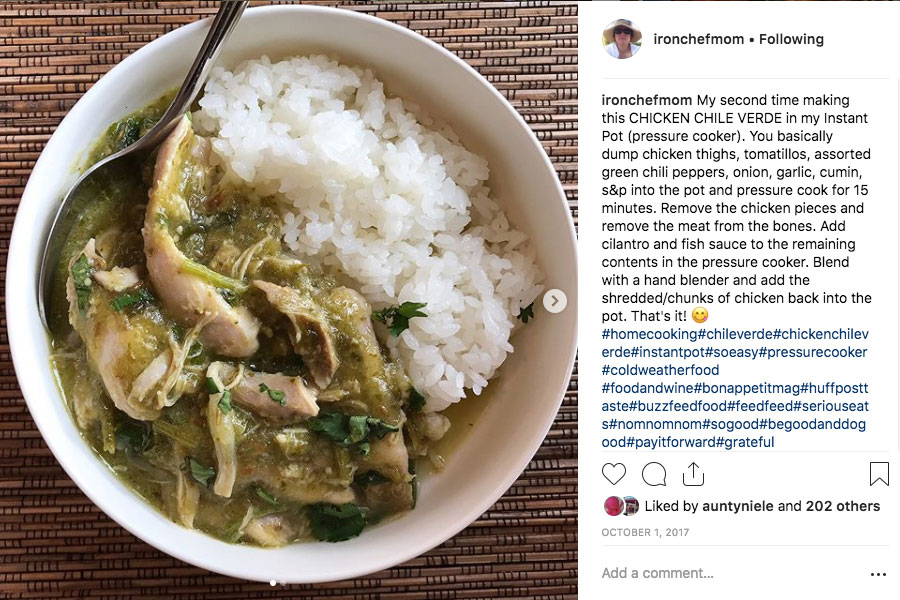 This Creole Gumbo was done in our slow cooker…as soon as I can get my hands on the new Zojirushi Multi-Cooker, I'll ask her to make it again! So good with white rice…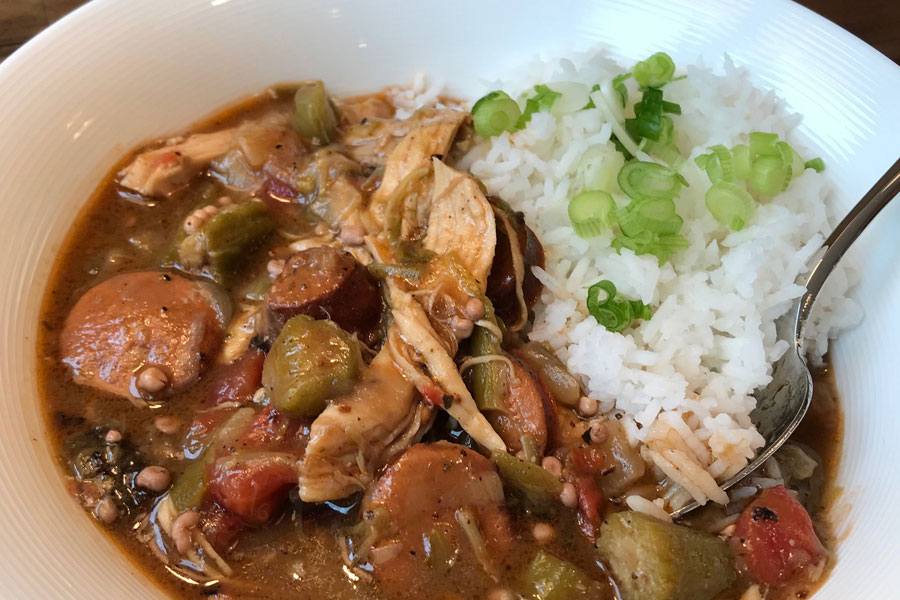 Some nights we eat out of cans. I love this dish—Miso Marinated Sardines on steaming hot rice. Simple and nutritious even from canned foods.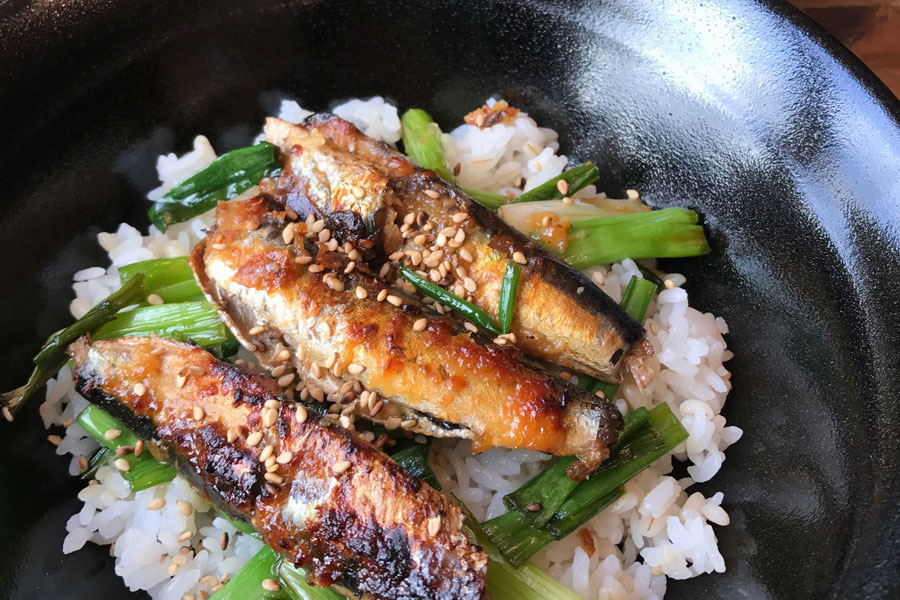 This is Korean style oxtail stew called Kalbi Jjim. Sometimes it's so spicy it makes my eyes water, but it's a hearty dish that I can eat with the rice even after all the meat is gone, and all that's left are vegetables.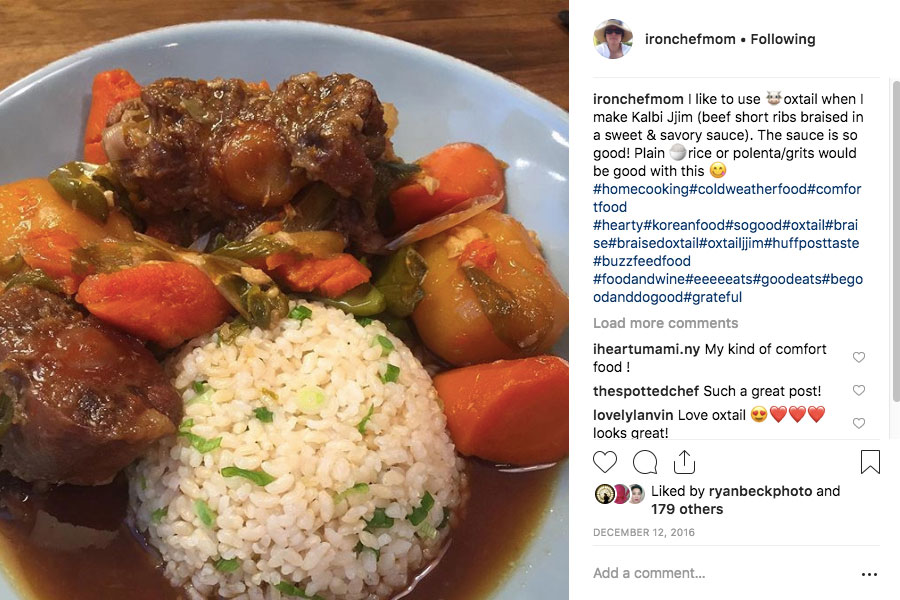 Speaking of vegetables, last year we decided to go on a vegetarian diet to see if we could get healthier. I think we did pretty good. It lasted for 40 days without cheating! Not bad, huh? Even when we went out to restaurants we stuck with it, but boy was it hard (and a little boring IMO). It was actually tastier at home, where we had meals like Vegan Cantonese Lettuce Wraps with Japanese Kabocha Soup: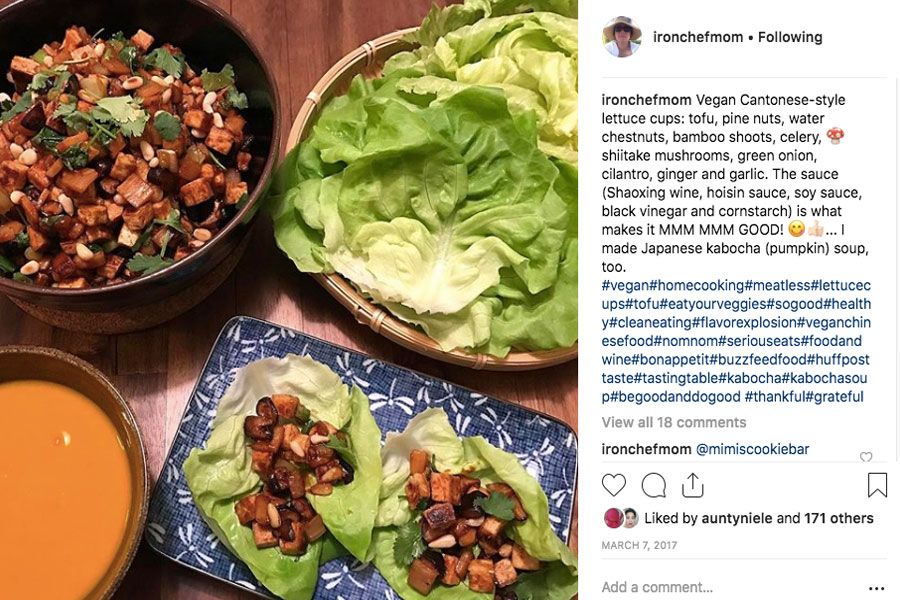 And Vegetable Curry…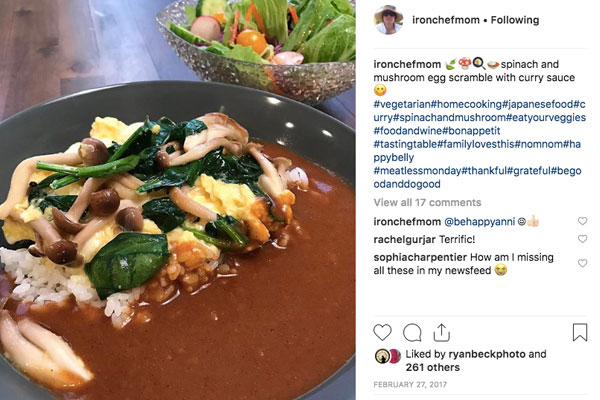 And Vegetable Sukiyaki…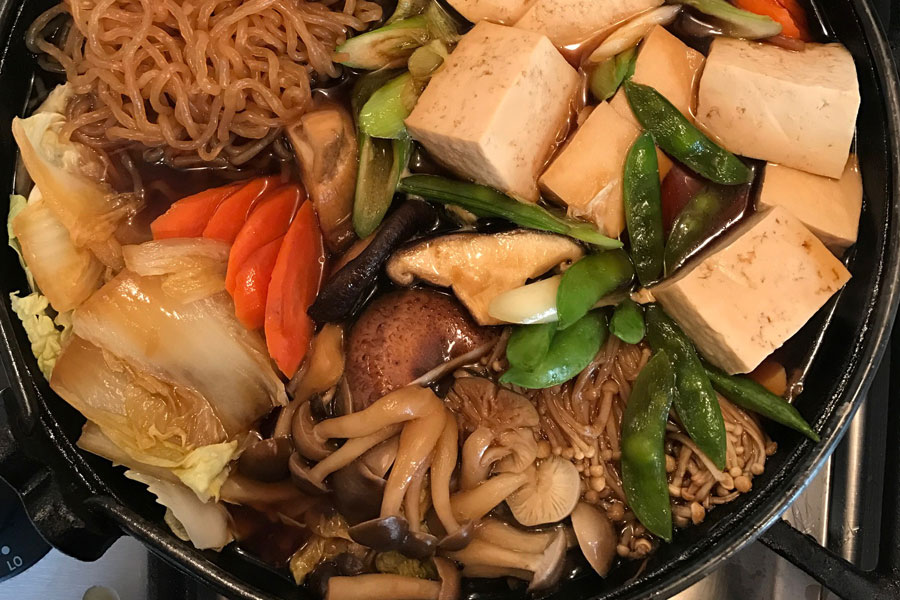 If you ever try to do this, my advice is to just get started and stay focused. You can do it too!
So have I made you hungry yet? @ironchefmom loves to cook and posts strictly for fun, and we obviously get the benefits; but of course there's a downside. I don't always get to eat the beautiful dishes you see here because I get home late. My daughter is the lucky one, and I usually have to assemble a look-a-like version. I'm not complaining though—it still tastes the same! And when we're out at restaurants, we've grown accustomed to waiting until she gets all her IG shots done before we can dig in. She's gotten faster at taking the pictures, and we've gotten more patient, LOL.
Today is @ironchefmom's birthday. Happy Birthday! Help us celebrate by giving her page a LIKE, okay? And if you leave a comment, she'll more than likely respond. I'm going to leave you guys with a couple more of my favorites. When it was my birthday, I got a week's worth of personal requests! Best present ever, I gotta tell ya!
Hamburg Steak with Demi-glace sauce: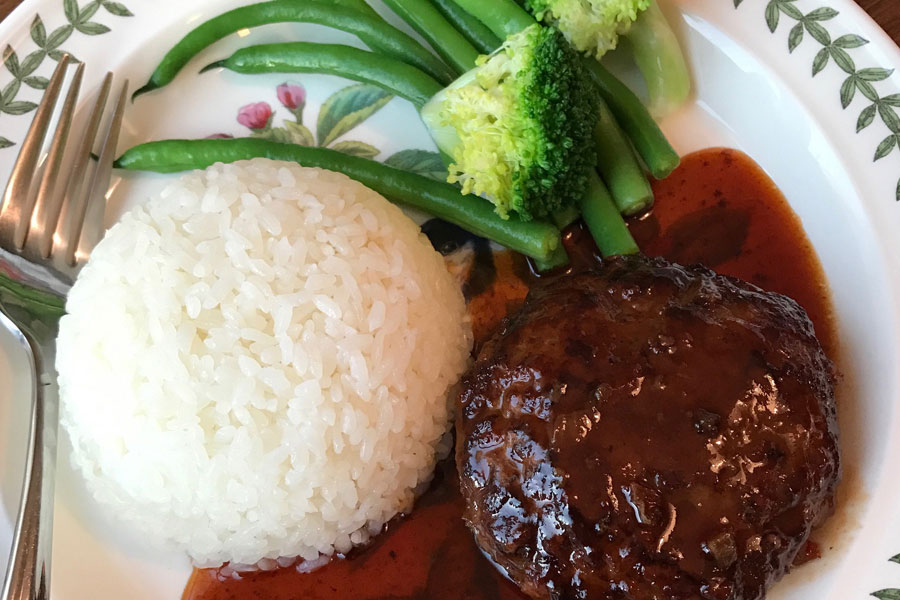 Buta no Kakuni (Braised Pork Belly):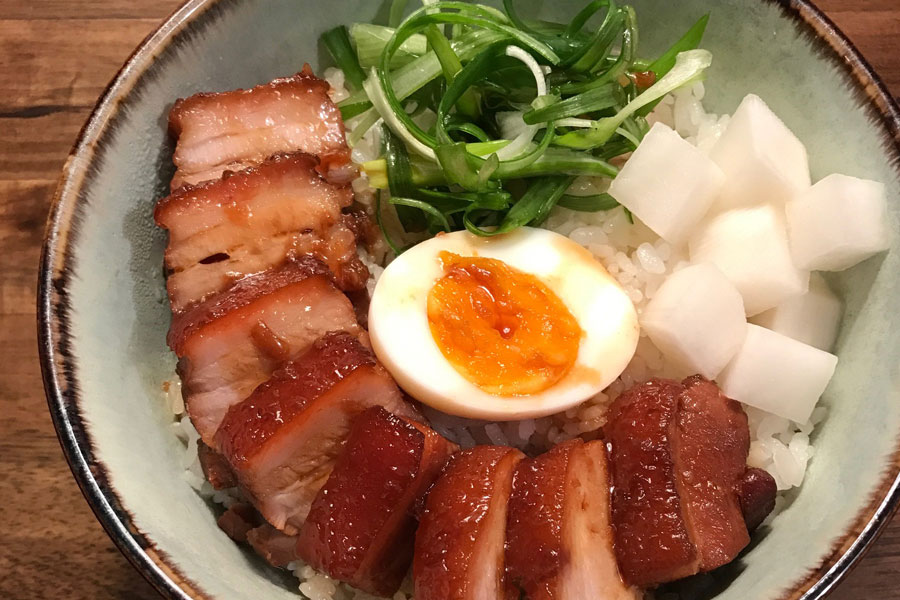 photo credits: all by @ironchefmom