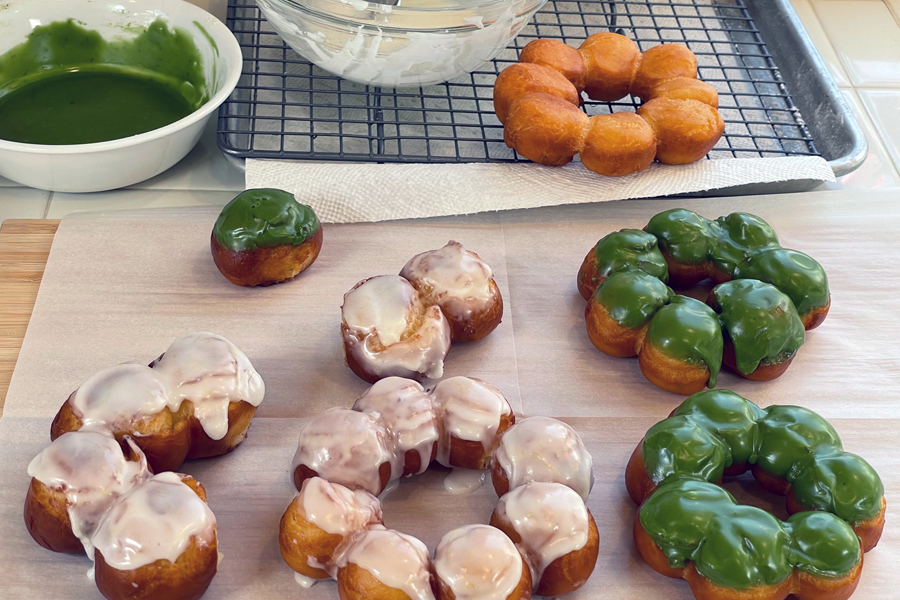 Since I've already confessed to having a weakness for donuts, I won't feel guilty about celebrating National Donut Day. Nor will I feel guilty about deep frying, since baked donuts just sound lame to me. My excuse is that I've never deep fried before so this will be a new experience for me—and in the interest of expanding myself…
I started by making the dough in my Zojirushi Breadmaker and used a bread machine recipe I found online. That was the easy part—the tricky task was to find a good, decently sized round cookie cutter. You can find all kinds of fancy ones, but try to find basic shapes and it's not like they're sold everywhere without having to go online. I know they probably have specialized donut cutters, but I found something that worked. I used this round one and pressed out the hole with a condiment cup I had lying around (I was a dedicated to bringing my lunch from home when I used to commute to work).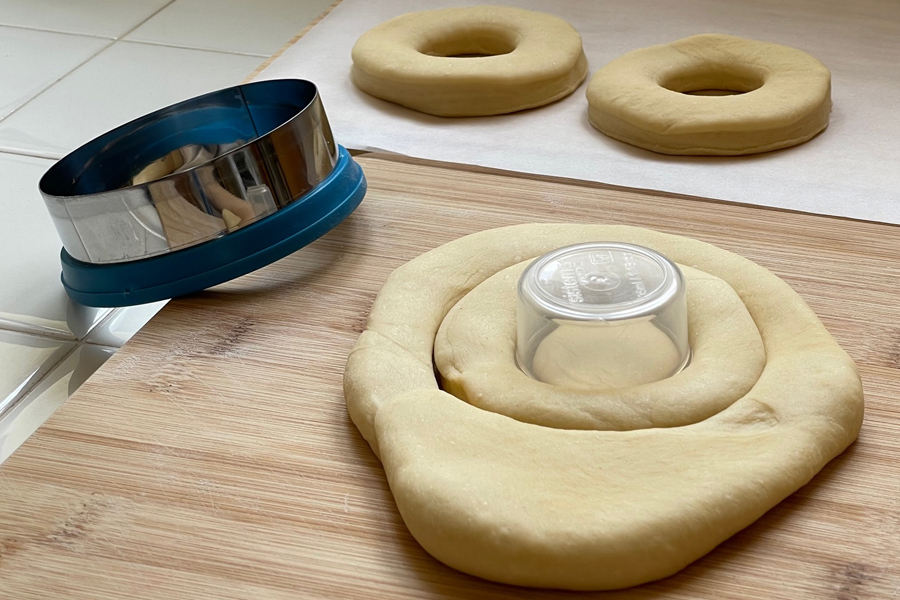 Whoa, this was a little scary for me—I don't have a tolerance for hot oil. But they look good!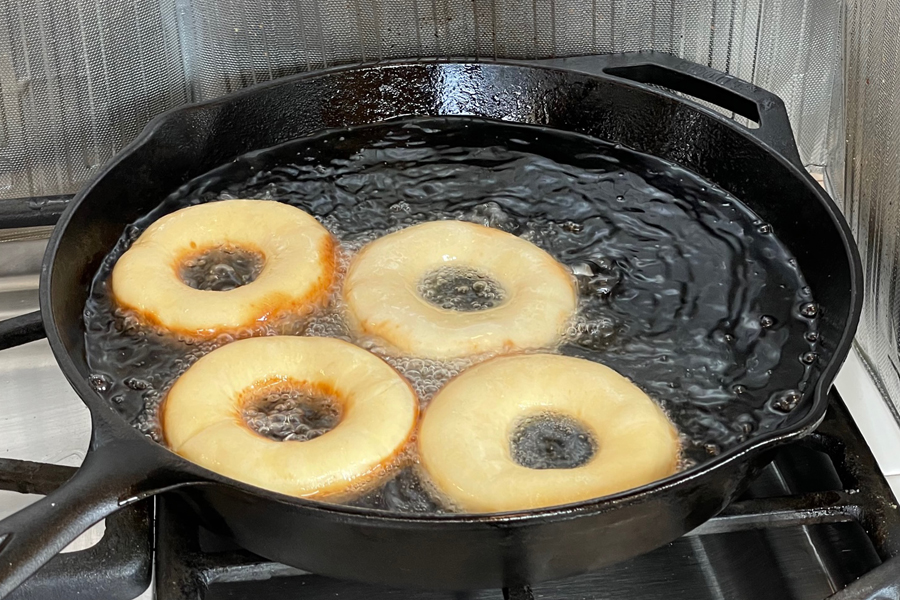 The other scary thing is that you have to work fast because they fry up so quick. As a novice fryer, I was trying to be too delicate with the tongs because I was afraid of ruining the donut. But I got used to just grabbing them with no major accidents.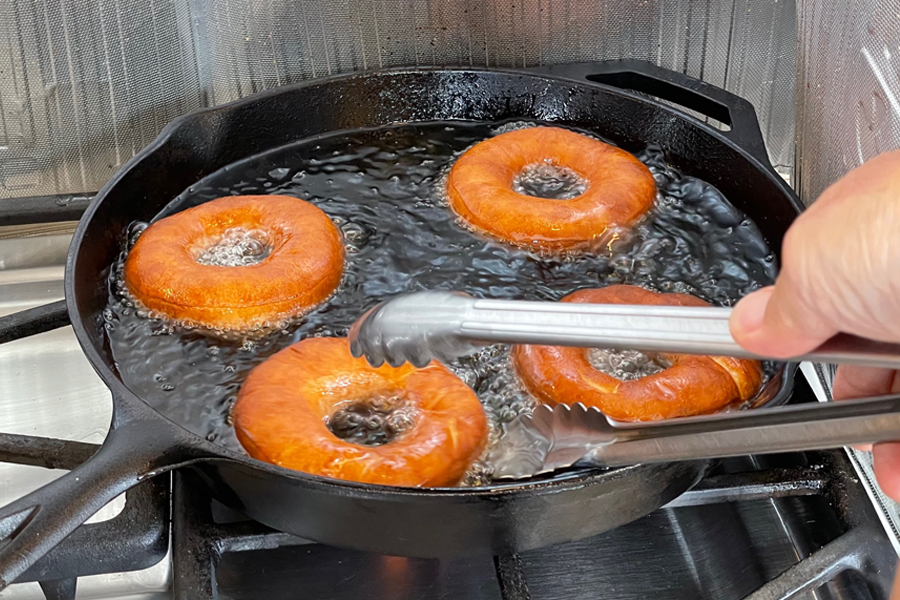 All that was left was to dip them in cinnamon sugar for the finishing touch.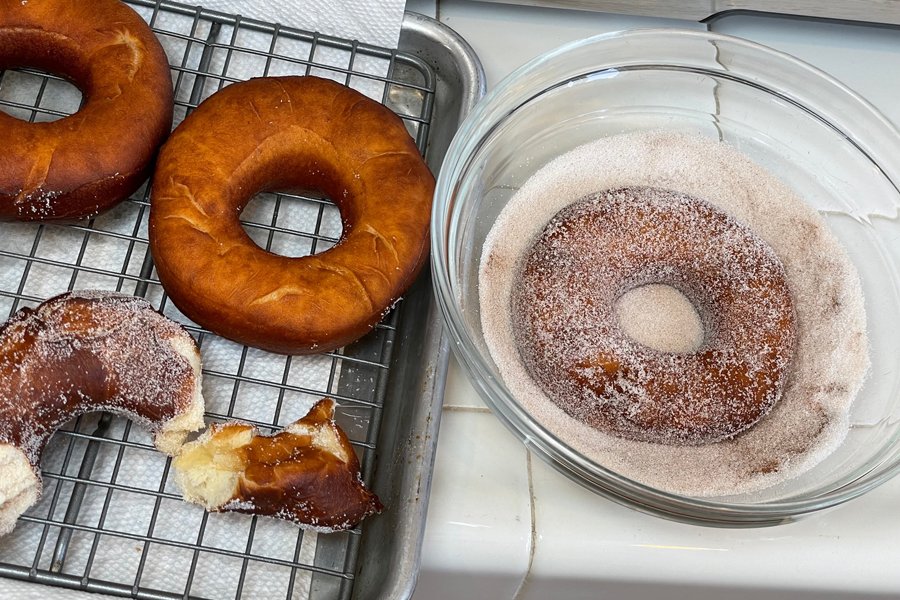 Surprisingly delicious for a first-time effort! The inside was perfectly yeasty with that pillowy soft texture and the outside was delicately fried without being greasy. Even my wife was impressed.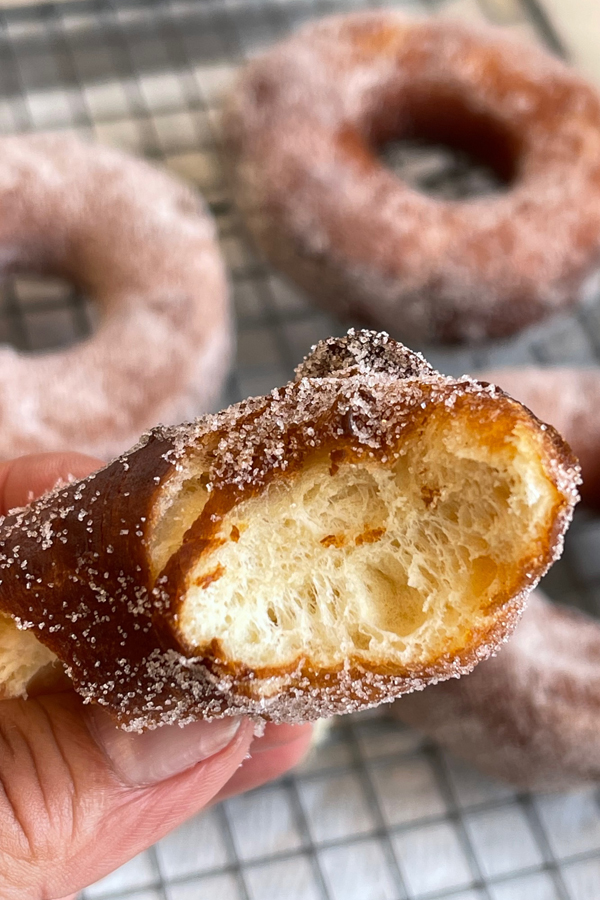 Then I got a little ambitious since I had my breadmaker out anyway, and I still had a big pan of oil. I wanted to try those Mochi Donuts, the ones that look like teething rings? I found a mochi dough recipe and again used my breadmaker to do the work. This one required the dough to rise for 1-1/2 hours, so I used my Zojirushi Micom Toaster Oven and used the RISE function to help.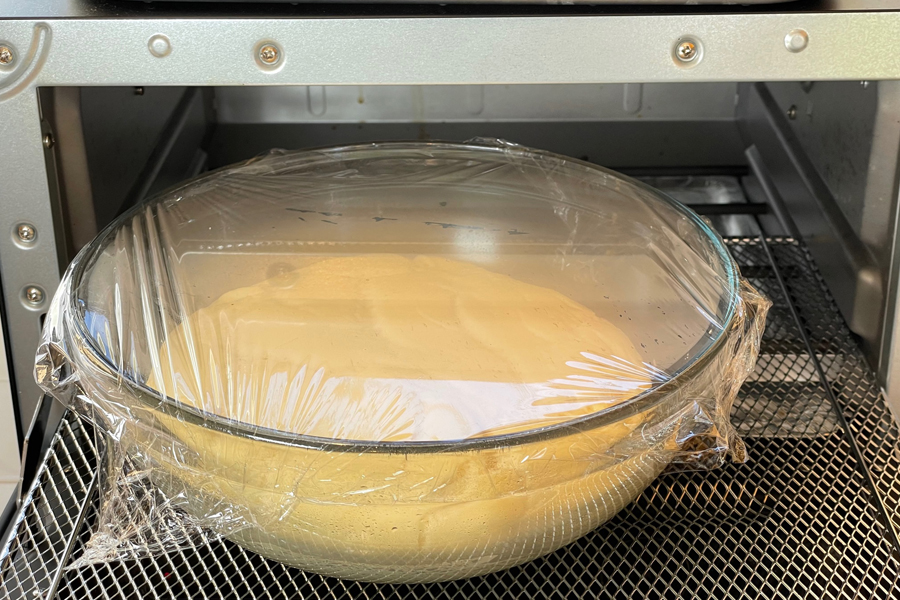 Then it's a matter of rolling the dough into little balls and sticking them together. Having some oil on your hands helps to manage the dough, while using some water in between the balls helps to stick them together (excuse the low quality of the pic—this is a video capture). You'll notice they're resting on squares of parchment paper. This makes it easy to pick them up and drop them into the oil.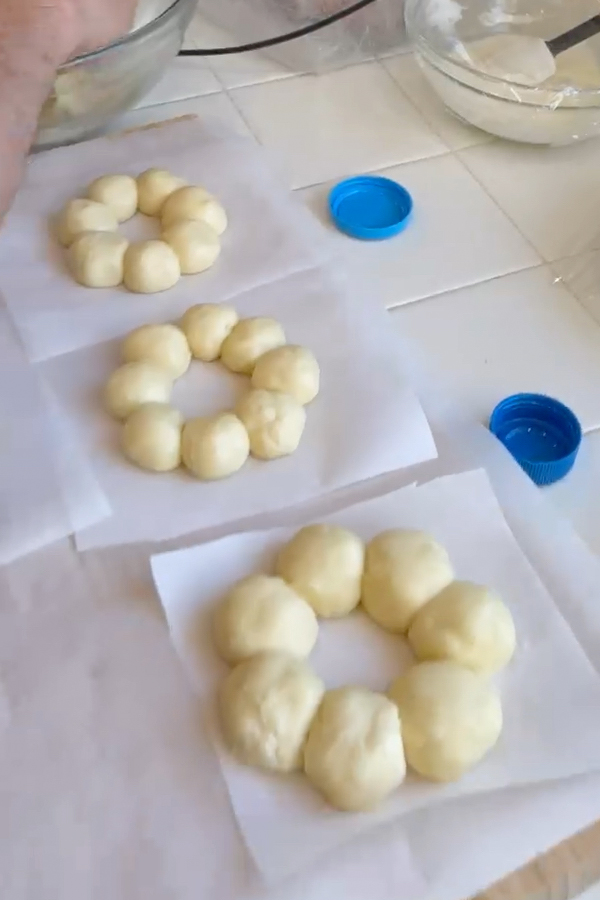 Into the deep fry. The parchment paper easily falls away so you can pick them up with your tongs.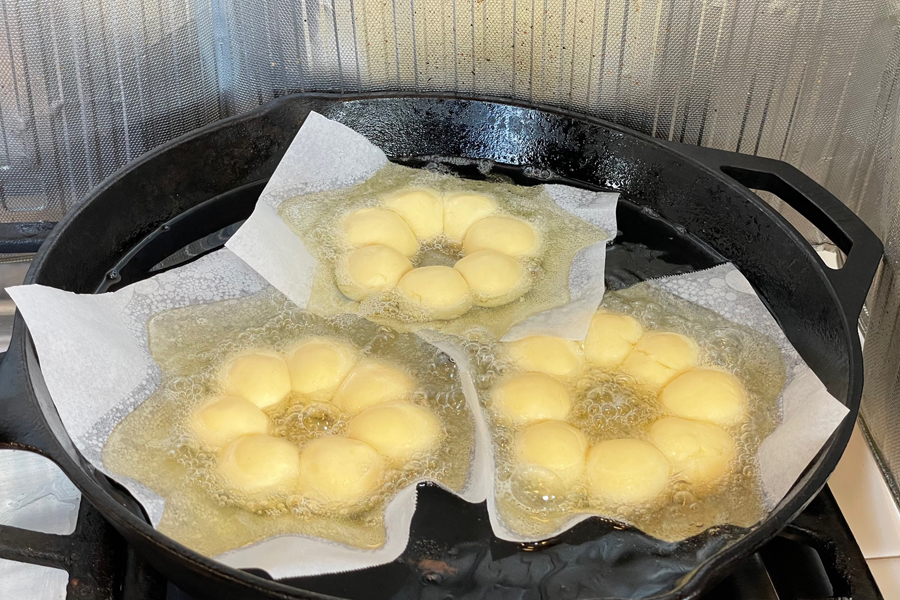 Such a nice golden brown!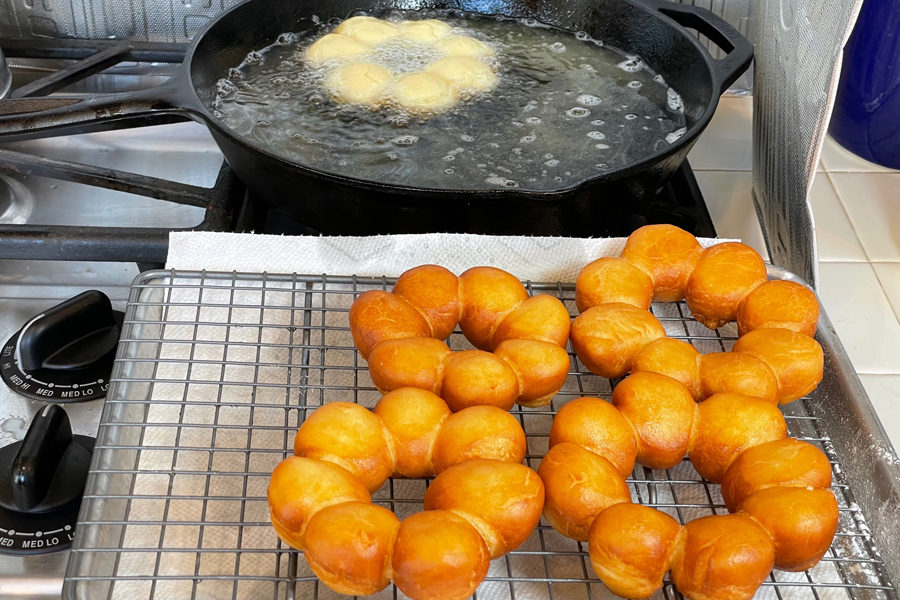 Aaaand Glazed Mochi Donuts—plain and matcha flavors! Not quite like store-bought, but pretty good for homemade.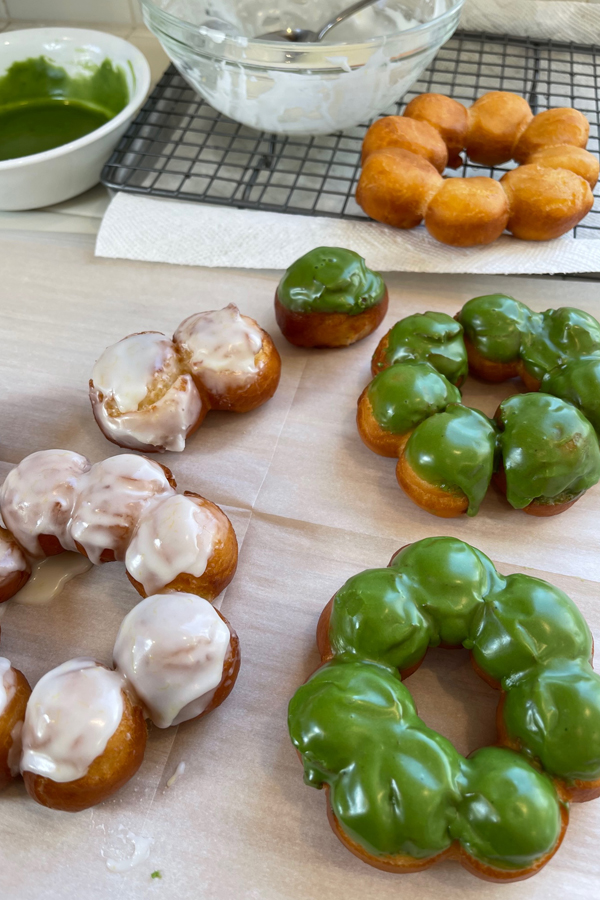 Now you deserve to learn something about donuts in America. This pink box of donuts symbolizes everything about the American dream and about how donuts saved our soldiers during World War I; seriously! See that sticker on this box?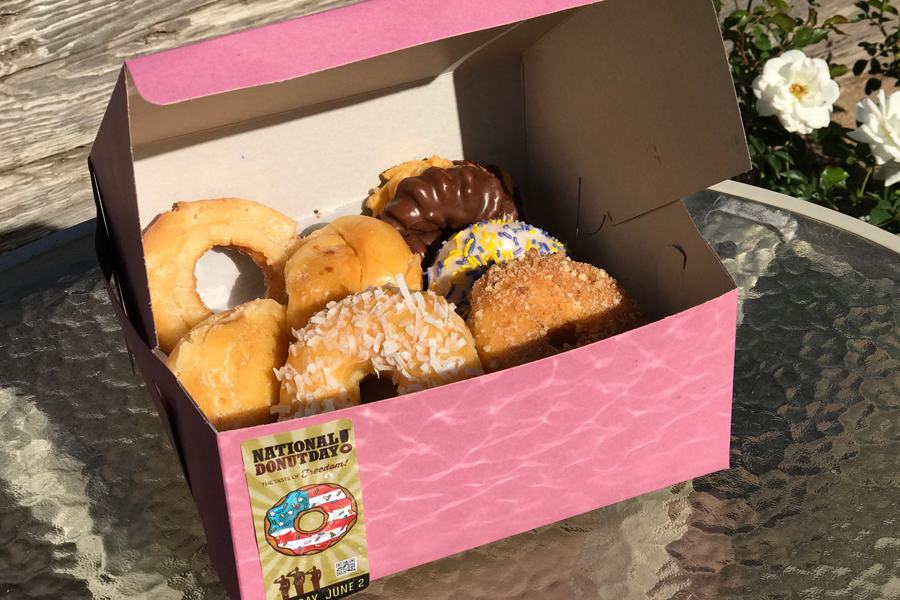 During the war morale was so low among our troops, fighting the war in the trenches in France, that the Salvation Army decided to do something about it. Women volunteers scrounged what ingredients they could and cooked donuts for the men, serving them up near the frontlines. It was hugely popular and gave our soldiers a taste of home cooking. National Donut Day was in fact started by the Salvation Army in 1938, as a way to honor those early "doughnut lassies", who supported our troops during the war. So there, you can have your donut and feel patriotic about it too!
And the pink box? Back in the 1970s, when Cambodian refugees came to Southern California to start new lives in a country totally foreign to them, many of them gravitated to running donut shops. The pink cardboard was cheaper than the white stock used by printers, so these early entrepreneurs started buying pink boxes to save costs rather than skimp on the ingredients. Today it's estimated that over 80% of the independent donut shops in SoCal are still run by Cambodian American families, a generation removed from the original pioneers who came to find the American dream. I recommend seeing "The Donut King" documentary, about Ted Ngoy, an amazing American success story.
So there you have it—you can eat your donut and feel good about it. Have a delicious National Donut Day!
Products used in this post: Home Bakery Maestro® Breadmaker BB-SSC10, Micom Toaster Oven ET-ZLC30
Recipes by Art and The Kitchen and Cherree
Please note that these recipes were not tested by Zojirushi America.
All images by Bert Tanimoto ©2022