Have you met the newest Zojirushi Micom Rice Cooker & Warmer NS-TSC10A/18A? This beauty comes packed with healthy features that will make it so much easier for you to plan nutritious and healthy meals. From quinoa to steel cut oatmeal, this truly versatile rice cooker will cook grains perfectly effortlessly.
This rice cooker comes in two sizes, a 5.5 cups capacity for smaller households and a 10 cups capacity for larger families. Whatever size you choose, each Micom Rice Cooker & Warmer NS-TSC10A/18A comes with a beautiful stainless gray exterior and a microcomputer with our signature Fuzzy logic technology, which adjusts cooking times and temperatures to ensure perfect results time after time.
Like all of our products, this Zojirushi rice cooker was designed with both style and functionality in mind, with a retractable cord for easy storage, a clear-coated stainless steel exterior, an LCD control panel with Clock and Timer functions, and a convenient detachable inner lid for effortless cleaning. Accessories include a steaming basket, rice measuring cup, nonstick rice spatula, and spatula holder.
These Zojirushi rice cookers can cook rice, healthy grains like quinoa or brown rice, steel cut oatmeal, and steam veggies all at the touch of a button. Simply choose your desired setting and let the Micom Rice Cooker do the rest for you. Use the steaming basket and select the "steam" menu setting to steam your favorite vegetables, fish, or dumplings. For those busy mornings when you don't have time prepare breakfast, set up the timer the night before and have delicious steel cut oatmeal ready the next morning ready for everyone to enjoy while you get a few more minutes to sleep.
If you're cooking rice, select which type of rice you will be cooking, and come back when you hear the machine's cheerful melody or beep signal that lets you know your rice is ready. There is an automatic "keep warm" setting that will keep your rice hot and fresh for you and a delay timer that allows you to choose at which exact time you want the rice cooker to have your rice perfectly cooked.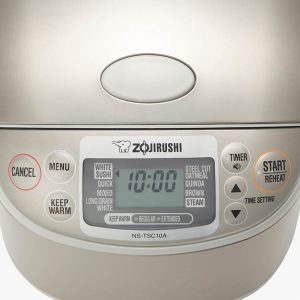 Rice menu settings include
White/sushi

Mixed

Porridge

Sweet

Brown

Cake

Steam

Quick-cooking
To see the Micom Rice Cooker & Warmer in action, watch our product video on YouTube. Looking for rice or other recipe ideas to use with your rice cooker? Visit Zojirushi.com to discover our library of dishes that you can easily make with the help of your Zojirushi appliances.
Now that you've been introduced to the Micom Rice Cooker & Warmer NS-TSC10A/18A, which feature do you look most forward to using? Will it be rice, dumplings, or quinoa? Be sure to share your dishes with us on social by tagging your photos on Twitter, Facebook, or Instagram! #Zojirushi #ZoFan