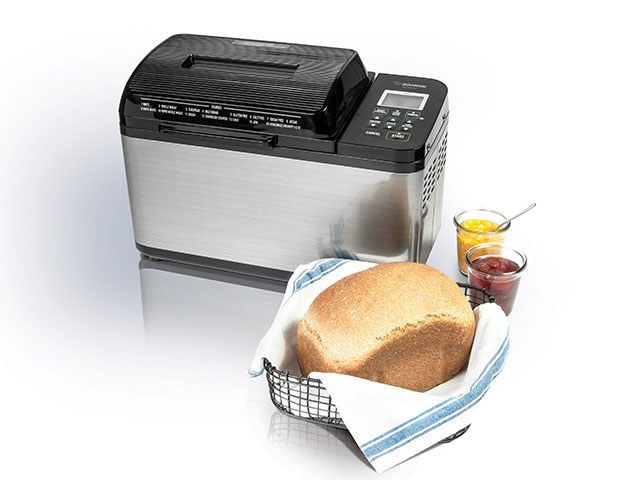 We have a new breadmaker and IT. IS. AMAZING!
The Home Bakery Virtuoso® Plus is our latest breadmaker and it is equipped to make anyone a great home baker.
It makes traditional 2-lb. loaves as well as a variety of other foods. It features 14 pre-programmed course settings that alter the kneading, rising and baking functions based on the type of bread to be made. The course options allow you to make classic breads such as White, Rapid White, Whole Wheat, Rapid Whole Wheat and European-style breads that have a lovely crumb. The course options also include health-conscious choices such as Multigrain, Gluten Free, Salt Free, Sugar Free, and Vegan. And finally, this appliance is also great for making pizza dough, pasta dough, sourdough starter, cake and jam!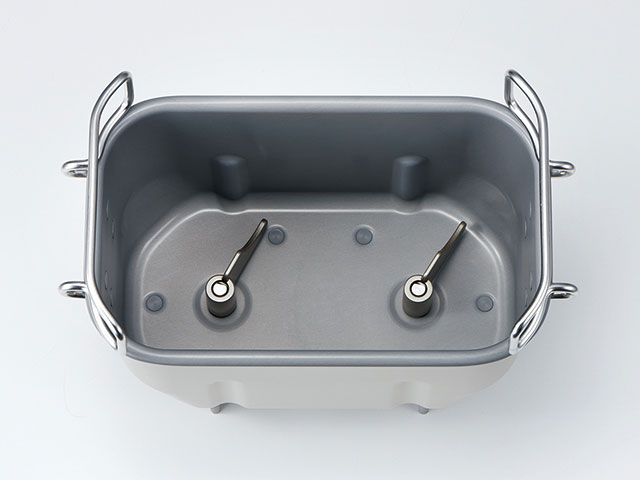 Along with the pre-programmed course settings, the Home Bakery Virtuoso® Plus comes with a special Homemade course, which allows you to input up to three custom recipes that you've developed, storing your own knead, rise, and bake times in the system. This great feature is perfect for keeping your favorite bread and other recipes ready to make at the touch of a finger.
And since this appliance is specifically designed to bake excellent bread, you can set the Crust Control to the crust color of your choice, and features a heating element in the lid which promotes even baking and browning. The Ham & Mayo Roll that we've developed for this breadmaker is savory and delicious and the roll was easy to make using the Dough course. And if you're in the mood for pasta, then try making the pasta from scratch! We love our Prosciutto and Avocado Cold Pasta recipe!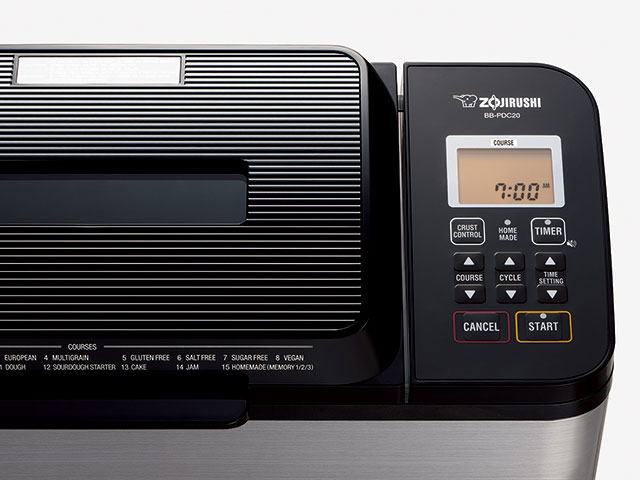 Like many of Zojirushi's breadmakers, the Home Bakery Virtuoso® Plus Breadmaker uses a removable, nonstick coated baking pan to hold all the ingredients and dual kneading blades to thoroughly mix ingredients for superior results. The simplified LCD control panel and convenient key code make it simple to choose the course setting as well as select the crust color and set the optional 13-hour delay timer.
We've created how-to videos to get you started with this breadmaker. The ideal place to start is by measuring ingredients correctly. Making bread is straightforward, as is programming the Homemade Course. And finally, check out our helpful hints, in case you need a few tips.
Both the pan and blades are easy to clean and are BPA-free. Accessories include a full color recipe booklet with 50 delicious recipes, nested measuring cups for dry ingredients, a liquid measuring cup and a measuring spoon.
We love our new premium breadmaker and know you will too! Share how you use it in the comments below!