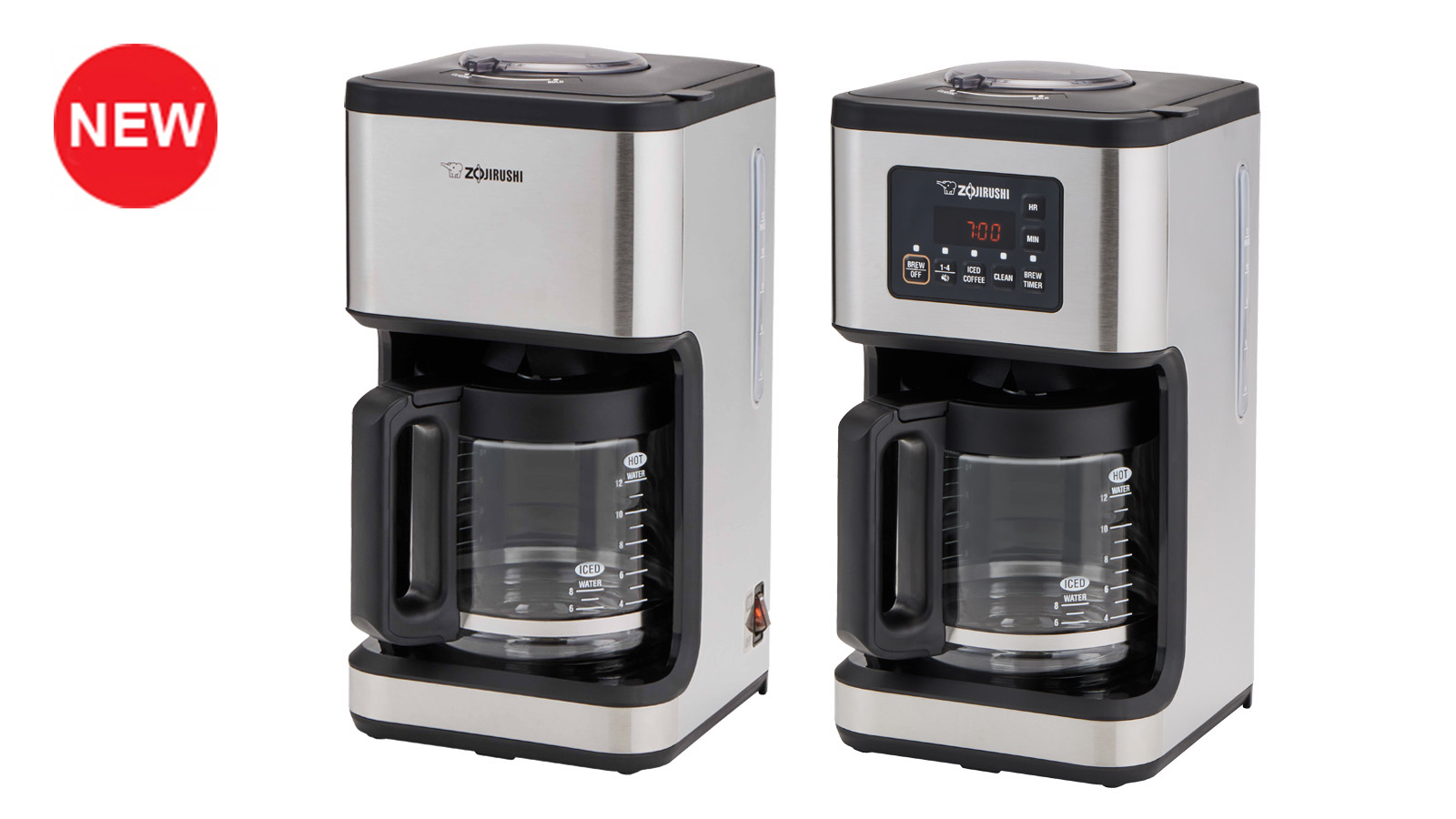 We're excited to introduce you to our newest Zojirushi coffee makers, the elegant Dome Brew Classic Coffee Maker EC-EJC120 and the intelligent Dome Brew Programmable Coffee Maker EC-ESC120. True to their names, these models feature a brand new brewing technology, including a unique Shower Dome design, which ensures an even saturation of coffee grounds that result in a truly perfect and flavorful cup of coffee. And, with our newly developed Taste Tuner feature that lets you fine-tune your brew strength to your exact liking, you can explore an infinite combination of both hot and iced coffee flavors unlike ever before!
Are you ready to learn how to make hot or iced coffee in our new Dome Brew Coffee Maker? Take a closer look at this machine's special features with us and we'll show you how!
Two Models to Choose From
There are two models of Dome Brew Coffee Makers – the Classic (EC-EJC120) and Programmable (EC-ESC120).
The Dome Brew Classic Coffee Maker is a simple yet intelligent coffee maker that can easily be turned on and off via single-switch operation, and is ideal for those who prefer a simple, no-frills model.
The Dome Brew Programmable Coffee Maker features a seamless control panel with an easy-to-see and use digital clock and additional settings menu. Additional functions of this model include:
Micro-Computerized Brewing technology which controls bloom time and brew speed of your coffee grounds for optimal flavor extraction. This feature can also brew between 1-4 cups of coffee if desired
An ICED COFFEE course which switches off the Keep Warm function to prevent unnecessary heating after brewing
Automatic shut off after 2 hours
Audible beeps to alert you when your coffee is ready. This feature can also be turned off if desired
Cleaning program for descaling
Top Functions
We designed these coffee makers to be as functional and versatile as possibleWant to keep your coffee warm after it's brewed? Done. Feel like switching it up to iced coffee? No problem.
Taste Tuner feature which allows you to customize brew strength from light and smooth to dynamic and bold
Shower Dome design which ensures uniform saturation of grounds
200°F high brewing temperature heats water to the right temperature to brew flavorful coffee
Iced coffee maker with water measure lines which adjust the water-to-coffee ratio for a stronger coffee that doesn't taste watered down when diluted with ice.
Warming plate that keeps coffee warmat the ideal temperature
Drip-pause feature prevents coffee from dripping when the carafe is removed from the machine allowing you to enjoy a taste before the full pot of coffee is finished brewing

12 cups of hot coffee or 8 cups of iced coffee brewing capacity
Thoughtful and Safe Design:
This hot and iced coffee maker was designed with your safety and convenience in mind. You can feel good about:
Stainless Black color that looks great on any kitchen counter or tabletop
Easy-lift filter basket that makes filling and cleaning effortless
Large opening allows the lid to open 110 degrees for easy filling
Includes a specially designed coffee scoop accessory
Glass carafe with an ergonomic, easy-grip handle and knuckle guard for extra protection, and dribble-reducing spout
All surfaces that come into contact with food or beverage are BPA-free
What are your thoughts on the Zojirushi Dome Brew Coffee Maker? Do you think it's the best coffee maker in our lineup? Remember to share your thoughts, comments, and questions with us on Twitter, Facebook, or Instagram! #Zojirushi #ZoFan