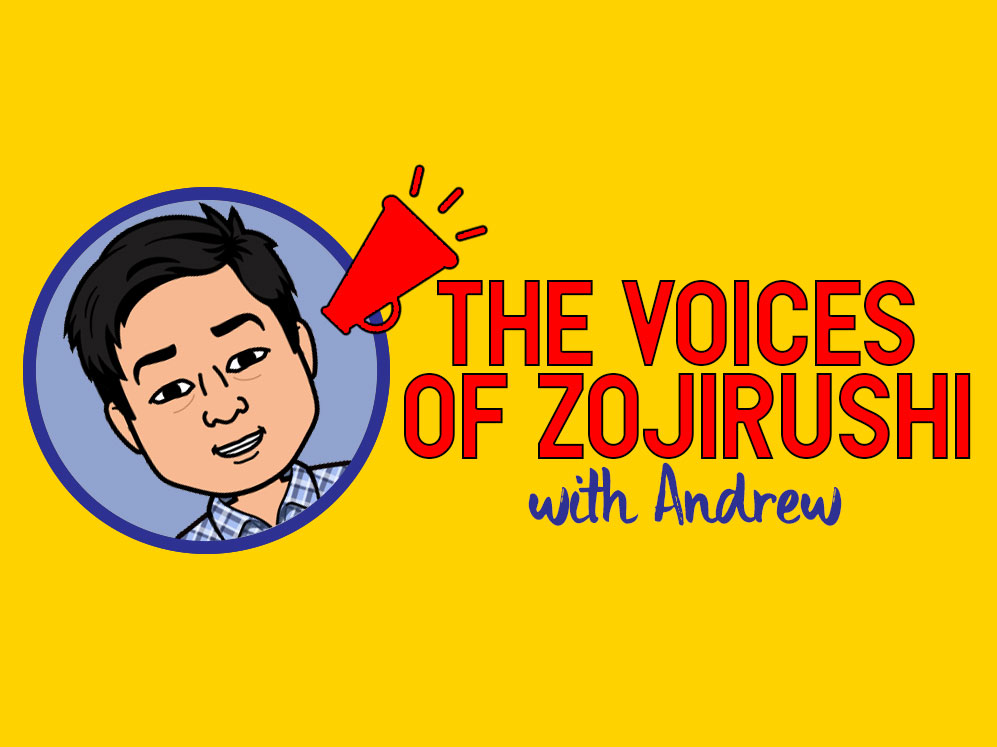 It's December and our final Voices of Zojirushi post. We hope you've enjoyed getting to know our employees this year and sharing in our centennial anniversary!
Andrew, one of our Sales Executives, shares his inspirations and hopes for Zojirushi as we go into the new year. Andrew was born in Japan and raised in the United States, enjoying both Japanese and American cultures, food and lifestyles. He began his career working in a Japanese restaurant, and through his exposure to Asian foods vendors, began to work in sales.
Andrew, you have such an interesting background. Tell us a bit about your career at Zojirushi.
I had always had an interest in sales. I wanted to sell products I had confidence in—and, now I do, because I work for Zojirushi, selling the finest quality small appliances in the industry. Zojirushi prides itself on bringing only the highest quality products to market. They also keep keen focus on what the consumer is looking for—for example, the new Stainless Mug (SM-TA36/48/60) has a smooth, rounded finish on the opening of the bottle so that it is more comfortable to drink out of and clean. It may be a small thing, but that's the type of small detail that consumers really appreciate. I like being a part of that.
Zojirushi has always cared about their customers, and our corporate slogan "Inspirations from Everyday Life", reflects that. How do you see everyday inspirations in Zojirushi products?
Every new product we develop is inspired for everyday use. When a new rice cooker comes out there is always something new that was not on the previous model. For example, when the NS-LAC05 (3 cup capacity) was discontinued it was replaced by two models, the NS-LHC05 and the NS-LGC05. Although nearly identical in appearance and function, the NS-LHC05 and the NS-LGC05 have different settings, adapted to the different preferences of consumers. The NS-LHC05 has special porridge setting for making rice porridge and a jasmine rice setting geared towards some Asian consumers, while the NS-LGC05 has a steel cut oatmeal and long grain white rice setting created to capture the general market consumer. Paying attention to the needs of different types of customers is what keeps Zojirushi on top.
Our corporate philosophy is "Creating a Quality of Life" for our customers. How do you believe your job at Zojirushi supports our customers?
We recently started a new project as a company, with a focus on incentive and corporate gifts, since a lot of companies like to give their employees or customers a gift with their company logo on it. Putting company logos on mugs and bottles is nothing new to the industry, but usually the bottles are cheap. Our product, on the other hand, is double or sometimes triple that dollar amount; but, with more customer awareness of the high quality of our brand, more inquiries are coming in—from small establishments like coffee shops, to big corporations like Google and Facebook. I am happy to see that more customers prefer quality over price.
Since you sell so many products for Zojirushi, you must have your own favorite! What do you like cooking?
I have fond memories of visiting Japan every summer as a kid. I think that it was there I first tried monjayaki, a traditional Japanese meal or snack that is cooked on a hot plate. Since then I have missed eating monjayaki but I've been able to enjoy it again thanks to the use of our Gourmet Sizzler® Electric Griddle (EA-BDC10). And my wife made Paella using our griddle. She used fresh clams, shrimp and mussels, as well as chicken and sausage—it turned our great, and was very easy to make!
—
We're grateful to Andrew for sharing his thoughts with us and wish you all a very happy holiday season!