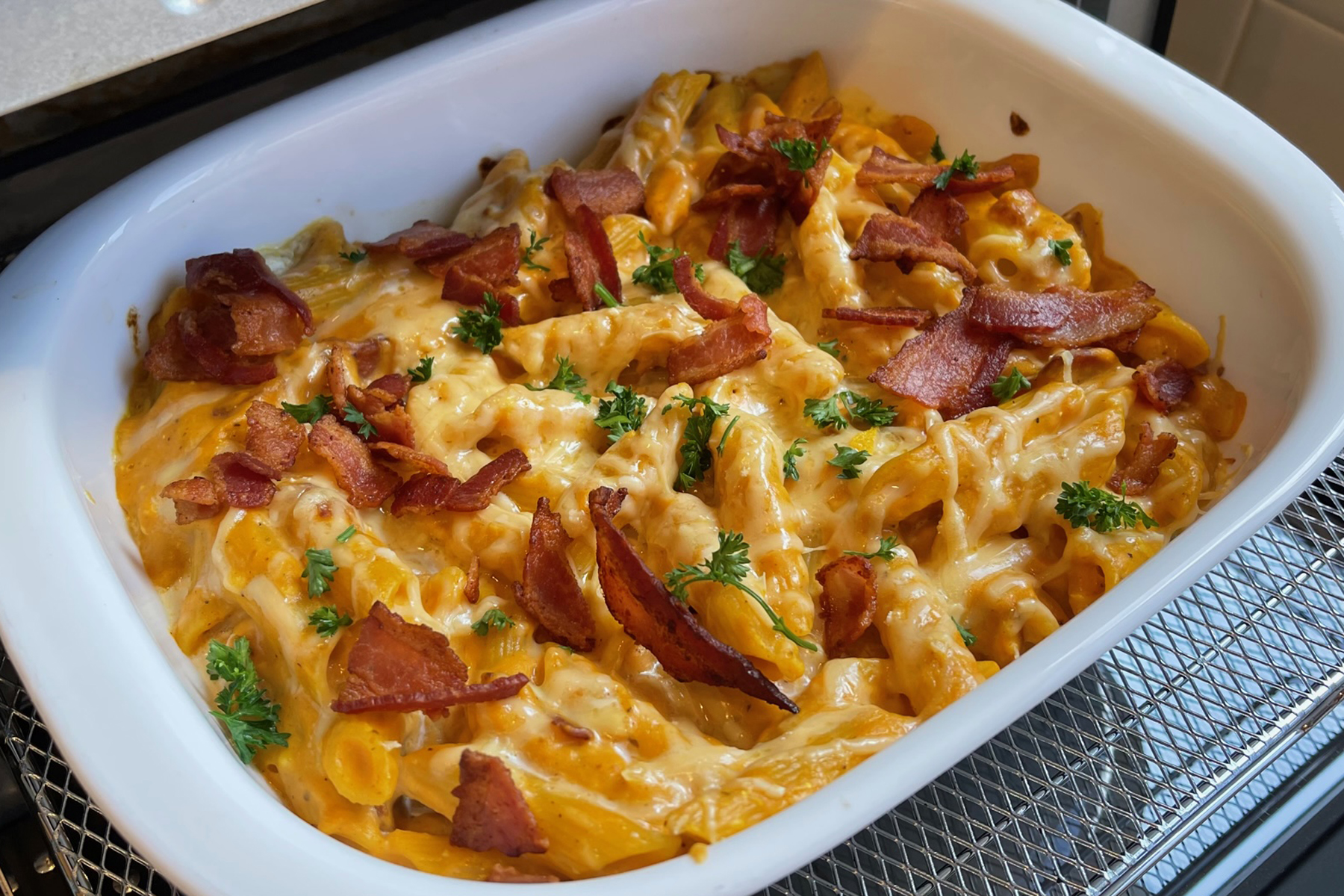 Oh, Great Pumpkin, will you come to my pumpkin patch? Maybe we'll have better luck than Linus did, if we put our faith in more pumpkin treats for National Pumpkin Month this October. This Pumpkin Mac & Cheese looks delicious, right? It's kinda cheating because bacon makes anything taste good, but the creaminess of the pumpkin was a delightful surprise.
I took my Zojirushi Breadmaker and baked a Pumpkin Bread Loaf recipe I found online, just to see how easy it could be. Really, the only worry I had was hoping the 2lb. recipe translated well enough for my 1lb. breadmaker, but it came out pretty good. Moist, nutty and fragrant.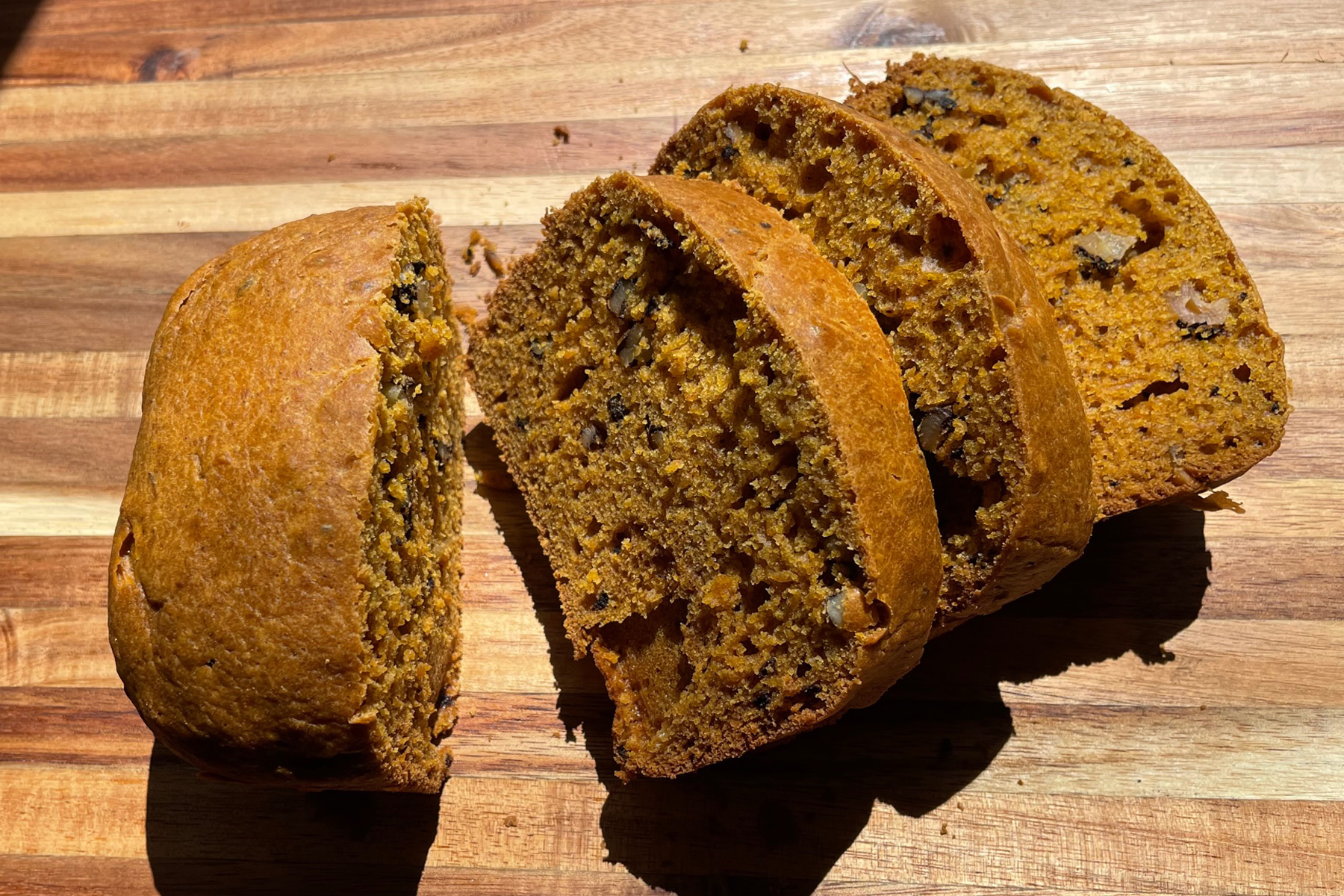 I love the ingredient dispenser too. It really helps when you don't have to stop the process to mix in the dry ingredients. I know a lot of breadmaker owners use theirs to just knead and rise the dough, then actually bake in their own oven. I've done this as well, but it's so gratifying to have the machine do the work from beginning to end. I used the dispenser to sprinkle the walnuts for this recipe.
Golden orange pumpkin bread. Don't forget to use the "CAKE" setting, or whatever your menu says for non-yeast bread. The only time I opened the lid was to make sure I scraped some of the dough off the sides after the knead cycle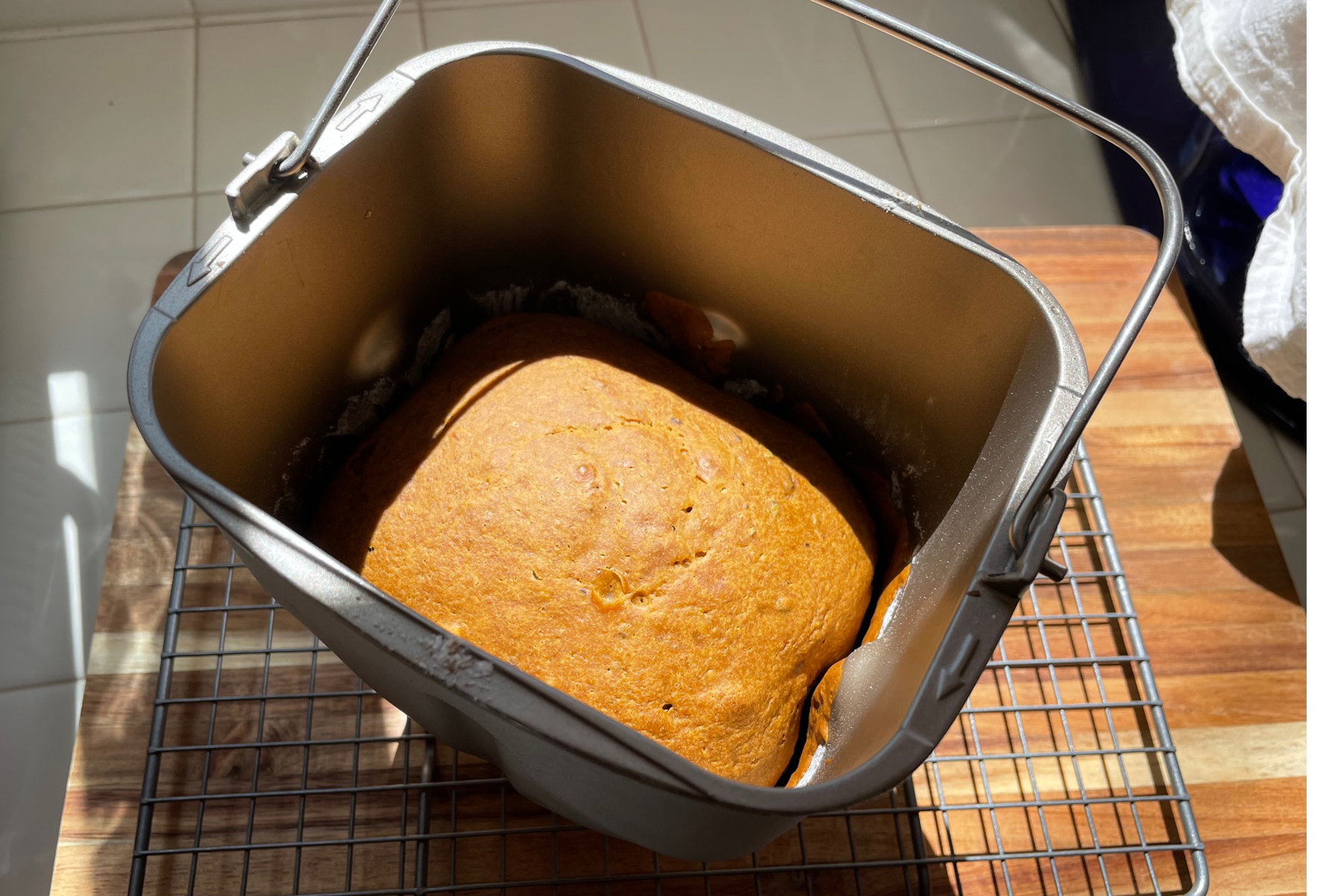 I feel breadmakers are great at baking bread; which is what they're supposed to do. There's a cake setting for cakey breads, but it doesn't compare to baking a cake in an oven. As long as you know what to expect out of your breadmaker, you'll never be disappointed.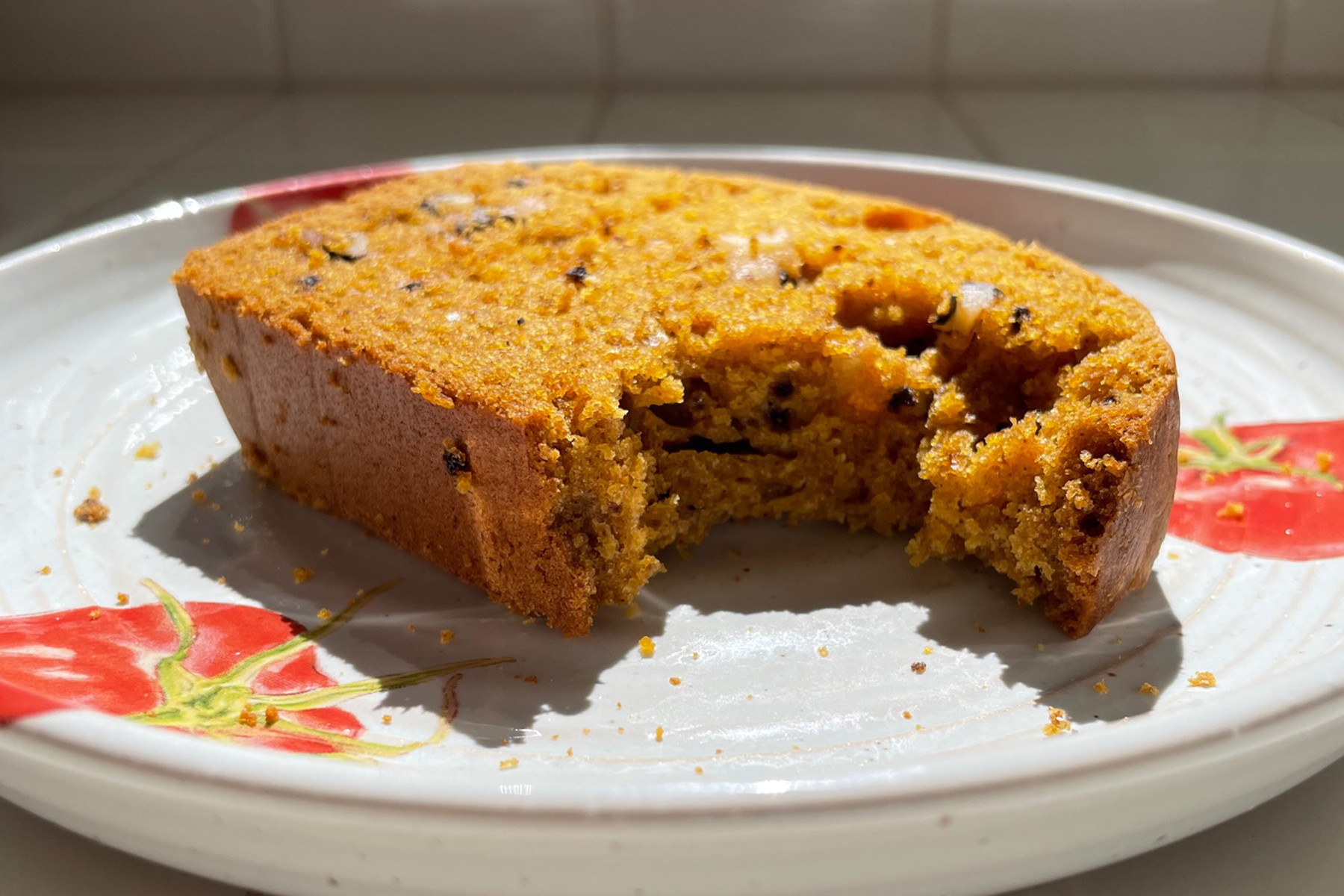 Who woulda thought Pumpkin Mac & Cheese could be something? When I thought about what pumpkin things I could make, it always seemed like they were all sweet desserts. This Mac & Cheese is mostly prepared in an open skillet or cast iron pan until the pumpkin puree, cheese and cooked pasta is blended and heated through, but the final touch is to brown it in an oven, like any casserole dish. This is my Zojirushi Toaster Oven, big enough for our dinner.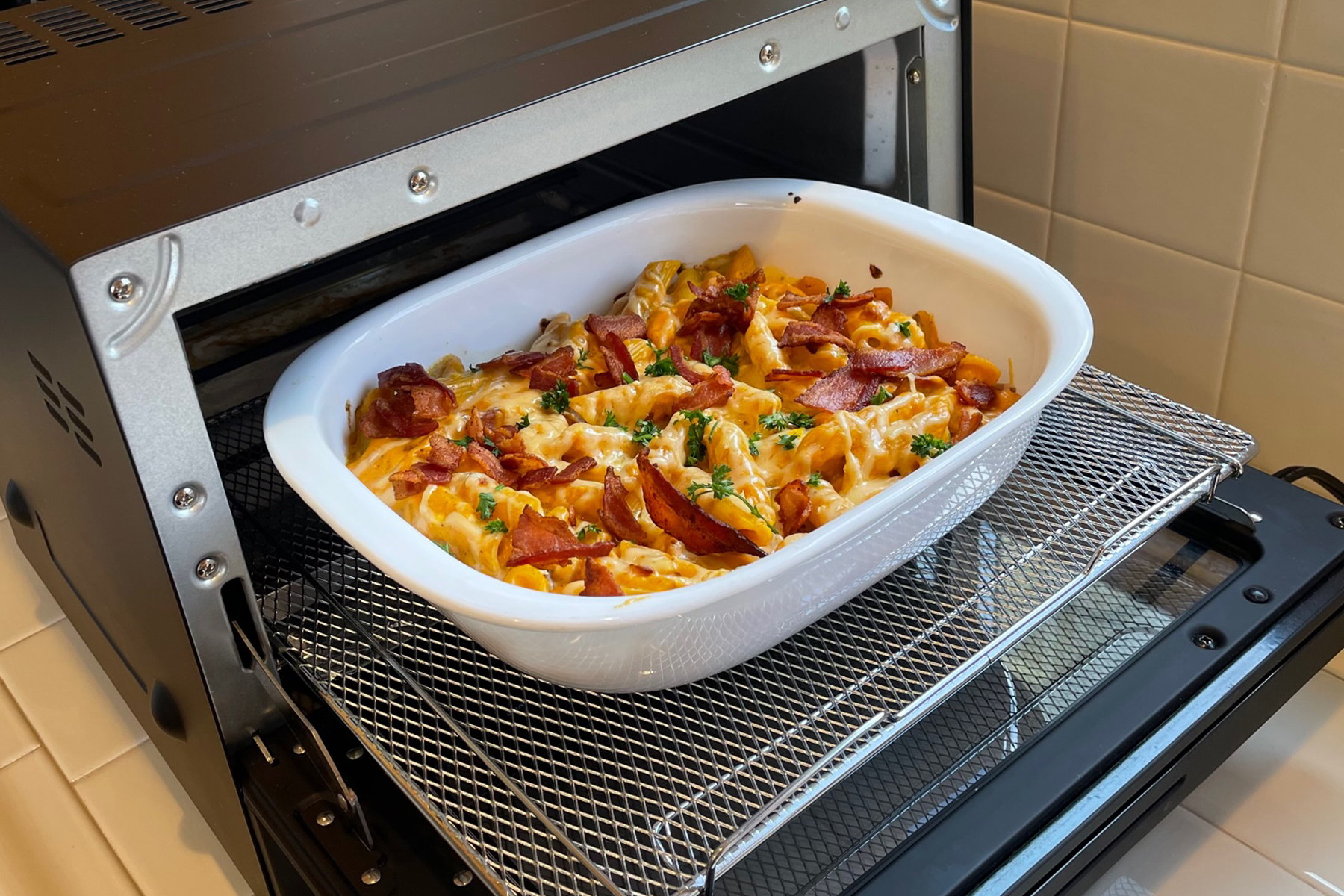 This turned out to be a surprisingly intense combination of the smoky bacon and the velvety creaminess of the Gouda cheese and pumpkin. C'mon, I know you can smell it from there!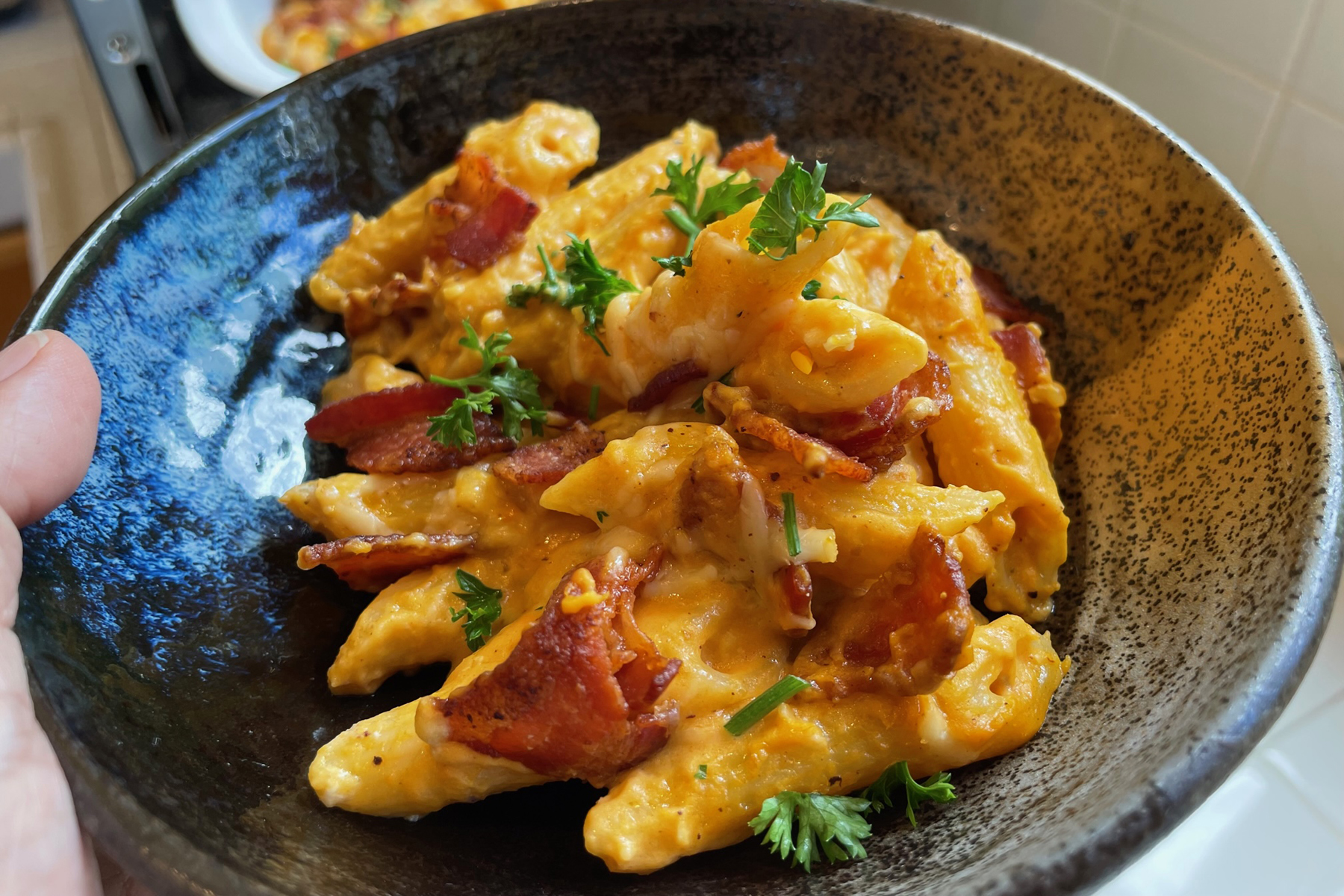 Aaand what would Pumpkin Month be without Pumpkin Cookies. My favorite kind of cookies are snickerdoodles. These are snickerdoodles jazzed up with pumpkin, pumpkin spice and espresso! They're called Pumpkin Spice Latte Sugar Cookies—soft, chewy and sugary.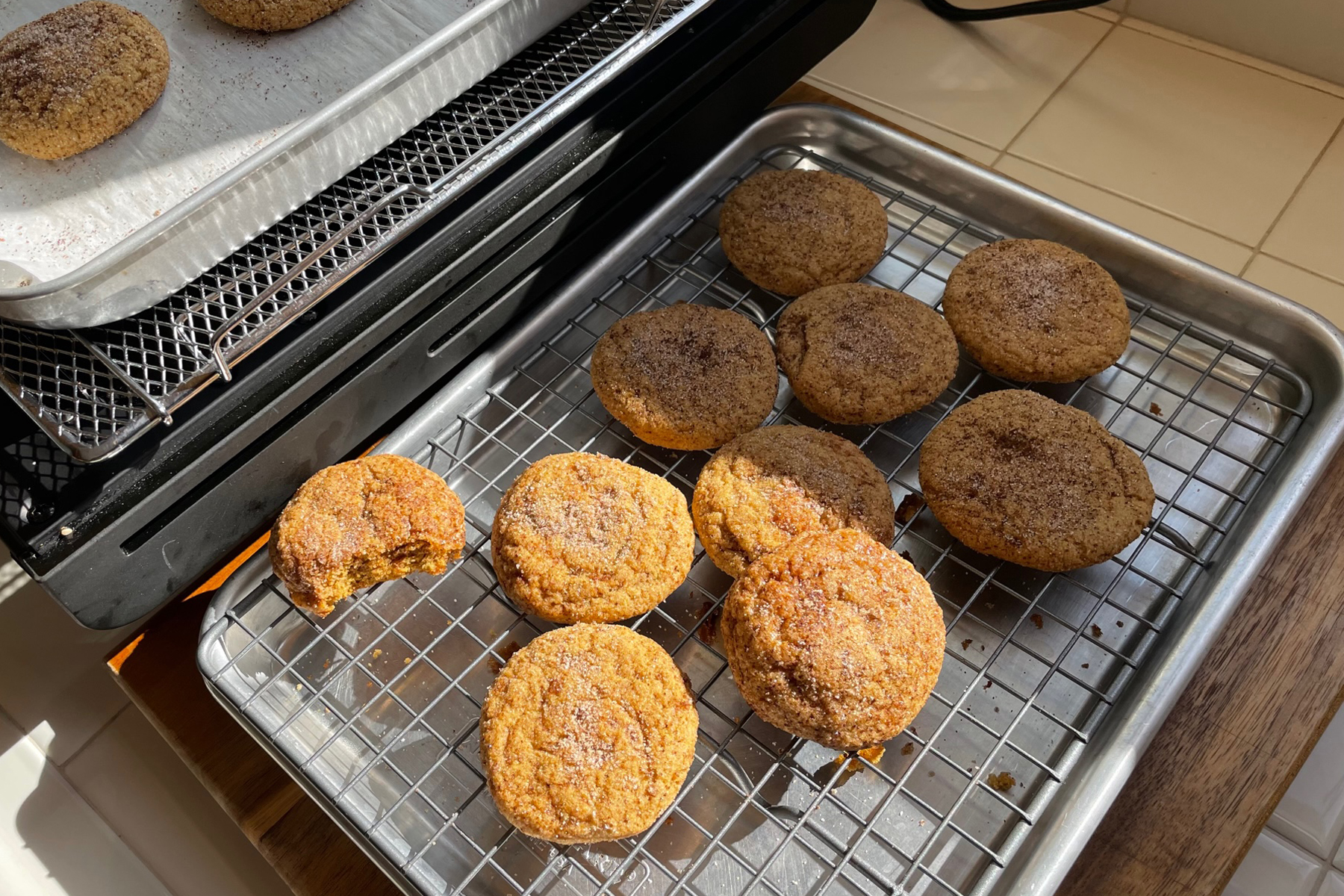 The espresso is blended into the dough as well as rolled onto it, so you get that hint of coffee as soon as you bite into it. You don't need the drink if you can get it in a cookie!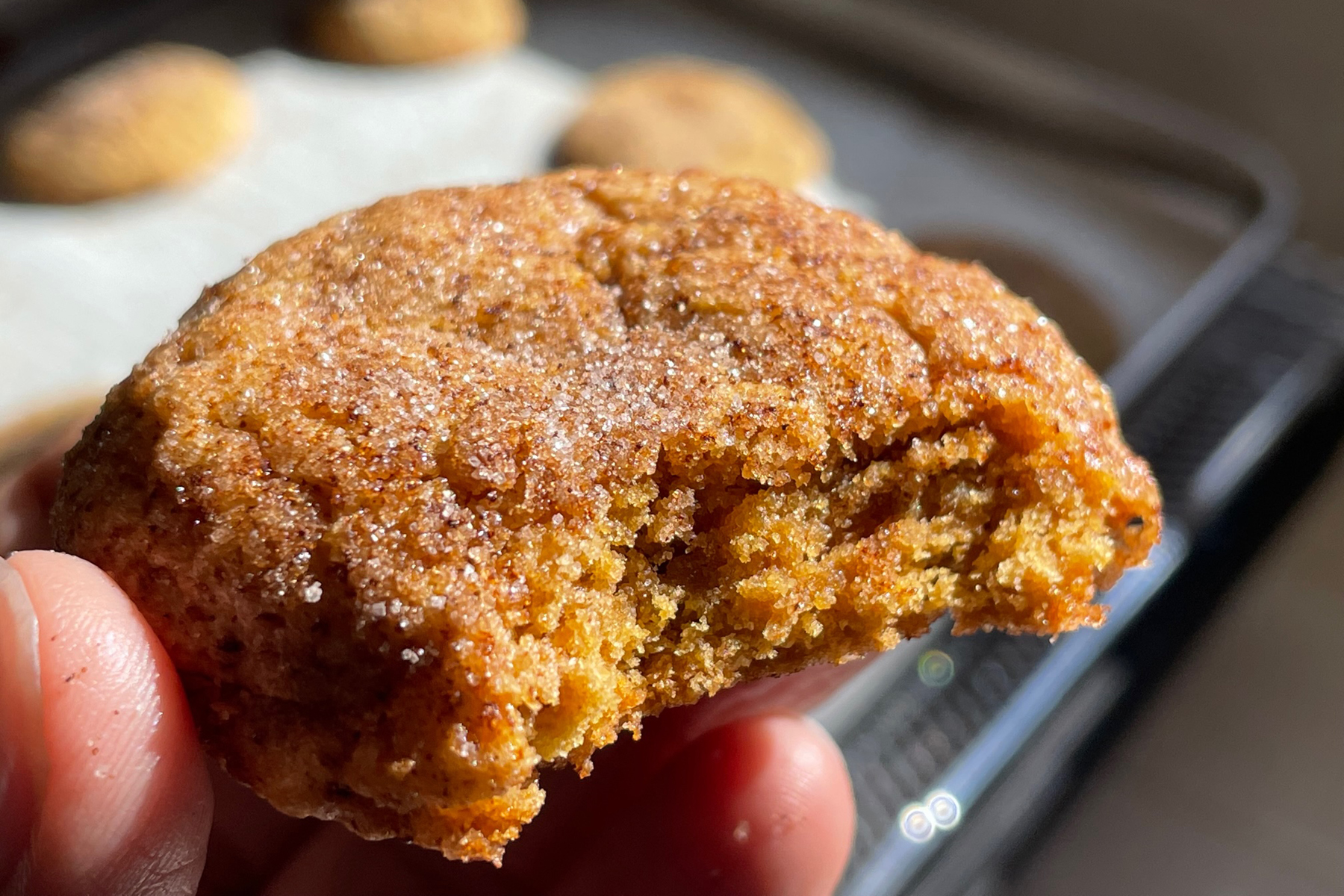 I was 1 day old when I found out there existed a museum for the great cartoonist Charles M. Schulz in Santa Rosa, California. I looked it up and it looks pretty grand—with a theater, courtyard and exhibit areas devoted to his work. He was, of course, the creator of probably the most popular comic strip of all time, Peanuts; and with it, famous characters like Charlie Brown, Snoopy, Lucy, Linus and the never seen Great Pumpkin. Poor Linus would faithfully wait for The Great Pumpkin every Halloween at his pumpkin patch, but he never came. We should all be so determined!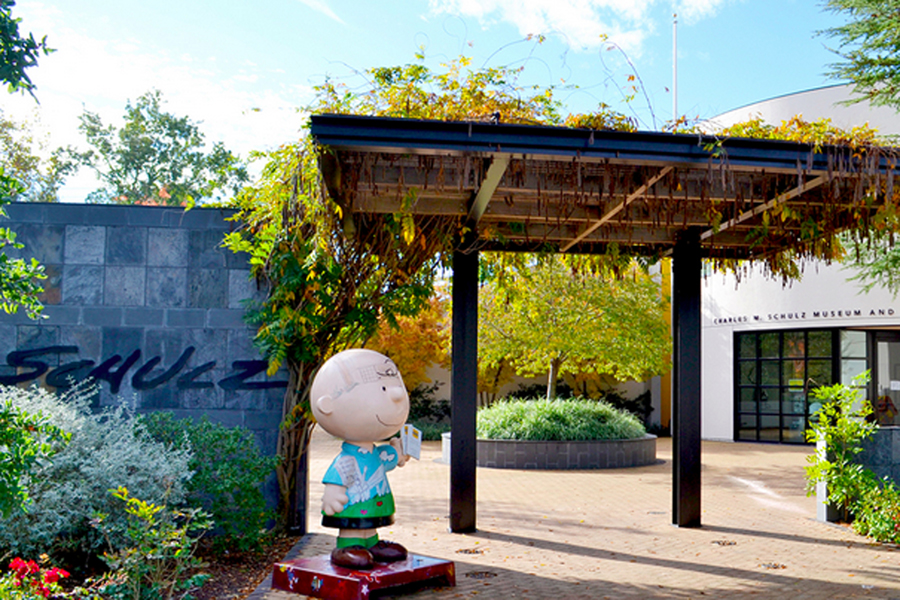 I'd love to go check out the Charles M. Schulz Museum. I do think it might make me love Snoopy and the gang even more.


Products used in this post: Micom Toaster Oven ET-ZLC30, Home Bakery Maestro® Breadmaker BB-SSC10
Please note that these recipes were not tested by Zojirushi America.
All images by Bert Tanimoto ©2022