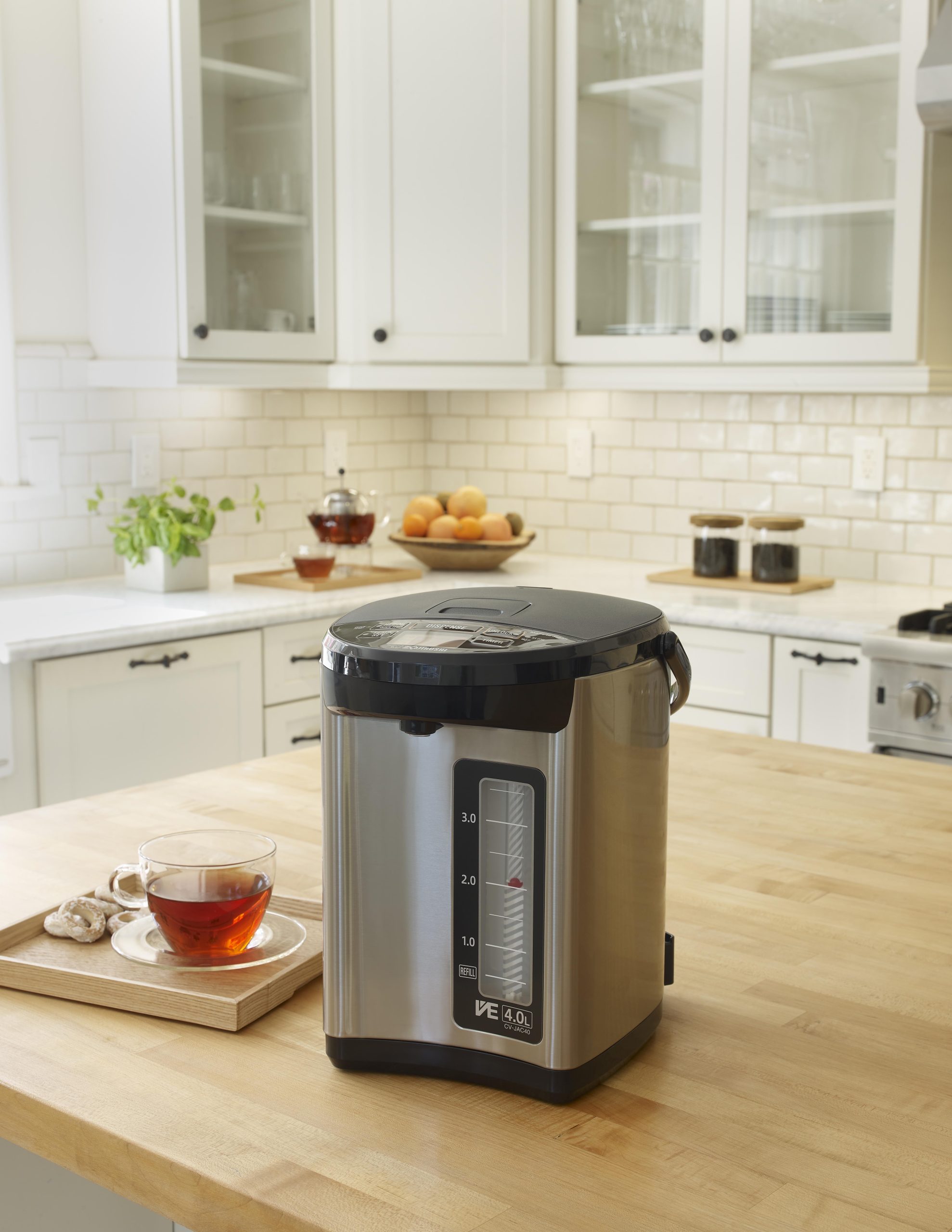 When it comes to brewing great-tasting tea and coffee, every drop counts. That's why we've designed our Zojirushi water boilers for maximum efficiency and convenience so that you can have the hot water you need at the touch of a button. If you're looking for a water boiler to add to your home or office, or want to know more about our lineup, look no further! In today's guide, we'll go through all of our water boiler models and their functions – from Café Drip Mode to Quick Temp Modes – to help you choose the best hot water heater for you.
The Basics
First, let's go through some basics so that you can understand how our hot water heaters are labeled and categorized:
There are three main categories of our water boilers: the Vacuum-Electric Hybrid (VE Hybrid), Micom, and our Commercial size water boiler. We will go through each of these models in detail below.
You will notice that each product will have a number at the end of it. This denotes the water boiler capacity: 30 stands for 3 liters, 40 is for 4 liters, 50 for 5 liters, and so on. If you are looking for a smaller capacity hot water dispenser, you may want to look for a product ending in "30," if you're looking for something large, take a look at our products ending in "50."
The Features
Now we'd like to show you all of the features that make our water boilers uniquely Zojirushi. All of our hot water heaters will include the below, no matter the model:
Micom Technology: a computerized technology that keeps water at a select temperature for as long as it is plugged in.
Safety Auto Shut-off: A function that prevents overheating when no more water is inside or when the lid is open.
Descaling Mode: This important function will help you keep your water boiler sparkling clean, free of mineral accumulation. Just make sure you use it often with citric acid.
Unique dispense mechanism: All our hot water heaters do not require lifting or pouring – just a one-touch or pump dispense!
Other features include:

Reboil mode
Dechlorinate Mode
Convenient lock/unlock feature prevents accidental dispensing
Sturdy fold-down handle for easy transport
That's a lot of great features, right? Now, let's get into the different models to see which hot water dispenser is best for you.
The Models
First, we'd like to introduce you to the Vacuum-Electric Hybrid (VE Hybrid). VE Hybrid models use less electricity to keep water warm and feature quick temp modes to reduce heating times and electricity. There are currently two VE models in our lineup:
VE Hybrid Water Boiler & Warmer CV-JAC40/50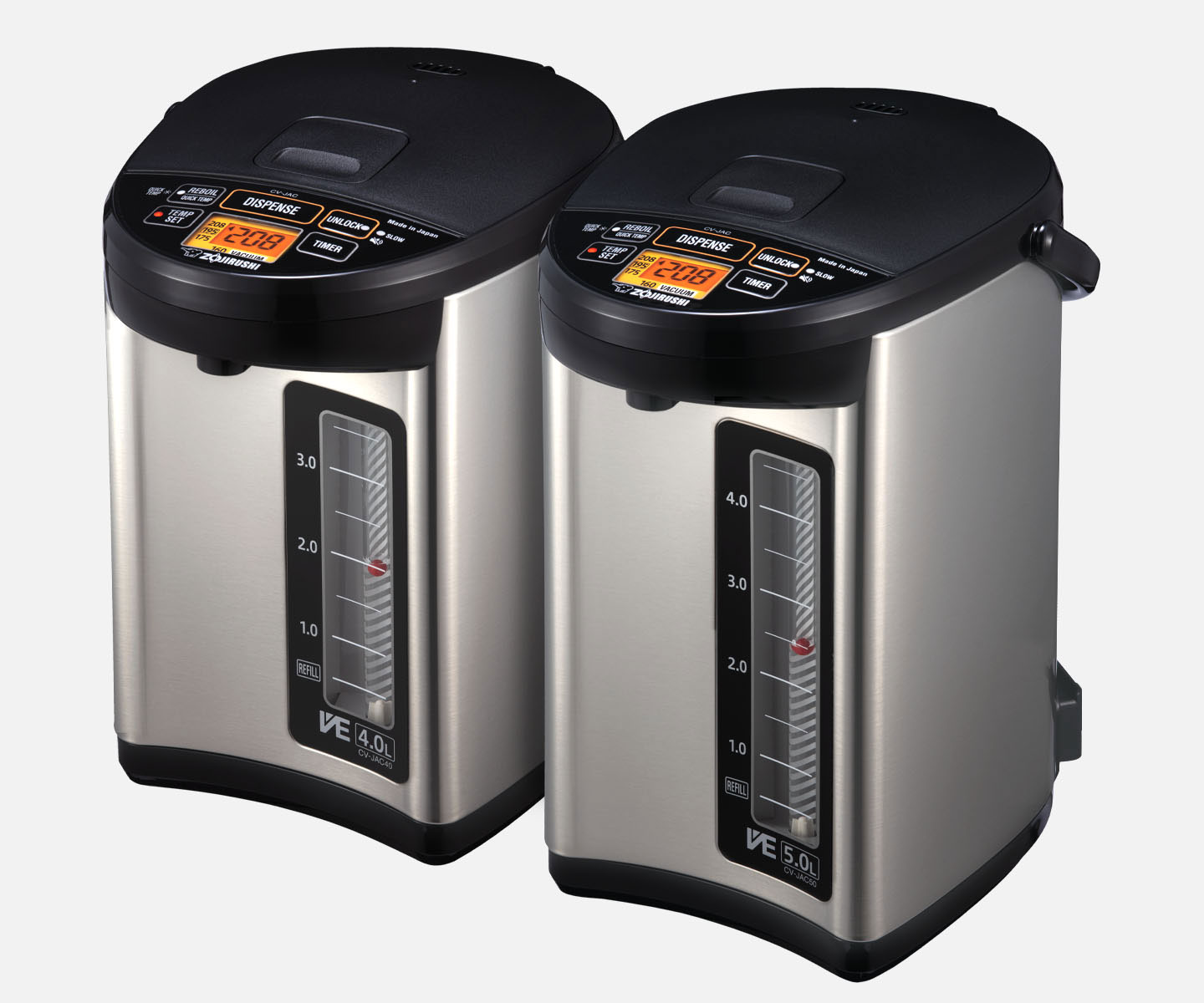 What makes this model unique is all of it's features! It has 4 Quick Temp modes and four Keep Warm settings: 160°F, 175°F, 195°F, 208°F, a 930-Watt high powered heating element along with its energy-saving timer function that lets you time your hot water out from 6-16 hours out (that's more than half a day!). Lastly, note that this model has an easy-to-clean nonstick coated stainless steel interior, and comes in a classy Stainless Black color.
VE Hybrid Water Boiler & Warmer CV-DCC40/50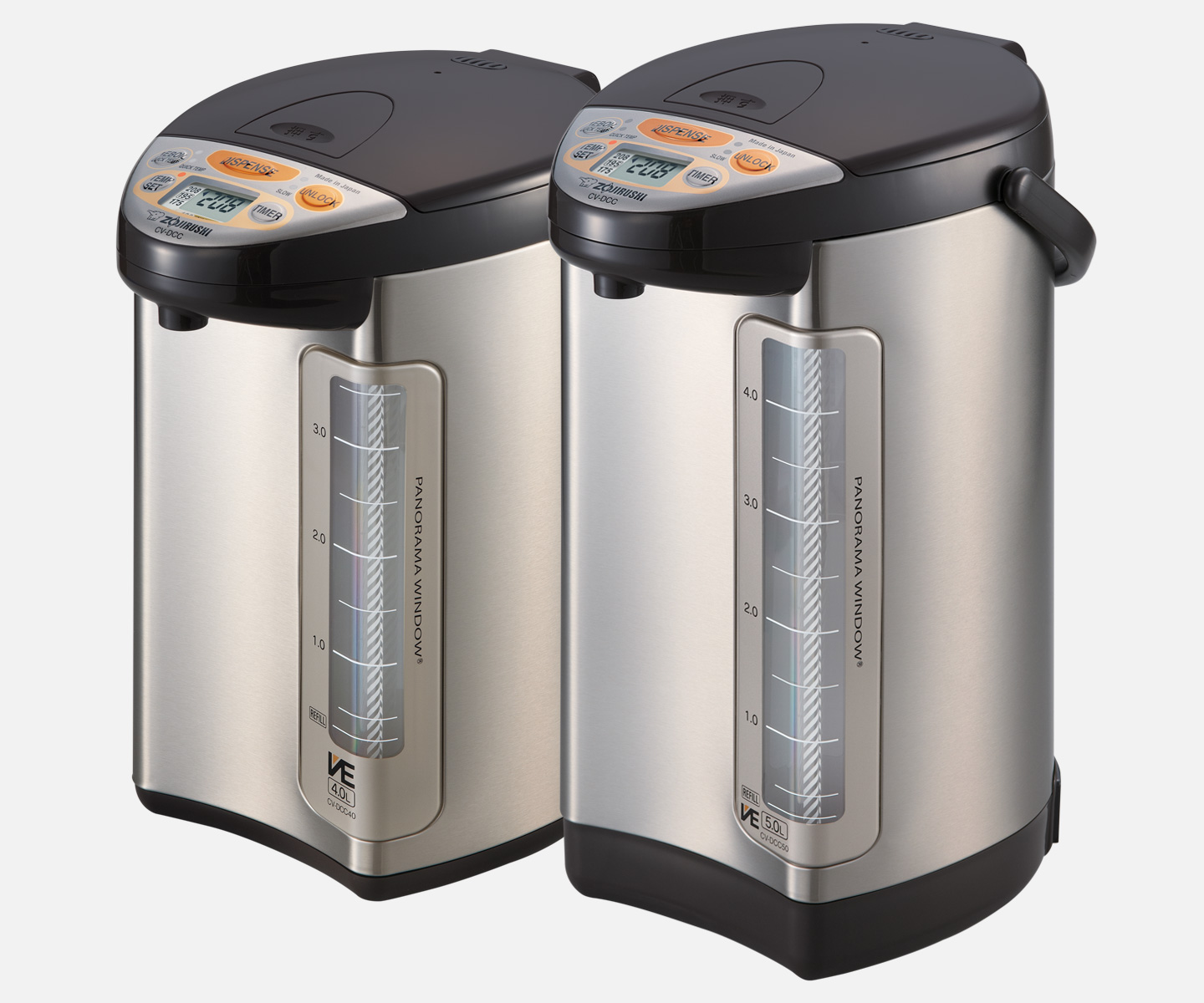 This model also has four Keep Warm settings (160°F, 175°F, 195°F, 208°F), but three quick temp modes: 160°F, 175°F, or 195°F. The energy-saving timer function can be set from 6-10 hours, and the exterior is stainless steel, with a non-stick interior. This model comes in a Stainless Dark Brown color.
Next up are our Micom models.
Micom Water Boiler & Warmer CD-NAC40/50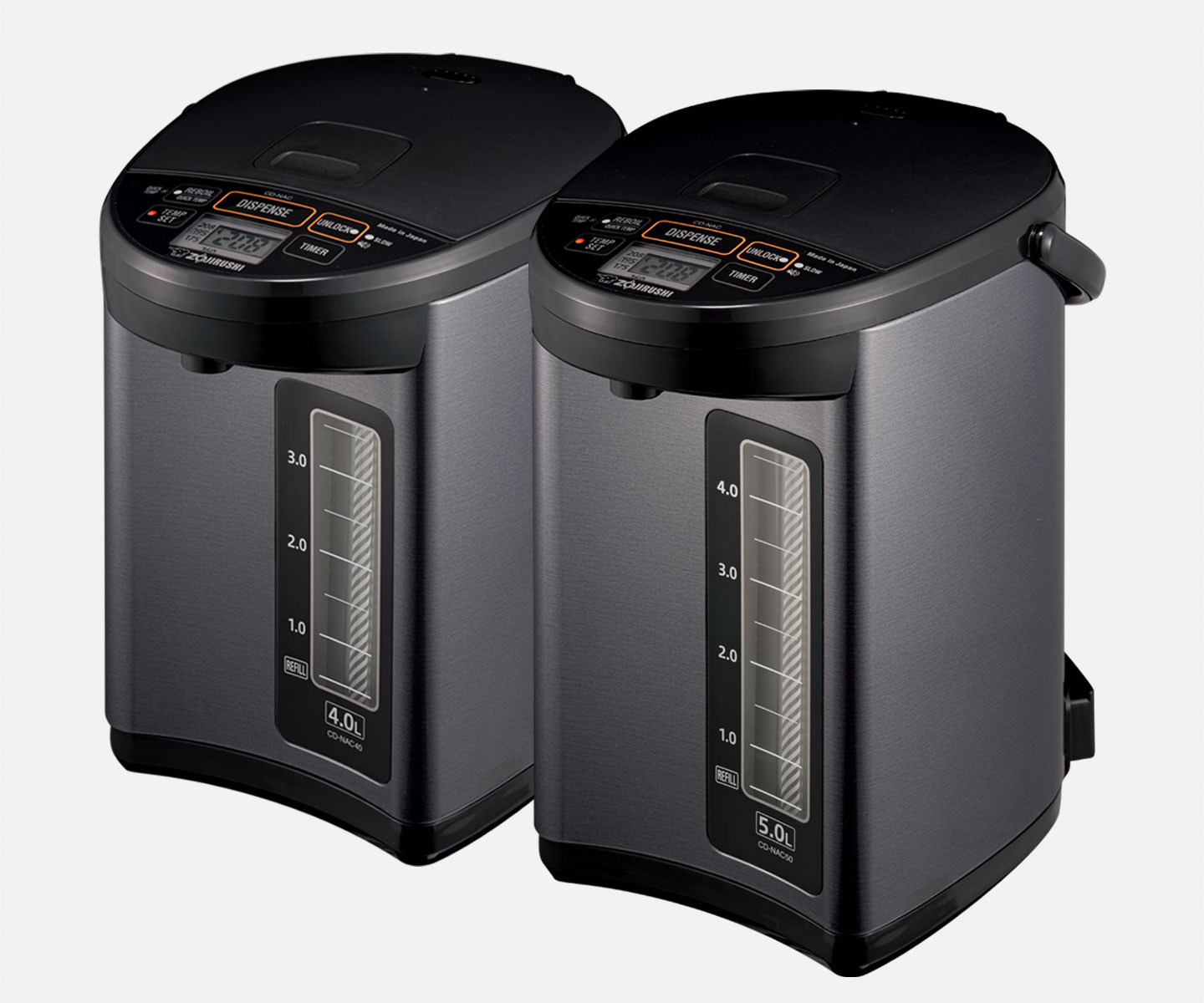 Comes in a Metallic Black color, which can be paired with the Metallic Black Umami® Micom Rice Cooker & Warmer NL-GAC10/18 for a complete set. Comes in 4L or 5L sizes, so it is ideal for larger households.
Panorama Window® Micom Water Boiler and Warmer CD-LFC30/40/50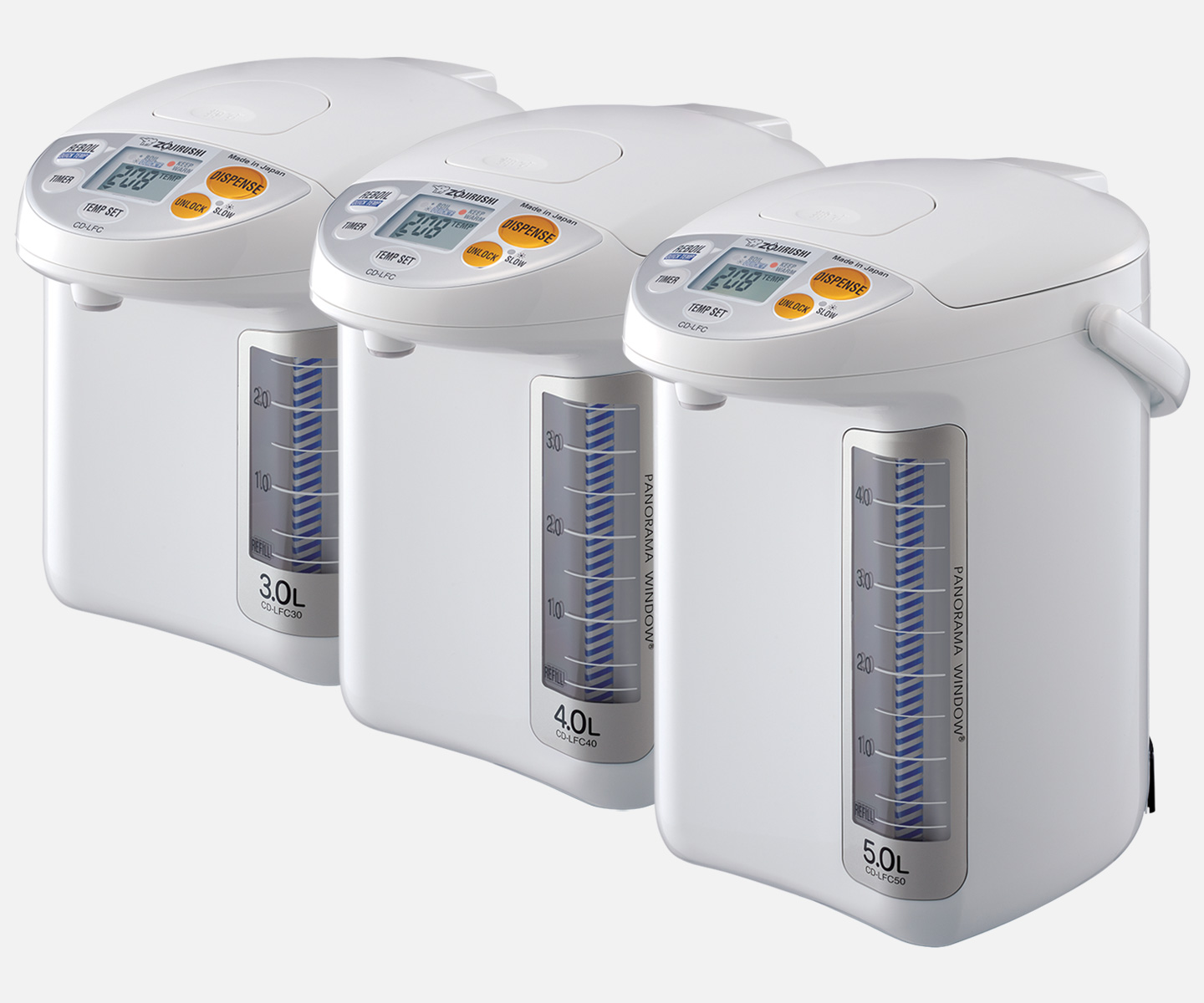 This water boiler comes with a unique Panorama Window® which gives you a wider window to view your water levels. It also has a Café Drip mode for slower dispensing, which is especially useful for coffee. Available in three sizes, it comes n a clean white color that will brighten up any space.
Micom Water Boiler & Warmer CD-WCC30/40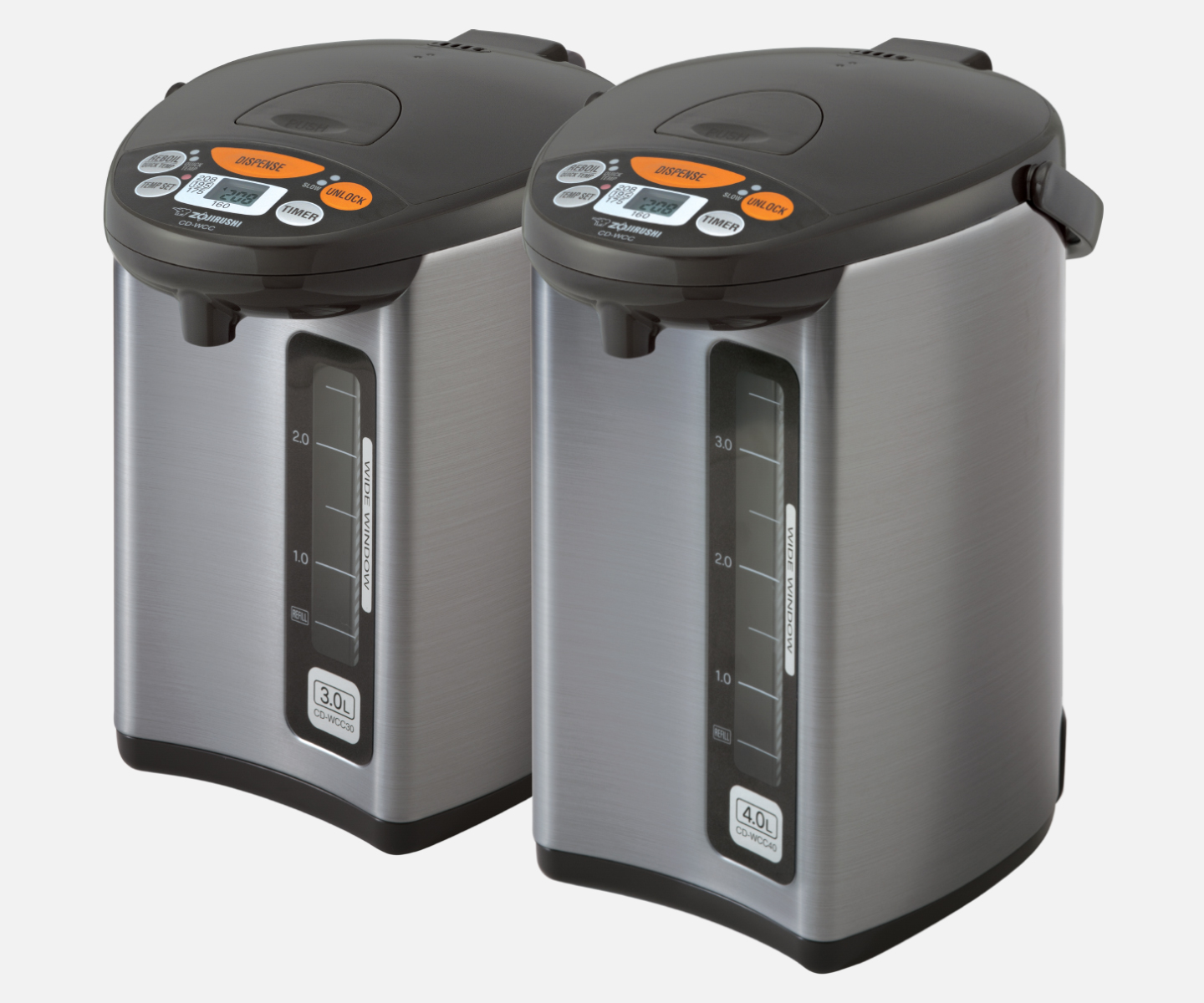 The model comes in either a 3L or 4L size, so it is ideal for both small and medium-sized households. Comes in a Stainless Gray and also features the convenient Café Drip mode.
Micom Water Boiler & Warmer CD-WHC40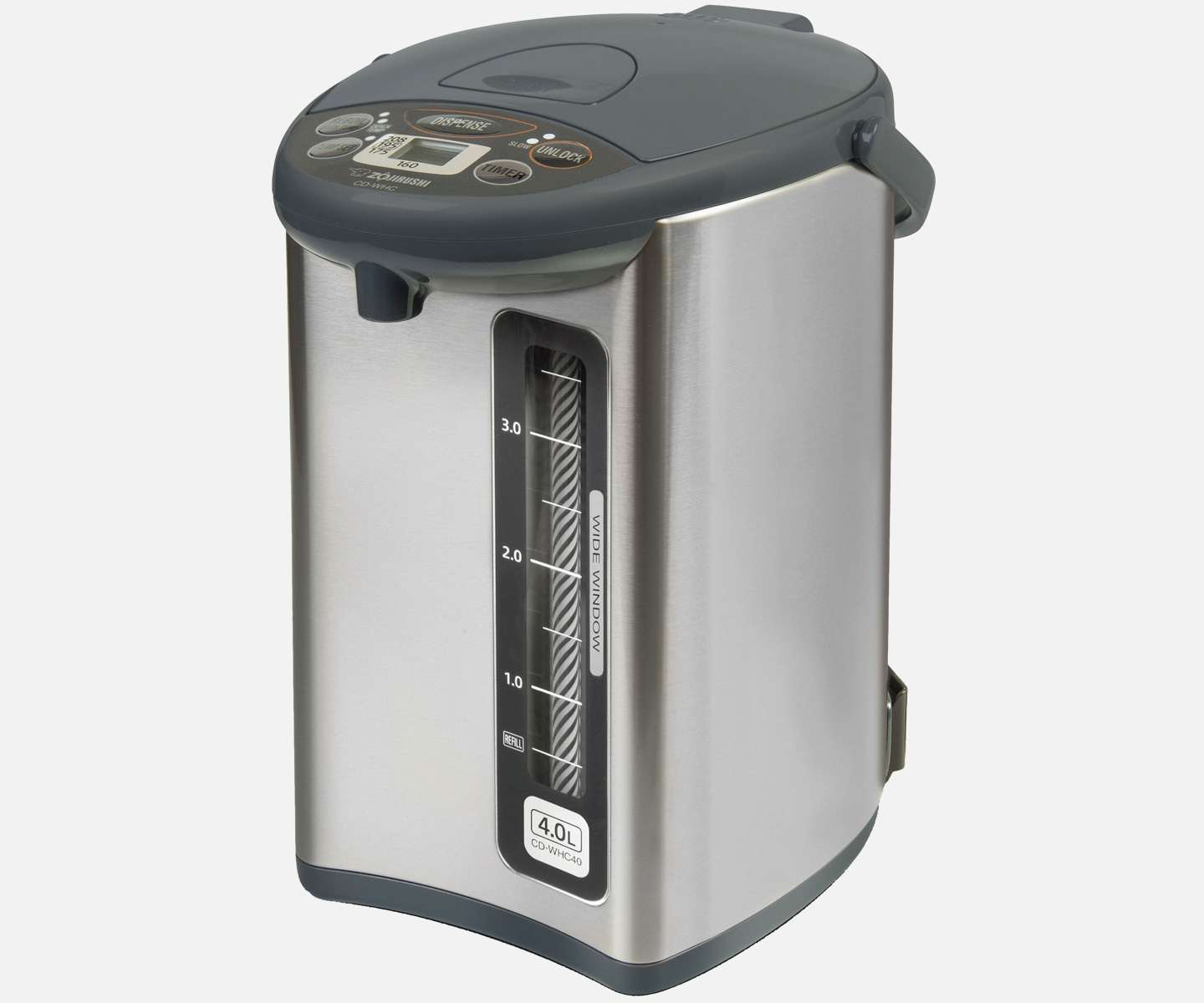 This model comes in a Stainless Gray color and features a rust-resistant stainless steel interior. The energy-saving timer function can be set from 6-10 hours, and the Quick Temp modes will keep water warm without needing to reach a boiling point.
Micom Super Boiler CW-PZC22/30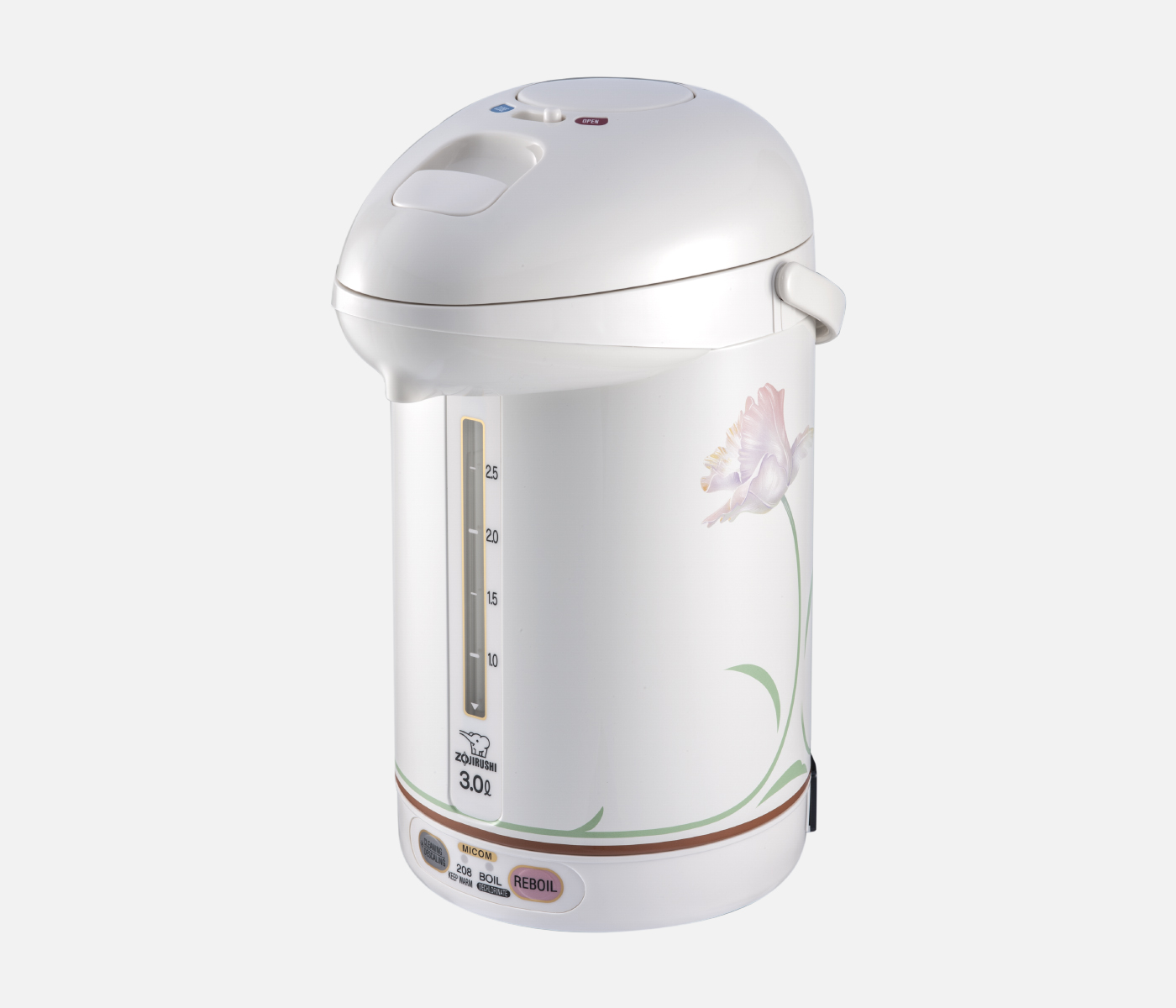 The Super Boiler is a classic and is ideal for smaller households with its 2L and 3L size. It is simple, with just one temperature setting of 208°F, and comes in a White Ballerina design.
Lastly, we have our commercial water boiler, which is ideal for restaurants, office, or tea houses:
"Commercial" Water Boiler & Warmer CD-LTC50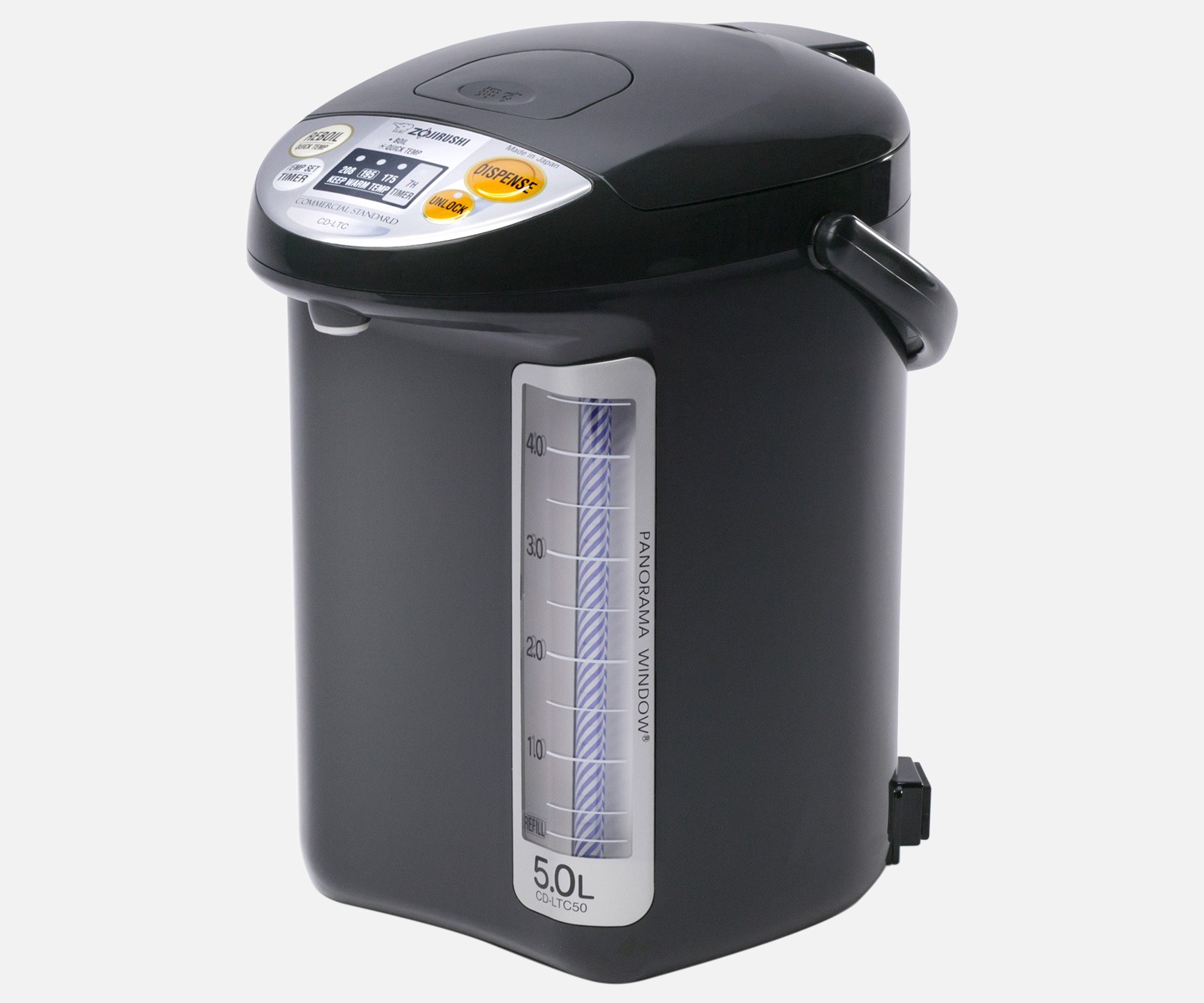 This model has a 5 liter capacity (169oz.), which serves up to 21 cups. There are three keep warm settings, 208°F , 195°F or 175°F, and two QUICK TEMP settings: 195°F or 175°F. The commercial water boiler has a 7-hour delay timer, so you can set your water up to boil the night before, and like all models, has an automatic lock for safety.
The Zojirushi Difference
At Zojirushi, we're committed to delivering thoughtfully designed appliances that fit perfectly into your everyday needs. For example, all of our Zojirushi water boilers are equipped with a descaling mode, which makes it easier to clean and maintain your water boiler at the touch of a button.
Many of our water boilers also have an easy-to-hear indicator sound, which you can set to fun melodies or beeps that ring when the water is at a boil or is at a low water level. Best of all, Zojirushi water boilers can be set from 6-16 hours, extending the time for your convenience.
Now that you've met all of our Zojirushi Water Boilers & Warmers, let us know what you think! Did you learn anything new about our hot water heaters? If you already have a Zojirushi hot water dispenser, make sure to share your thoughts, comments, and questions with us on Twitter, Facebook, or Instagram! #Zojirushi #ZoFan