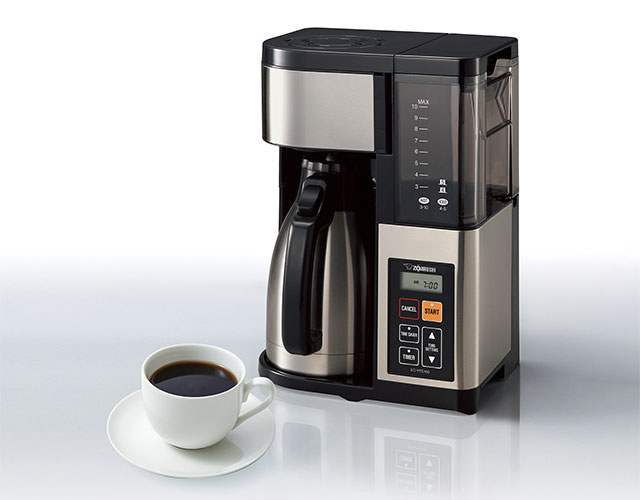 We're so excited to announce our newest coffee maker–the EC-YTC100–which features a stylish and smart thermal carafe. The Zojirushi Fresh Brew Plus Thermal Carafe Coffee Maker (EC-YTC100) brews up to 10 cups of delicious hot coffee, and enough concentrated brew to make up to 5 cups iced coffee, whether at home or at the office. The perfect brew comes from perfect design.
The design reflects in the intelligent features built into the machine. This coffee maker brews coffee using one of two brewing cycles–a regular mode or a Time Saver mode, which delivers hot coffee faster by reducing brewing time. It also features a pre-infusion cycle which evenly wets coffee grounds before brewing at an ideal temperature of 200°F*, thus allowing them to bloom for perfect extraction of flavor and aroma.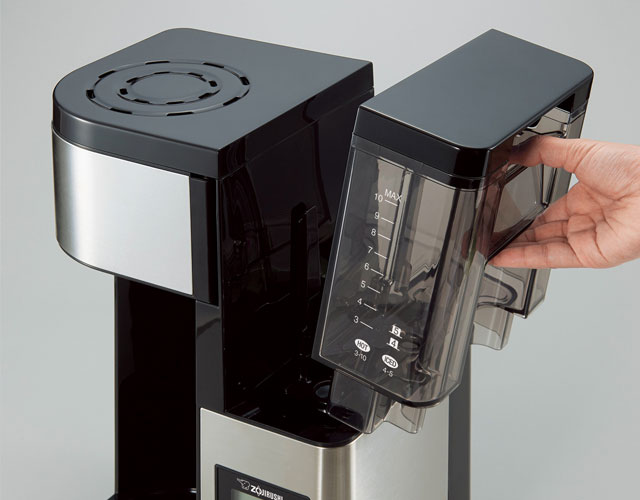 The easy-to-fill, removable Water Tank displays two sets of markings–one for brewing hot coffee, and another for brewing iced coffee. The iced coffee markings allow it to adjust the water-to-coffee ratio for stronger coffee that doesn't taste watered down when poured over ice.
The stainless steel thermal carafe is an outstanding component of this coffee maker, utilizing Zojirushi's superior vacuum insulation technology to keep coffee hot for hours. Because the vacuum insulation eliminates the need to use a hot plate to keep coffee warm, it doesn't have the "burnt" flavor that's caused by excess heating. And best of all, the tapered design with thumb-activated pouring makes serving smooth and easy.
The Fresh Brew Plus Thermal Carafe Coffee Maker was also designed with multiple convenience features. The Swing Basket and Filter Basket are easy to access and fill with ground coffee using the measuring spoon accessory, and they lift out for thorough cleaning. Instead of using disposable paper coffee filters, this machine utilizes a reusable mesh coffee filter made of stainless steel–so easy and eco-friendly! A 24-hour programmable timer with digital clock delays brewing so you can set when you want fresh coffee in the morning, and the sound signal can be switched to mute for quieter operation.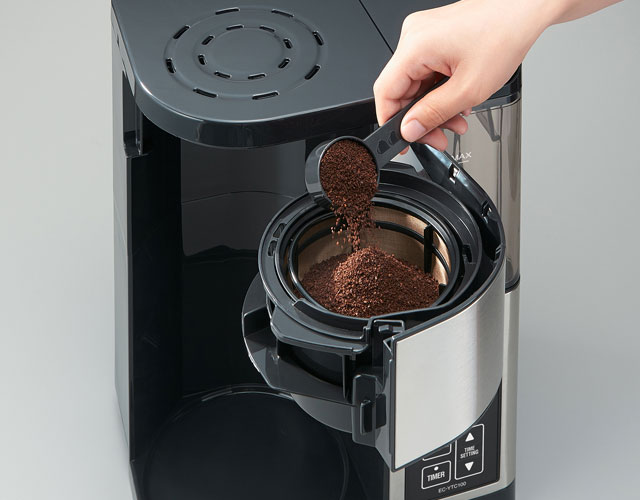 The machine also comes with a Clean Indicator that alerts you when cleaning is recommended. And each of the removable components—Water Tank, Swing Basket, Filter Basket and carafe—are easily cleaned with mild detergent and warm water. The machine's exterior can be wiped down with a soft damp cloth.
So, with all of these features, what would you make with the great coffee you can brew? Our classic Iced Café Mocha is amazing… so chocolatey! And our classic Simply Iced Coffee hits the spot when you want a smooth glass of richness. But one of the most unique recipes we've tested with this coffee maker is the Creamy Coffee Ice Cream! Ice. Cream. Wow! Enjoy all of our recipes and let us know how you use your new Fresh Brew Plus Thermal Carafe Coffee Maker!
*200°F when brewing using Time Saver mode