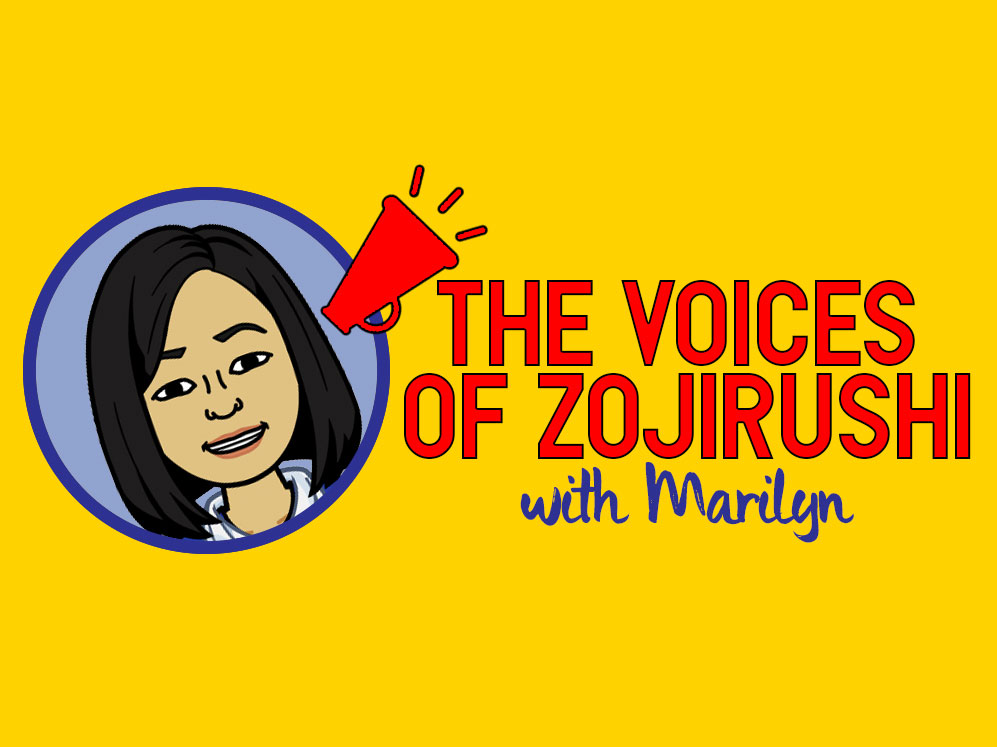 We hope you're enjoying our Voices of Zojirushi series. We've enjoyed sharing perspectives from Jesse, Seitaro, Saori, Nao, Amy and Manny with you.
This month, we visit with Marilyn, our North American Marketing Manager. She works closely with the Vice President of Marketing on everything from product research and development to campaigns and promotions to advertising and public relations.
Marilyn's unique background–born in Los Angeles, moved to Tokyo when she was eight years old, and returned to Southern California as an adult–gives us such interesting insight into her career at Zojirushi.
Marilyn, start off by telling us what inspired you to work at Zojirushi?
As with most Japanese Americans, I grew up using Zojirushi products and was familiar with their reputation, so it was a no-brainer for me. What keeps me at Zojirushi though, is knowing that the products I help develop bring joy and convenience to others. I love it when new people I meet can't wait to tell me how much they love their Zojirushi products!
That's got to be the best feeling. Since you help to develop and market Zojirushi products, how do you believe our corporate philosophy of Creating a Quality of Life influences you?
When developing products or creating marketing materials, I think of our customers a lot. How would this product benefit our customers? How can I make this product better, so it's easier to use, easier to clean, or more useful? What would our customers like to read in our newsletters or on our website? By thinking of these Hows, Whats and Whys, I hope to make the lives of everybody who interact with us and our products in any way, better.
For example, as a manufacturer of household appliances, safety is one of the most important qualities at Zojirushi. How can we design the cord so the unit isn't pulled off the counter accidentally? What can we do to prevent burns? How can we make it child-proof? What happens when someone struggles to open a lid or cook something better? These are the questions asked every day at Zojirushi and implemented into our products.
Since you're so close to the products, tell us about your favorite product and one you'd like to see created in the future?
My favorite Zojirushi product is the Tuff Mug I've been using since I started working for Zojirushi in 2002. It's scratched, beat-up and dented, but still works amazingly well. Newer mugs have better design features like a disassembling lid and are much lighter, but there's something about this mug that I just can't get rid of it (including the lipstick stain on the lid because the lid doesn't disassemble)!
And as someone working in product R&D, I have lots of great ideas under my sleeve, but I wouldn't mind taking a step backwards and having a glass-lined vacuum bottle in our lineup. I remember a day in elementary school when I dropped my glass-lined vacuum bottle and it shattered, spilling barley tea all over the place, but glass is so much easier to clean and keep sanitary.
We do love our Zojirushi bottles! We know barley tea was your drink of choice in elementary school, but what can you tell us about your favorite dish now, especially one that's made using a Zojirushi appliance?
Takoyaki. Growing up in Tokyo, I would've never thought of making takoyaki at home (it's more of a Western Japan thing), but it's so fun to make when we have guests over. I also enjoy using the griddle to make French toast and hash browns on Sundays.
Thank you, Marilyn, for sharing your thoughts with us today. Any last thoughts?
If there's one thing about Zojirushi I would say, it's this: Dedication. The dedication each employee has for this brand always amazes me. Everybody works hard to make the best product they can think of, help customers as much as possible, or try to provide the best Zojirushi experience for every single customer. It keeps us fresh and inspired!
—-
We hope you enjoyed meeting Marilyn, and stay tuned for our next voice, next month!