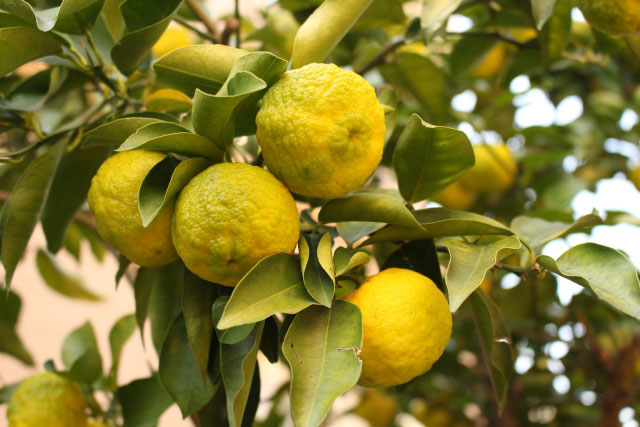 Yummy for the palette and yummy for the skin!  Yuzu is a gorgeous, cold-hardy citrus fruit used in Japanese cooking, cocktails and beauty treatments. Yuzu is popular in dishes…as an ingredient in dipping sauces like ponzu and in spicy pastes like yuzukosho. It's even more popular muddled into cocktails like the Yuzu Sour, which is mixed with rum, vodka, triple sec, soda and simple syrup.
The yuzu fruit is small, about the size of a large lime. It's tart and a little bit bitter, citrusy as if a grapefruit and a lemon were mixed together. Very little juice can be extracted from the fruit, since the fruit has a very thick rind and large seeds relative to its size, but the juice that is available has a concentrated flavor, and zesting the peel releases the fruit's aromatic oils. Yuzu seeds were also used medicinally.
The hardy yuzu plant is able to thrive in diverse planting zones, and can even survive temperatures as low as 5°F. In April and May, the trees flower with delicate white blossoms. From June through August, the trees remain dormant, laden with dark green fruit. Even though the fruit is not yet ripe like it will be during the winter months, the rind of the green fruit is grated and served with salads and sashimi to add a citrus spice to these dishes. During the winter months, the fruit turns golden and aromatic, and is used fresh and preserved. Yuzu marmalade is extremely popular, and can be used in desserts and teas. Marinades for chicken and fish, as well as dipping sauces for vegetables and beef are also commonly used. We love the Baked Sea Bass with Yuzu Pepper recipe on our website… give it a try!
One of the best uses of yuzu is on Winter Solstice, or Toji. A hot bath is drawn and whole yuzu fruit or sliced fruit bundled in cheesecloth is added to the water. Bathing in this water is said to ward off colds and flu during the winter, and to rejuvenate dry, chapped skin as the aromatic oils are released into the water. The nomilin in the fruit's oils also produces a relaxing effect and increases circulation.
Luscious and appetizing, yuzu is a treat at this time of year!