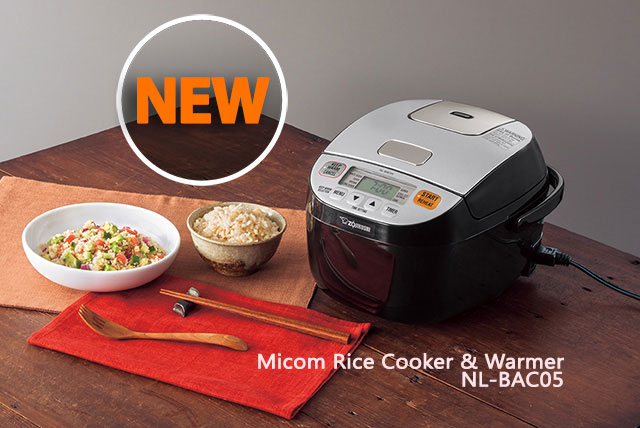 Introducing our new Micom Rice Cooker & Warmer (NL-BAC05)!
We love this compact rice cooker. It's packed with features and is an ideal size for couples and small families. With this 3-cup rice cooker, you can make as little as ½ a cup of rice or grains, allowing you to have the flexibility of making a small dish or a hearty meal.
This rice cooker uses some of our best features, like a nonstick coated, 2.5mm thick black inner pan which allows for even heat distribution and easy cleaning, as well as a triple heater with an extra-large heating element that heats the inner pan from the bottom, sides and top. The onboard microcomputer employs advanced fuzzy logic technology to ensure perfect results every time by making fine adjustments to cooking time and temperature.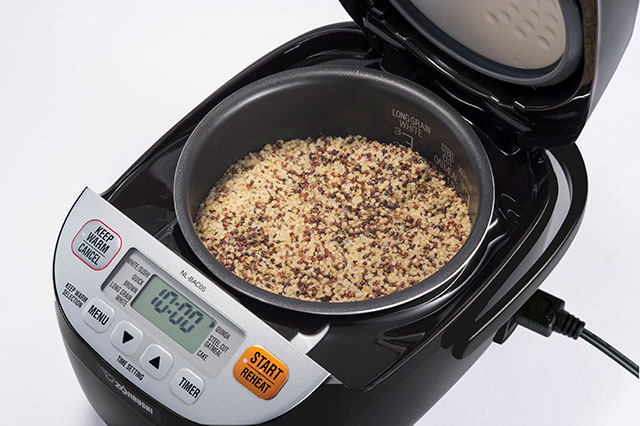 This rice cooker also has new healthy menu settings such as Steel Cut Oatmeal and Quinoa, as well as the other settings like White/Sushi rice, Brown rice, Long Grain White rice, Quick cooking, and even Cake which can all be found on the easy-to-use LCD control panel. The machine chimes with a melody feature when cooking is complete, so you can enjoy your food hot and fresh. Two keep warm settings–Automatic Keep Warm and Extended Keep Warm–keep rice at the perfect serving temperature.
One of the great benefits of using a rice cooker is having your rice or grains prepared when you're ready to eat it. The Delay Timer function on this rice cooker sets the machine to finish cooking rice by a specific time, so you can program it to cook while you're at work or out running errands, and have rice ready when you return. And convenience features like a removable Steam Vent Cap allows for high temperature cooking without messy overflows. The retractable power cord and sturdy fold-down handle make this machine simple to store, and all surfaces that come into contact with food are BPA-free. Plus it comes with a spatula and measuring cup.
We hope you try out our delicious recipes like this Quinoa and Chicken Super Salad!
Find out more about the Micom Rice Cooker & Warmer on our website and as always, we'd love to hear about your favorite recipes!