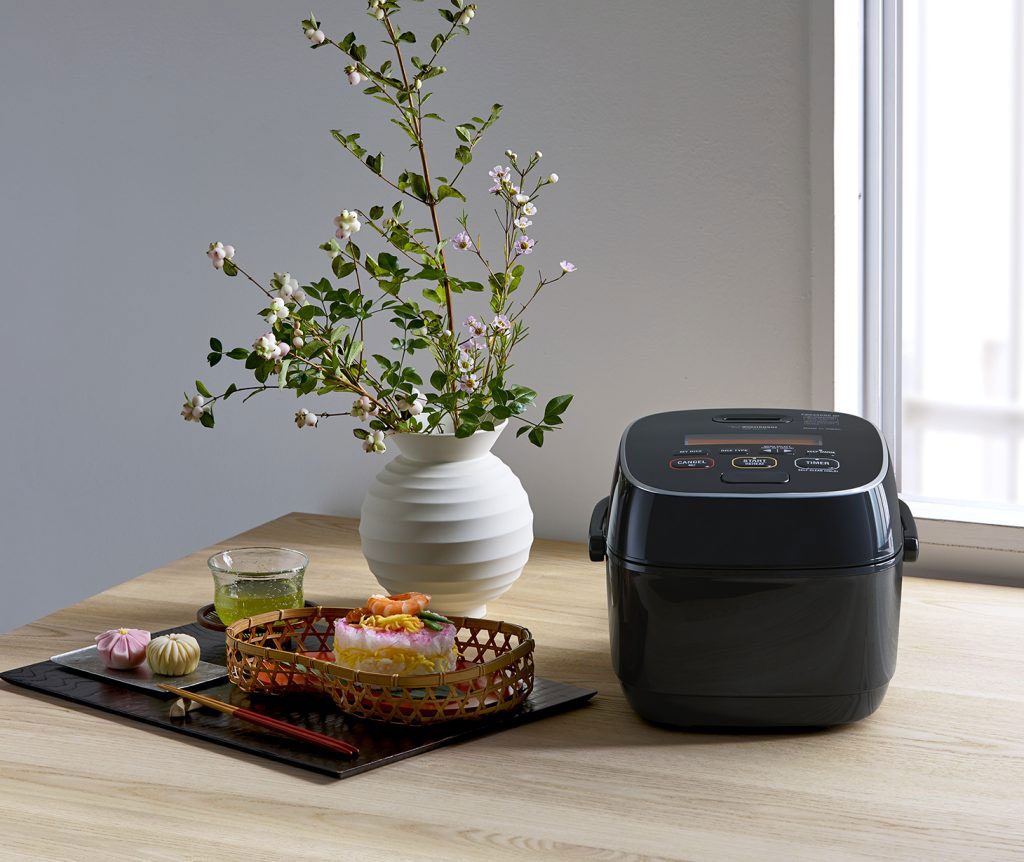 Are you ready to meet the newest member of our Zojirushi lineup? Our highest quality pressure IH rice cooker to date is here – the Pressure Induction Heating Rice Cooker & Warmer NW-JEC10/18. With up to 49 different customization settings, superior induction heating (IH) technology, our signature fuzzy logic smart rice cooking technology, and all made in Japan, this rice cooker truly cooks your rice your way. There are many more special features that we are excited to show you on this Zojirushi rice cooker, so let's get to it!
A Quick Look
The Zojirushi Pressure Induction Heating Rice Cooker & Warmer comes in a sleek "Silky Black" color with a large easy-to-read, orange LCD control panel located right on top. Available in two sizes, 5.5 cups or 10 cups, this versatile rice cooker also features a detachable inner lid with an integrated steam vent that makes the cleaning process simple and hassle-free.
As always, all surfaces that come into contact with food are BPA-free, and the iron coated and platinum infused nonstick inner cooking pan changes the water quality for sweeter-tasting rice and provides even heating.
Don't forget the accessories! Cook your rice perfectly every time with the dedicated rice measuring cup that comes with the rice cooker and fluff your rice with joy with the included self-standing spatula.
The Technology
We know that this is a pretty-looking appliance on the outside, but it's really what's on the inside that counts. Here's a look at the technology that truly makes this rice cooker stand apart from the rest:
Pressurized Cooking: The simultaneous pressurized cooking and steaming infuses the sweetness back to each grain during the cooking process and produces sticky and plump rice. No need to worry about dry or overcooked rice – ever. The multiple fail-safe measures guarantee safe pressure cooking. And the sensors make sure that all parts are set up properly before starting to cook.
New Premium Convection: Combining high heat with high pressure creates strong convection that stirs the rice while it cooks, enhancing the sweetness and delicious flavor of the rice.
Artificial Intelligence: We designed this Zojirushi rice cooker with our signature advanced fuzzy logic technology with AI, which intelligently adjusts the cooking cycle to cook rice to perfection regardless of season or ambient temperature. There is also a self-cleaning function that keeps the rice cooker clean and prevents any unpleasant odors from lingering over time, keeping this rice cooker good as new for years.
Multi-menu Cooking Functions: This appliance comes packed with settings that allow you to cook different types of rice. The new "My Rice (49 Ways)" menu setting makes small changes to the cooking cycle based on your feedback on the firmness and stickiness of white rice. But that's not all! This appliance includes umami, mixed, sushi, Jasmine, porridge, congee, brown, GABA brown, steel cut oatmeal, quick white, and quick Jasmine menu settings.
 To see this rice cooker in action, make sure to watch the product video for more info. You can find plenty of rice recipes on our website as well, on zojirushi.com.
What is your favorite feature on the new Pressure Induction Heating Rice Cooker & Warmer NW-JEC10/18? Be sure to share your thoughts with us on social by tagging your photos on Twitter, Facebook or Instagram! #Zojirushi #ZoFan