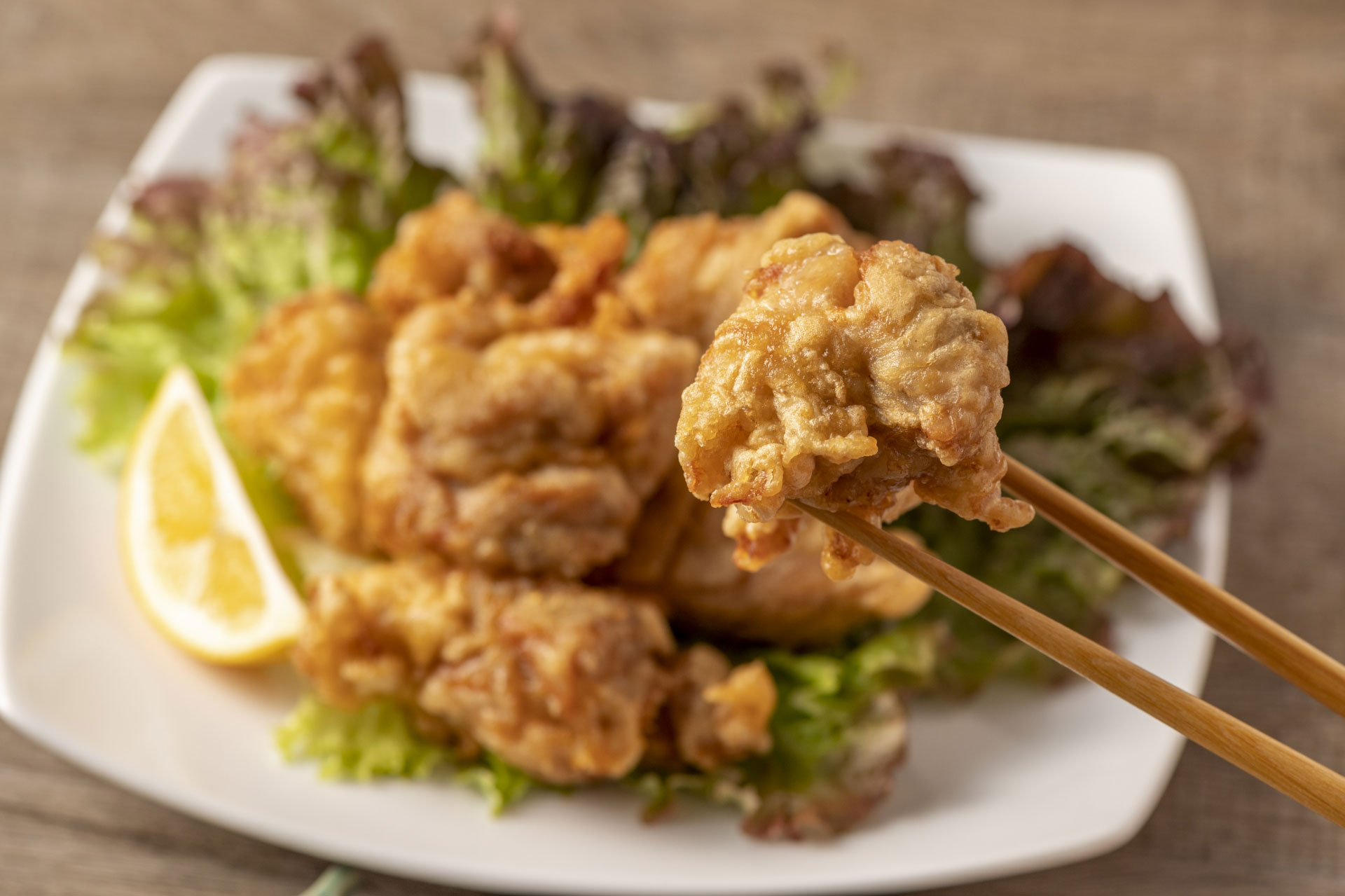 Japanese Fried Chicken (karaage) is one of the nation's most celebrated dishes, found in restaurants, markets, and convenience stores all over the country.
Karaage fanatics will say that this is the best fried chicken in the world, and their love for the dish most likely started right at home, prepared by mom. Below, we'll dive into why this crispy-on-the-outside, juicy-on-the-inside, bite-sized fried chicken is the ultimate comfort food and how to prepare this dish right in your own kitchen.
Karaage's History
Karaage (pronounced kara-ah-gay) historically refers to any dish that is coated in potato starch and deep-fried without seasoning. Because karaage refers to the method of preparing a fried dish, it can also refer to fried fish and vegetables. However, it is most commonly made with chicken- specifically boneless chicken thighs.
The word "karaage" translates to "Chinese Fried," so it is believed this method was learned from the Chinese around 300 years ago and then adapted to Japanese cuisine. However, the dish really took off when it was popularized in the 1920s after WWII, when chicken was scarce.
Tatsutaage is a very similar dish that is used interchangeably with Karaage. Technically, what we know as Japanese fried chicken is in fact Tatsutaage. Why? Karaage refers to food only coated in starch and fried, while Tatsutaage refers to food being marinated, coated in starch, and fried. While all Karaage is Tatsutaage, not all Tatsutaage is Karaage. Tatsutaage is strictly meant to be made with soy sauce, while Karaage can be made with a variety of ingredients.

Tips and Tricks
Karaage is uniquely Japanese because it is marinated in soy sauce, sake and ginger. After the sauce sets, the chicken is coated with potato starch and fried until golden brown and crispy. To make the most flavorful karaage at home, traditionally or with your own twist, follow the tips and tricks below:
Chicken
Use fresh chicken over frozen
Keep the chicken skin on for a more crunchy texture
Cut the chicken into smaller pieces for crispier chicken, slightly larger for juicier chicken
Poke holes in the chicken with a fork for extra crispiness
Marinade
Marinate for at least 20 minutes
Add garlic for extra flavor and kick
No Recipes likes to marinate in salt brine, curry powder, chili powder, or even fish sauce

Just One Cookbook

also suggests marinating in sesame oil, mirin, oyster sauce, egg yolk, or Japanese mayonnaise
Coating
For the starch, some will use a 50:50 ratio of potato starch and rice flour, but The Chopstick Chronicles swears that 100% potato starch results in a crispier chicken
You can also use flour or corn starch
For convenience, you can also use ready-made fry mixes sold at your local market
Frying
You can fry in an electric deep fryer or a pan
Fry twice for extra crispiness, fry once for extra juiciness. If frying twice, fry the first time at a lower temperature and then fry at a higher temperature the second time to lock in crispiness
Expert fryers will be able to know when the chicken is ready by looking at the bubble sizes, but it is recommended to use a thermometer to read the heat to know when it is ready (160 °F internal temp)
Enjoy
Enjoy with a generous squeeze of lemon and a side salad or rice if you're preparing a bento box
A popular dipping sauce is Japanese Kewpie Mayonnaise
An extra perk is that it is delicious served hot and cold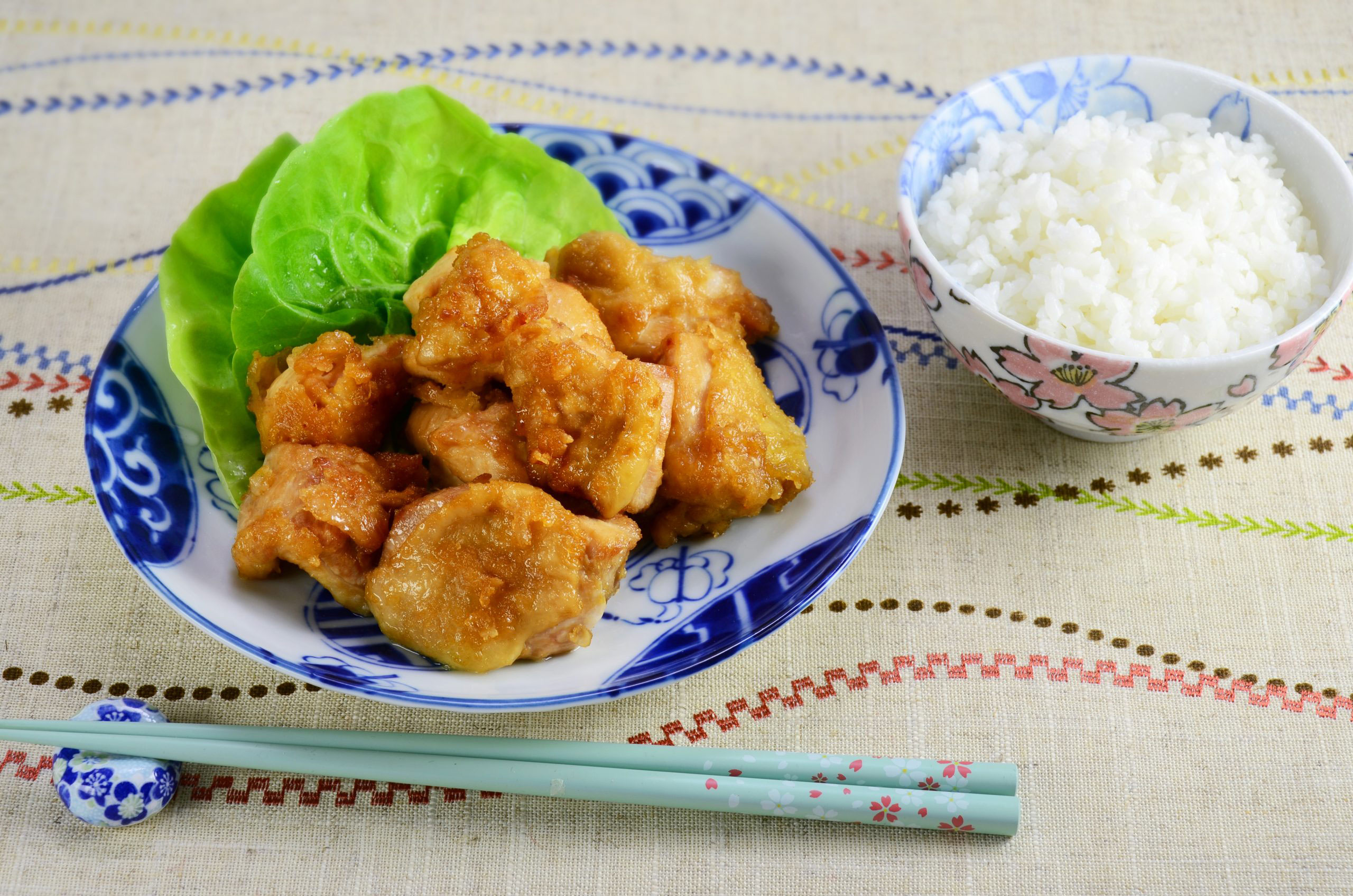 From the Zojirushi Kitchen: Are you ready to make your own karaage? Here is our recipe with our Zojirushi twist. We add dark sesame oil and suggest you marinate the chicken in a plastic bag to lock in all of the flavor.
Want to learn about another karaage variation? Last year, in our B-kyu Gurume series, we explored Tebasaki Karaage from Nagoya. Take a look at that piece on our blog to learn more about a different variation on this fan-favorite dish – that's more like a Japanese style of chicken wings instead of fried chicken.
How did your karaage come out? Do you have any special recipes or tips to share with us? Let us know on social media by tagging your photos on Twitter, Facebook, or Instagram! #Zojirushi #ZoFan