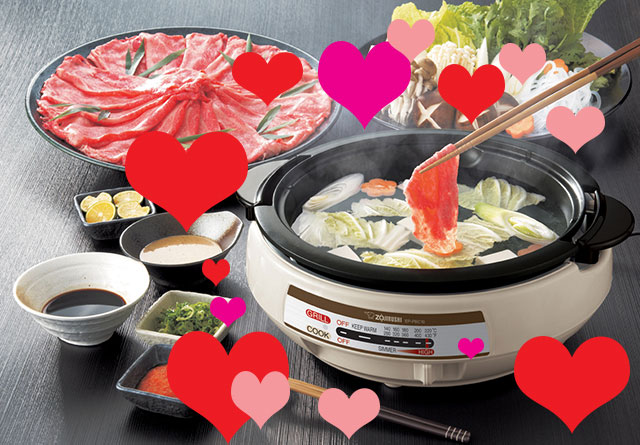 Are you ready for Valentine's Day?
Planning on making a gorgeous dinner with some ooey, gooey chocolate for a fantastic finish?
Short on time and needing some inspiration?
We've got you covered!
Our product of the month–the Gourmet d'Expert® Electric Skillet—is the perfect tool for earning you major accolades (and hopefully many kisses).
The Gourmet d'Expert® Electric Skillet (EP-PBC10) is the smaller of the two models in its eponymous line. The cooking pan has a 10 ½ inch flat-bottomed cooking surface which makes it simple to prepare eggs, pancakes and crepes in the skillet. The sides of the cooking pan are 2 ¼ inches high, which is ideal for sautéing, stewing, braising and steaming. And the temperature control plug lets you adjust the cooking temperature from 176 F, which keeps food warm, to 430°F. These three great features, coupled with the titanium and ceramic enhanced nonstick coating of the cooking pan, make this the perfect appliance for your Valentine's Day meal!
Dinner should of course start before dessert, even on Valentine's Day, and we think you and your loved one will enjoy the flavors of Pepper Beef Chow Fun, easily prepared in our Gourmet d'Expert® Electric Skillet. This recipe calls for flank steak, marinated in a whiskey-infused sauce, which is sautéed with red and green bell peppers and fresh jalapenos for just a bit of spice! The beef and vegetables are then combined with ribbons of chow fun noodles that have been sautéed until they're golden and delicious. Paired with your favorite drink, and this quick-to-make, colorful and decadent dinner will surely please your palette.
A quick rinse of the cooking pan, and you're ready for dessert. Chocolate must be on the menu, and what easier way to serve it than as fondue! Our Chocolate Fondue recipe is easy to prepare… simply combine whipping cream, bittersweet chocolate, vanilla and almond or hazelnut liqueur in the skillet and heat on medium until the mixture is smooth and creamy. The best parts of this dessert are the dippables! Arrange bite-sized pieces of juicy fresh fruit, buttery pound cake and brownies, crunchy biscotti and pretzels and soft marshmallows on a platter with skewers. The power cord allows you to keep the fondue warm on a counter or tabletop and the stay-cool handles make it easy to move. All you have to do now is dip and enjoy!
At the end of your meal, you'll have fewer dishes to clean up and a lot more fun cooking tableside with your date.
The Gourmet d'Expert® Electric Skillet (EP-PBC10) can be purchased on Amazon.com or at your local specialty Asian market. As you can see from the great reviews we get, the size, cooking surface, glass lid, detachable power cord and versatility of this appliance are exceptional. And best of all, you can even use the cooking pan on a conventional gas stovetop.
We hope you and your sweetheart enjoy using it as much as we do! Contact us with any questions about the Gourmet d'Expert® Electric Skillet (EP-PBC10) and be sure to share your favorite recipes with us! Happy Valentine's Day!