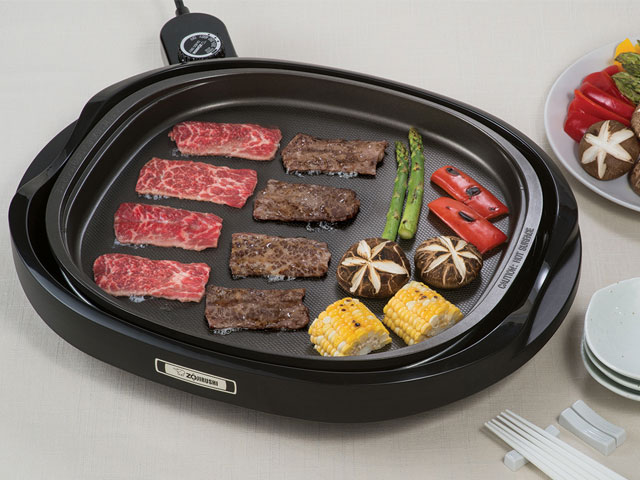 Improving our customers' quality of life through the creation of innovative products remains at the heart of what we do. This founding principle guided our product designers to create one of our favorite appliances – the Gourmet Sizzler® Electric Griddle (EA-BDC10) and the optional Takoyaki Plate (EA-YBC01)!
Our newest griddle exemplifies the style, ease and versatility you've come to expect from us. It features a compact, user-friendly size along with even heat distribution for speedy cooking. It also comes with a convenient lid, variable temperature settings and a removable cooking plate made with a diamond-pattern surface which protects the nonstick coating and helps to keep foods from sticking.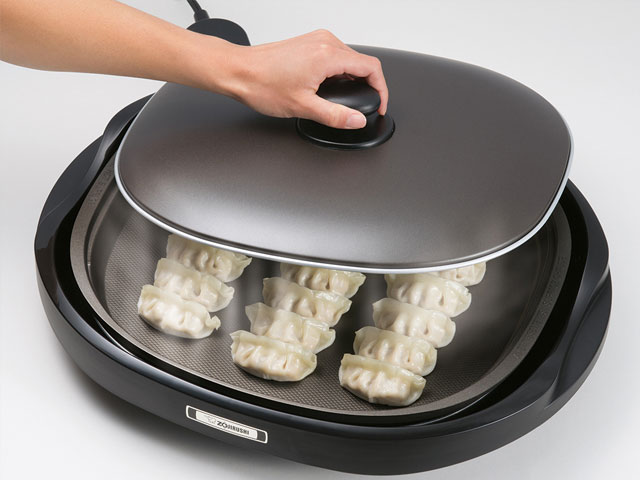 The cooking plate is heated to the temperature set using the temperature control plug, which lets you choose between a keep warm temperature of 176°F to a cooking temperature of 400°F. This variable temperature setting makes the griddle versatile enough to cook a range of foods, from breakfast dishes like pancakes to filling dinners like okonomiyaki, yakisoba and burgers. When you use the convenient lid, you can also steam foods like pot stickers, and prevent spills and splatters when you're grilling meat or making tender stir-fries.
The optional takoyaki plate, which can be purchased separately, makes this griddle even more multipurpose, letting you make 26 large savory takoyaki at a time. If you've never had takoyaki, you're sure to love this iconic Japanese street food. Takoyaki are made with octopus, flour, dashi, eggs and savory seasonings. We've posted a great how-to video on our website to help you prepare them!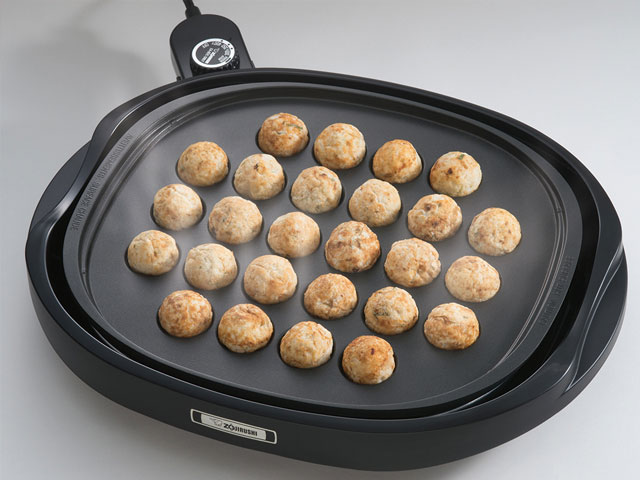 The Gourmet Sizzler® Electric Griddle comes with numerous other convenience and safety and features. The griddle has a 6.6 foot long power cord that lets you plug it in next to your table, and the cooking plate and heater sit inside a body guard which is designed to help prevent scalding. And the cooking plate won't heat unless the temperature control plug is correctly installed.
As with most of our products, keeping the griddle clean is simple and straightforward, as the parts assemble and disassemble easily. The cooking plate and body guard can be fully immersed in warm water and mild detergent for cleaning. The exterior simply needs to be wiped down before storage.
With all of these features, we really love using the griddle for breakfast and dinner (and maybe a dessert or two!). All of the ingredients for hearty breakfasts like our Irish Good Morning, which features eggs, sausage, bacon, potatoes, tomatoes and puddings, can be lined up on the griddle at the same time. No need to use multiple skillets and pans to get breakfast on the table. Complete dinners such as Miso-Marinated Chicken Teppanyaki are savory and simple to make. Just line up marinated chicken with vegetables on the cooking plate, pop on the lid and let the griddle go to work. Dinner can be ready in less than half an hour, and cleanup is simple with only the griddle to worry about. Of course, dessert is always an option, especially when it's our luscious Chocolate-Chocolate Crepes!
No matter what you're using it for, check out the Gourmet Sizzler® Electric Griddle and optional Takoyaki Plate. And as always, be sure to share your favorite recipes with us!