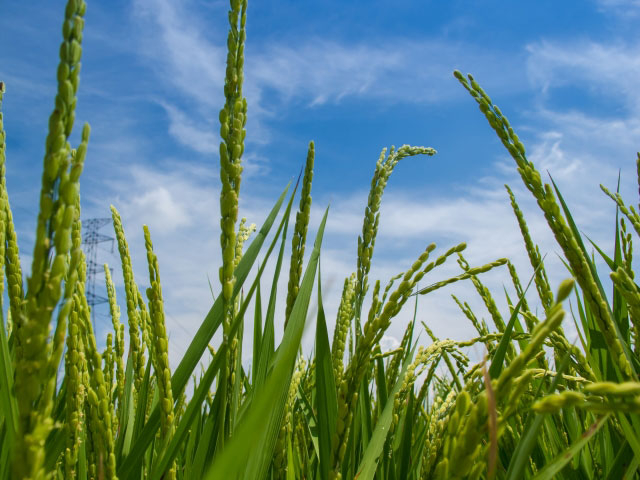 We're back this month with our second blog about rice and the deep relationship we, as a human race, have with this amazing grain. Rice is grown all over the world, existing in many shapes, colors, sizes and flavors.
As we wrote last month, the rice plant is a type of grass, which produces fruit that ripens into grains of rice. When ready, the plants are harvested, dried and threshed, which results in unrefined rice grains that are separated from the plant stems and leaves. The unrefined grains go on to be cleaned, polished and packaged before they are used to create the many dishes that human societies all over the world relies on for nutrition and sustenance.
During the processing phase, rice grains are generally grouped by their origins, and then by size (short, medium or long grain), by the color of the refined grain (white, purple, red or black) and by its texture (loose or sticky). The initial de-husking removes the outer hull surrounding the rice grain, exposing the bran. The bran is either left on the rice—resulting in brown rice if the inner grain is white—or the bran is removed, which leaves the inner grain exposed for polishing, resulting in white rice. Colored rice varieties, like red and black, can be eaten with or without their bran covering.
Short-grain rice is the most common type used in Japanese cuisine, giving it the broad classification Japonica. (By contrast, long grain rice is categorized as Indica.) These grains are almost round in appearance, and typically less than 5mm long and 2.5 mm wide. These varieties require less water to cook and generally result in starchy or sticky rice. The short grain rice used in Japanese cooking is called uruchi mai, and while there are hundreds of varieties available, popular ones include koshihikari, hitomebore, akitakomachi and sasanishiki. These rice varieties have sweet, nutty flavors, ranging from sticky to loose and plump in texture, and are used to make sushi rice and served as an accompaniment to a meal. Mochi gome, also known as glutinous or sweet rice, is another type of extra-sticky, opaque, short-grain Japanese rice that is used to make mochi, a sweet delicacy with a chewy texture. All of these short grain rice varieties have been produced for decades (if not hundreds of years!) and grace the table of Japanese people across the globe.
Stay tuned for next month's post about medium-grain rice and check out some of our favorite rice recipes online… especially this one for mochi!