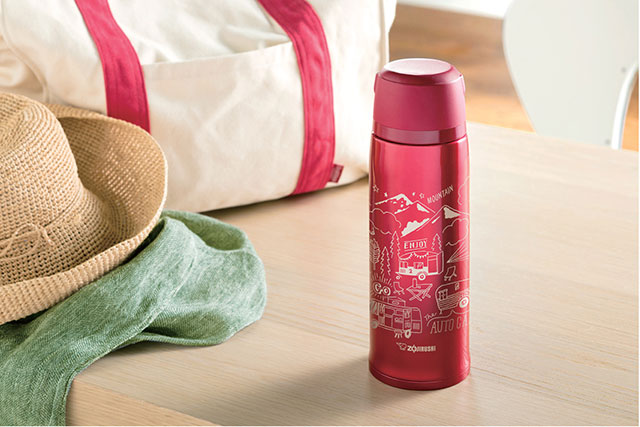 Our large 1-liter capacity Stainless Bottle (SJ-JS10) is here, just in time for spring!
This new bottle is lightweight, compact and strapless, maximizing capacity while minimizing the space it takes up your bag. The twist-off lid functions as a standalone cup and lets you drink hot or cold liquids like you would in a teacup or mug, and conveniently allows you to let your beverage cool or warm to the temperature of your preference. The inner surface of the bottle utilizes an innovative double nonstick coating to enhance durability and provides greater protection of the stainless steel against salt-containing beverages like sports drinks.
Along with these unique features, this Stainless Bottle is made with high-quality, durable 18/8 stainless steel, and utilizes Zojirushi's superior vacuum insulation technology. The air between the outer and inner layers of the stainless steel is removed so the heat is blocked from transferring through it, greatly minimizing the temperature change of your beverage.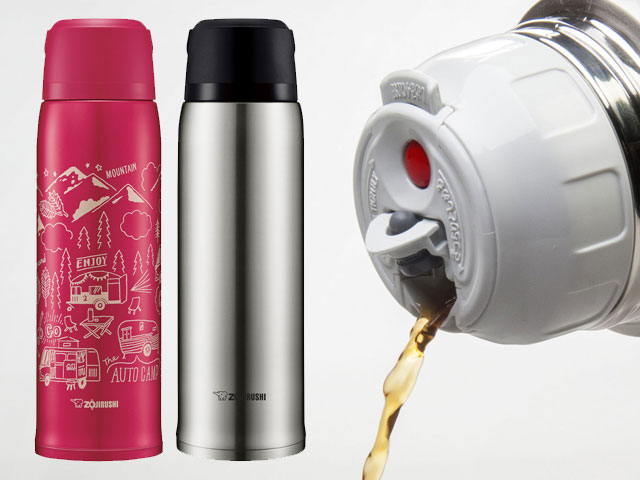 This bottle is smart under the lid, too! It features an advanced stopper with a spout that is opened by a one-touch button, making pouring simple and mess-free. And pressing the close tab seals the spout. The extra-wide mouth accommodates full-sized ice cubes, which makes filling the bottle easy. The stopper and spout, as well as the other areas that come into contact with your beverage, are BPA-free. And as with all Zojirushi products, this bottle can easily be washed with warm water and mild dish detergent.
The Stainless Bottle (SJ-JS10) comes in two finishes, a classic Stainless and a bold Red with a fun camping print.
So, with a 1-liter bottle such as this, which favorite drinks would you carry around? We have so many to choose from! We always love a perfectly brewed cup of Hot Green Sencha Tea and classic British Tea. For a cold treat, we love this Shaka Plantation Tea which blends black tea and pineapple. And you can't go wrong with Simply Iced Coffee!
No matter what you drink–water or tea or coffee–we know you'll love carrying this stylish, versatile bottle wherever you go!