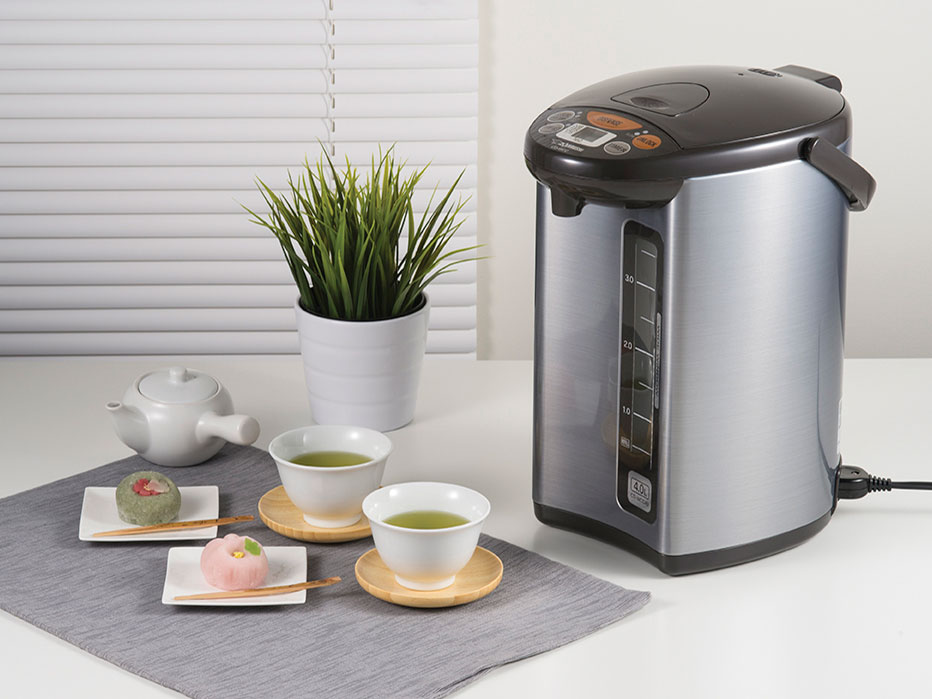 Ahhh… autumn! The perfect time of year for warm, enticing, soothing food and drinks, especially hot beverages. We love this time of year and use our Micom Water Boiler & Warmer (CD-WCC30/40) so much during these cooler days.
The CD-WCC30/40 is a particularly convenient appliance to have on hand in your home or office. It's designed to quickly heat water and keep it at the selected temperature, so you have hot water ready whenever you want to brew tea, make instant coffee or even a more fragrant toddy or hot cider.
This water boiler is meant to be versatile and comes in your choice of 3 and 4 liter capacities. The unit features an easy-to-read LCD panel that lets you set the water temperature and delay timer, dispense water with the touch of a button, as well as keep track of the actual temperature of the water inside in real-time. The entire water boiler rests on a swivel base for convenient serving, with the wide window water level gauge clearly visible along the side of the machine.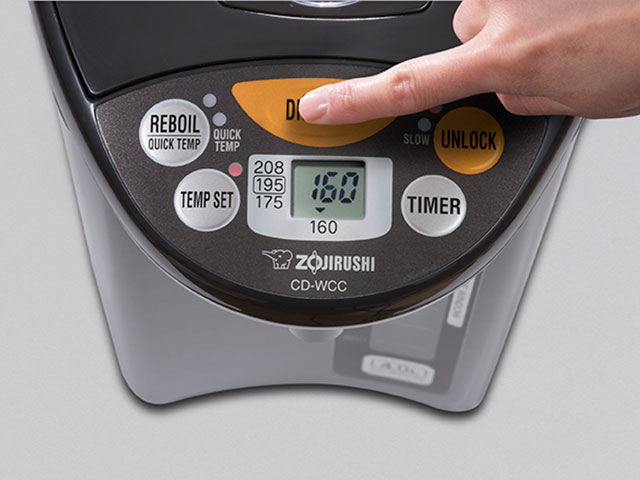 This water boiler and warmer also comes with the optional Quick Temp mode, a great feature for those who prefer to use filtered water or who need to quickly heat water to 160°F, 175°F or 195°F without first bringing it to a boil.
Using the water boiler is easy. Fill the inner container with water, plug in the machine, and select the desired temperature setting on the LCD display panel using the Temp Set button. The water boiler comes with four selectable keep warm temperature settings to choose from—208°F, 195°F, 175°F, and 160°F.
Delicate teas are best brewed at 160°F, while 175°F is the ideal brewing temperature for green teas. Oolong tea is best brewed at 195°F, and at 208°, the hot water is great for brewing black teas and herbal teas. At 208°, water is also hot enough to make coffee, instant noodles or oatmeal and blanch vegetables.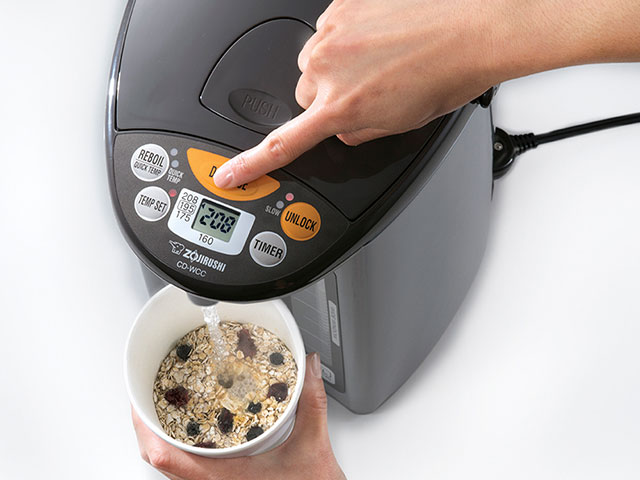 It's also safe and easy to dispense hot water from the machine. Our smooth-operating electric dispensing system lets you simply place your cup under the spout, press the UNLOCK button, then press the dispense button. Café Drip Dispensing allows water to come out of the spout 60% slower, making it suitable for brewing café drip coffee.
This water boiler also comes with multiple safety features including auto shut-off, which turns off the machine when there is no water in the inner container, an automatic dispense lock, a removable magnetic power cord which easily detaches from the machine when snagged to prevent the unit from toppling, and in-spout and in-lid spill protection. Along with the nonstick coated interior, all parts that come into contact with the warmed water are BPA-free.
So, what do you normally use your water boiler for? If you don't have a favorite recipe, we hope you try some of ours, like traditional Hot Green Sencha Tea and a classic British Tea along with more unique recipes like Black Tea Panna Cotta and Oolong Tea Chicken Bites! Plus, if you're feeling a bit under the weather, try out this Cold Buster Soothie!
We hope you love these recipes and definitely share ones that you create in your own kitchen with us!