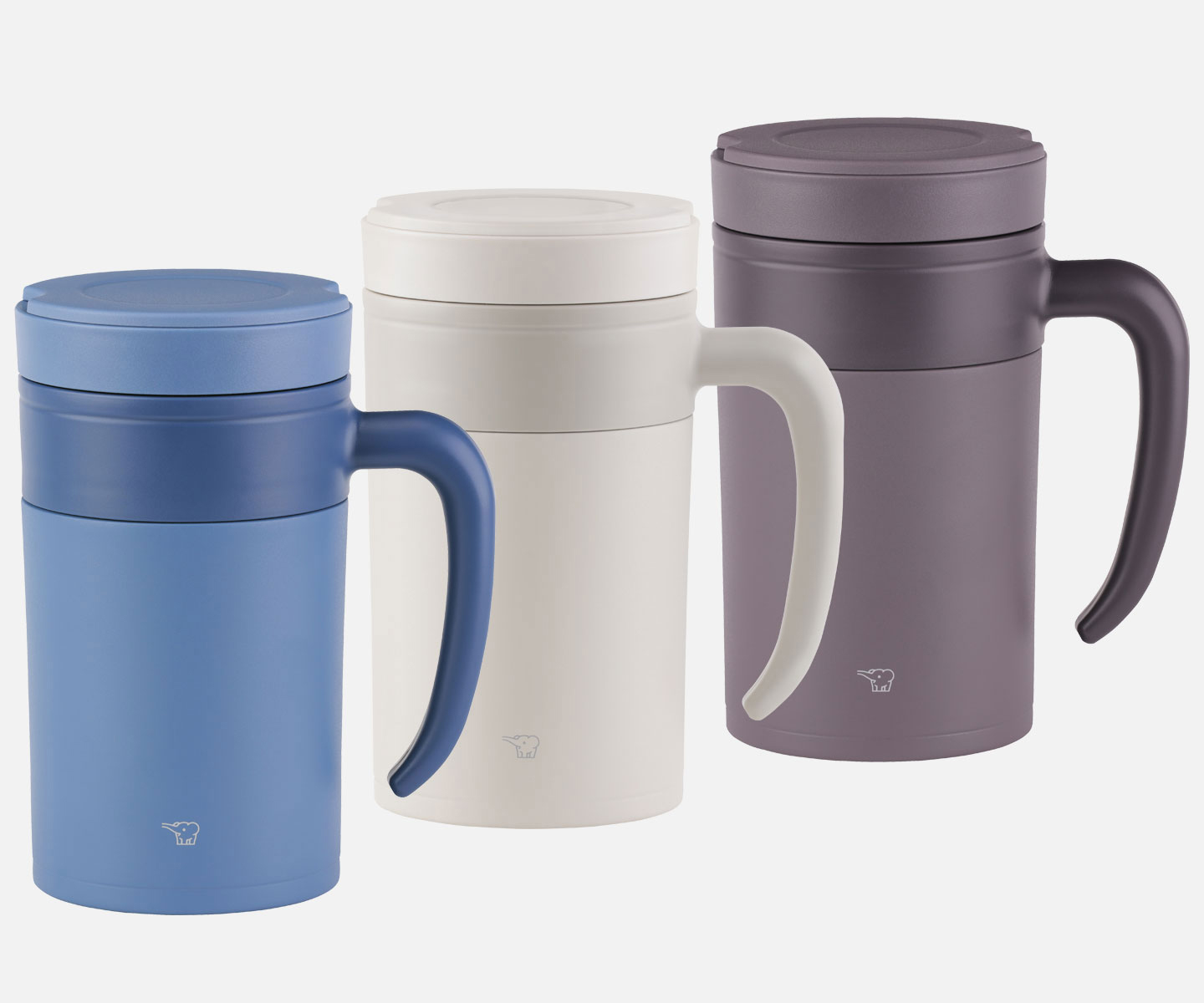 Happy National Hot Tea Month, Zo Fans! At Zojirushi we love enjoying a cup of tea in the morning, on-the-go, at work, and even at the end of our day. Our new Stainless Tea Tumbler with Handle (SE-KAE48) is leak-proof, vacuum insulated and designed to perfectly house your beverage whether you are at home or on the run, and that's why it's the first product of the month in the new year! Inspired by the traditional purple clay teapot, the fine texture of its porous finish creates the sense of familiar comfort with every sip. Keep reading to learn all about this tumbler, how to take care of it, and how to use tea to prepare delicious dishes to celebrate this month.
Tea Tumbler Special Features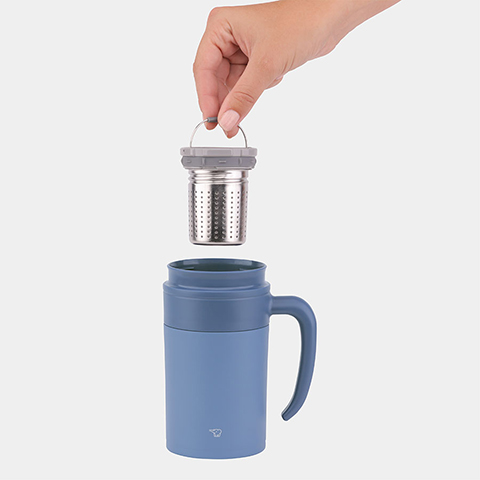 Excellent Temperature Control: This tumbler is built with a stainless steel vacuum insulated wall to offer superior heat and cold retention for hours after pouring into the container. The stainless steel vacuum insulation also minimizes heat transfer to keep the exterior from getting hot and minimizes condensation if you're carrying a cold drink.
Tea Strainer & Infuser: Included with this tumbler is a stainless steel direct brewing tea infuser & strainer combo, which has a handle for easy removal. Use just the tea strainer to brew large loose tealeaves like oolong, or the infuser for black and green tea. The tea strainer will keep tealeaves from flowing out, or if you prefer, the infuser/strainer combo can be removed and placed on the lid that conveniently turns into an infuser stand.
Leak Proof: The lid and handle are designed to be carried with you and provide peace of mind to be leak proof (when used according to the manual). Take it with you on your morning walk, in the car on the way to work, or as you move around the house to enjoy your Sunday.
Caring for Your Tea Tumbler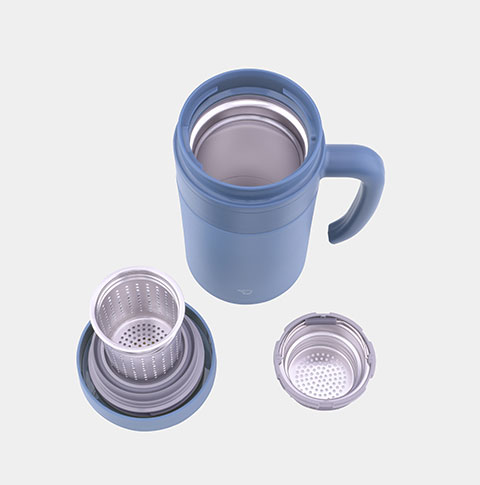 Zojirushi loves building products that last. Here are some tips on how to clean, maintain or update your tumbler to keep it as good as new:
How to remove coffee & tea stains: As the tumbler is used, tea or coffee stains may accumulate on the interior surface of the mug. These stains can be easily removed using a bleach/chlorine-free food and beverage stain remover.
When to replace gasket and plastic parts: The gaskets should be replaced if they are becoming less flexible or cracking. The cover and stopper should be replaced if they are damaged or cracked. We recommend that the parts are carefully inspected at least yearly in case a part is showing signs of wear.
Don't use bleach: Bleach will cause the stainless steel to rust and the stopper and cover to experience premature wear. The tumbler and its parts should be hand washed with a soft sponge and a mild dishwashing liquid.
Our Go-To Tea Recipes
You've heard of cooking with wine, but did you know you can use tea as a signature ingredient in many other dishes? Take a look at our favorite recipes below that incorporate various teas and pro-tip: make more tea than the recipes ask for so you can have something to sip on while the dishes are being prepared.
Black Tea Panna Cotta: This creamy Italian dessert with a hint of Earl Grey tea makes an excellent afternoon dessert. Make some extra tea when you are preparing the dessert to enjoy in your tumbler while the dish is being prepared.
Green Tea Chicken Stew: If you're looking for something savory, this green tea chicken stew is a delicious and comforting soup that features grated ginger, sake, mirin, and other umami-rich flavors.
Oolong Tea Chicken Bites: This dish features meatballs cooked in a delicious oolong tea soup, which adds a savory and unique flavor profile. Warm and comforting, perfect for National Hot Tea Month.
What are your favorite ways to enjoy tea? Are you planning on trying any of the recipes or tips we shared today? Be sure to share your experience with us on social by tagging your photos on Twitter, Facebook or Instagram! #Zojirushi #ZoFan