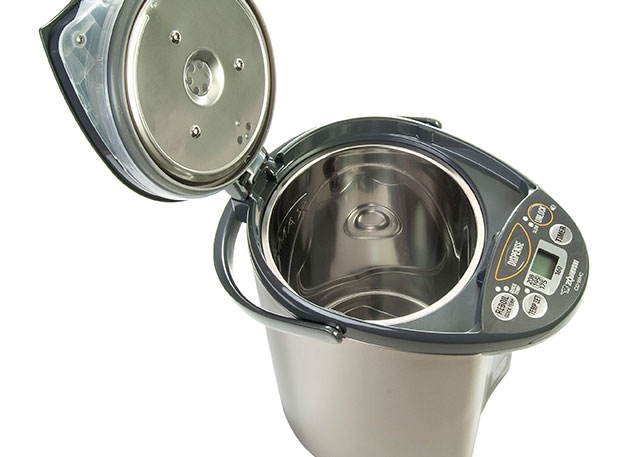 Our Product of the Month is our new Zojirushi Micom Water Boiler & Warmer (CD-WHC40)–perfect for home or office!
This water boiler looks great on a kitchen counter or conference table. It has a stylish, clear-coated stainless body, with an easy-to-read water level gauge, a swivel base and sturdy handle.
It's also packed with convenience and safety features. It comes in a generous 4-liter capacity and has a rust-resistant stainless steel interior that is not-coated, unique among all of Zojirushi's other water boilers. For those wishing to avoid nonstick coating, this stainless steel interior offers a durable and easy-to-clean alternative. To make storing the product more convenient, the Power Cord is detachable. All surfaces that come into contact with your hot water are BPA-free.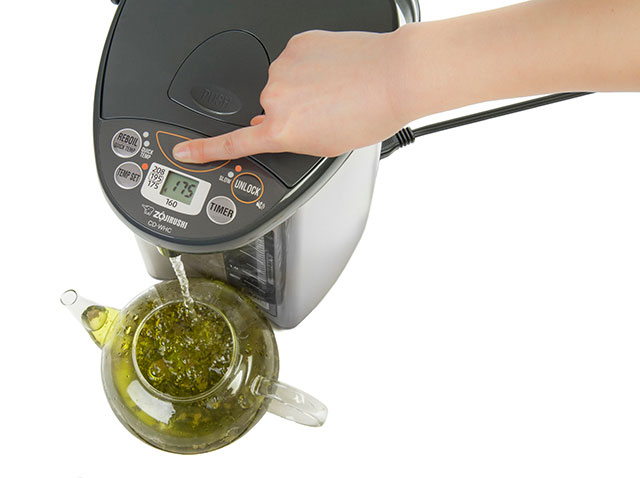 The water boiler is innovatively designed with a microcomputer chip that controls the way water is heated and kept warm. It heats water to one of four selectable keep warm temperatures—208°F, 195°F, 175°F and 160°F. Delicate teas are best brewed at 160°F, while 175°F is the ideal brewing temperature for green teas. Oolong tea is best brewed at 195°F, and at 208°, the hot water is great for brewing black teas and herbal teas. At 208°F, water is also at the ideal temperature to make coffee, instant noodles or oatmeal and to blanch vegetables.
This water boiler also comes with the optional Quick Temp mode, one of Zojirushi's signature features. Using this feature, water is quickly heated to either 195°F, 175°F or 160°F without first bringing it to a boil, saving energy and a significant amount of time. The easy-to-read LCD panel shows the actual water temperature at all times, and the control panel allows you to easily dispense hot water by first pressing the UNLOCK button, then the DISPENSE button.
Brewing classic Japanese Sencha tea is easy using this water boiler when set to 175°F Keep Warm. At a slightly higher temperature of 195°F, Fresh Fruit Tea is perfectly brewed. And at the highest temperature, Houjicha, or roasted green tea, brews perfectly at 208°F. This water boiler lets you blanch vegetables for delicious salads, too. Try out our Okra, Asparagus and Cherry Tomato Salad, with veggies blanched at 208°F.
The CD-WHC40 has multiple safety features including an easily detachable lid, which makes disposing water safe, an automatic dispense lock and auto shut-off.
We love this new water boiler and are sure you will, too. Let us know how you use it in the comments below!